Blood Orange Seared Mahi with Citrus Braised Fennel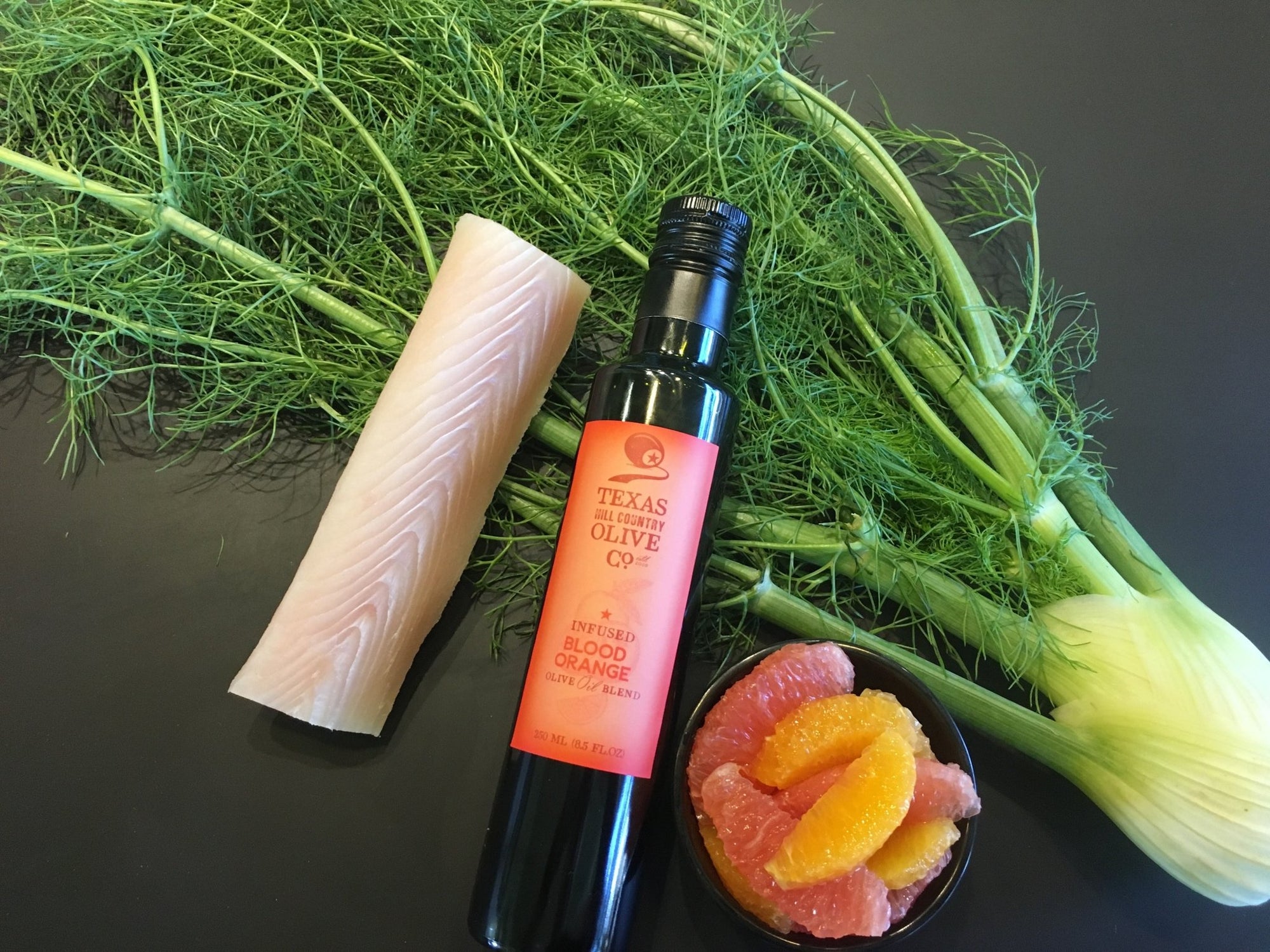 Humble brag: we make the best infused Texas olive oils. And we can't stop raving about our Blood Orange Olive Oil! Paired with fish, it's the perfect dish.
Ingredients:
3 c fennel bulbs, sliced thin
2 tbsp honey
2 oz dry white wine
1 ea red grapefruit, segments and juice
1 ea blood orange, segments and juice
1 ea Cara Cara orange, segments, and juice
to taste salt and pepper
2 tbsp Blood Orange Olive Oil
2 ea 4-6 oz Mahi Mahi filets, cleaned
¼ tsp smoked paprika
to taste salt and pepper
as needed fennel fronds and shaved red onion for garnish
How to Make: A Step by Step Guide
1. In a medium-sized pan heat 2 oz Blood Orange Olive Oil over medium heat until it shimmers. Add sliced fennel and sauté for 3-5 minutes or until softened.
2. Add honey and stir to coat. Deglaze with white wine and bring to a simmer. Allow the fennel to simmer until most of the wine has reduced.
3. Add the juice and segments from the citrus fruits and simmer until the fennel is very tender and slightly golden and most of the liquid has reduced.
4. Season with salt and pepper and hold over low heat while preparing the fish.
5. Season Mahi Mahi fillets with paprika, salt, and pepper. (You can substitute any firm white fish for the Mahi Mahi.)
6. Heat 2 tbsps of Blood Orange Olive Oil in a sauté pan over medium heat.
7. Sear Mahi Mahi for 4 to 7 minutes per side until golden brown and crispy but still moist on the inside.
8. Serve finished fish on a bed of the braised fennel and top with a garnish of fennel fronds and shaved red onion.


Share this
---