Walnut Cranberry Biscotti with Olive Oil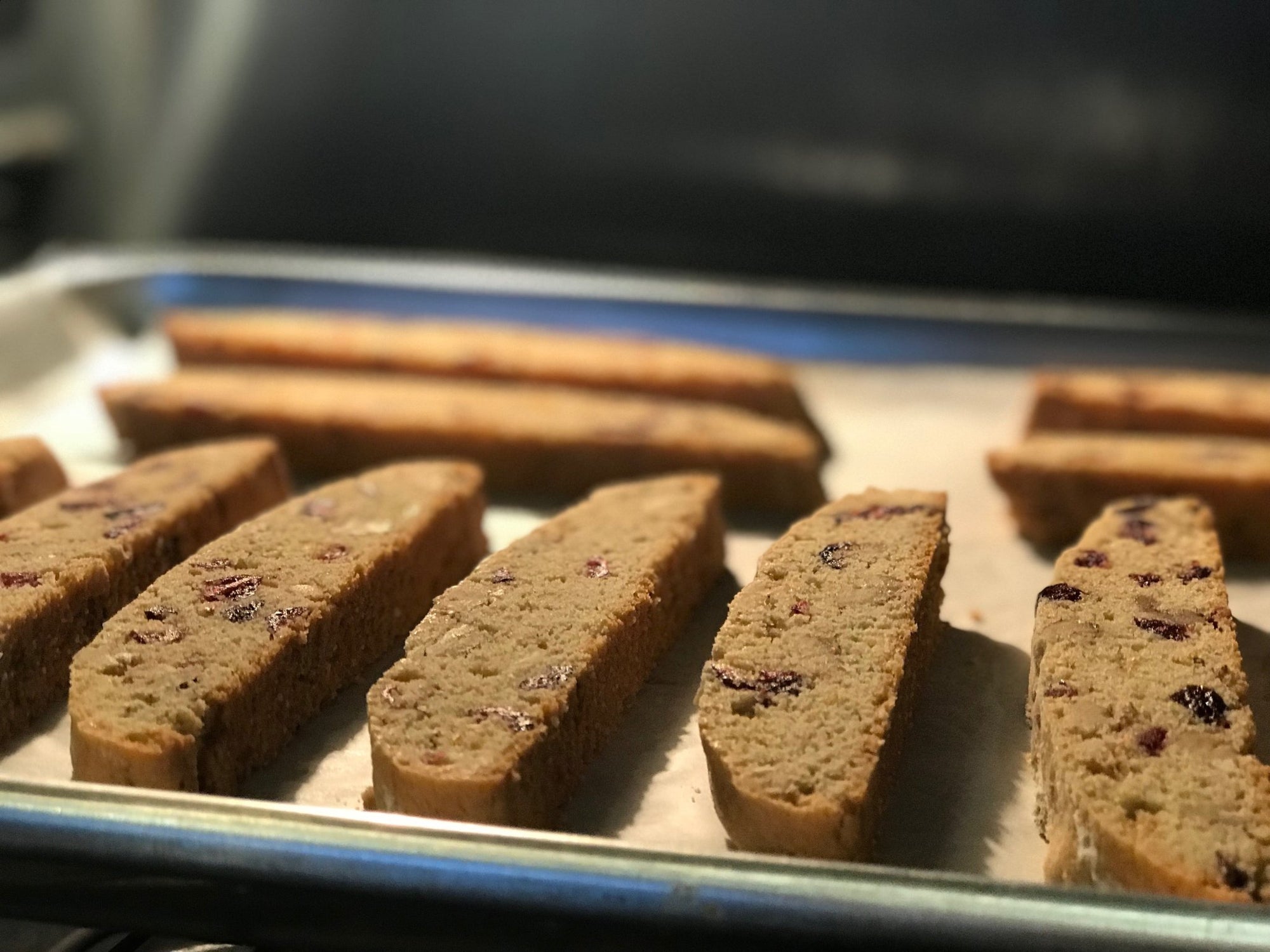 Biscotti is the perfect accompaniment to coffee or tea, and even makes a great on the go snack when you're in a rush. But did you know that the best biscotti is made with heart-healthier olive oil rather than butter?
We make our delicious biscotti using our award winning, light Sola Stella Extra Virgin Olive Oil, and it's truly changed the game. So check out this easy recipe below:
Walnut Cranberry Biscotti with Texas Olive Oil
Ingredients:
¾ C Sugar
2 tsp Vanilla Extract
½ tsp Orange Extract
½ tsp Salt
2 ea Eggs
2 tbsp Orange Zest
1 ¾ C All Purpose Flour
1 tsp Baking Powder
½ C Dried Cranberries
1 C Walnut Pieces, Toasted 
*Makes Approximately 24 Cookies
How to Make: A Step by Step Guide
Preheat oven to 350 degrees.
In a large bowl whisk together olive oil, sugar, extracts, salt, and eggs until smooth
Combine flour and baking powder and gradually mix into the egg mixture.
Fold cranberries and walnuts in by hand.
Divide the dough into 2 equal pieces and gently form into logs approximately 2 inches wide and 12 inches long. Dough will be sticky so coat hands with cold water to make it easier to handle.
Place on lined baking sheet and back for 30 to 35 minutes or until lightly golden brown. 
Remove from the oven and let cool for 10 minutes.
Cut logs diagonally into ¾ inch pieces and lay on sides on baking sheet.
Return to the oven and cook for an additional 10 to 12 minutes until gold brown and crisp.
Allow to cool slightly before serving.
Our walnut cranberry biscotti with Sola Stella Extra Virgin Olive Oil is truly delicious, and we hope you enjoy! You can even swap with some of our infused olive oils to change it up! Make sure to download the recipe below to have it right at your fingertips.

Download Recipe
Share this
---