Delicious Wild Mushroom Soup with Texas Garlic Olive Oil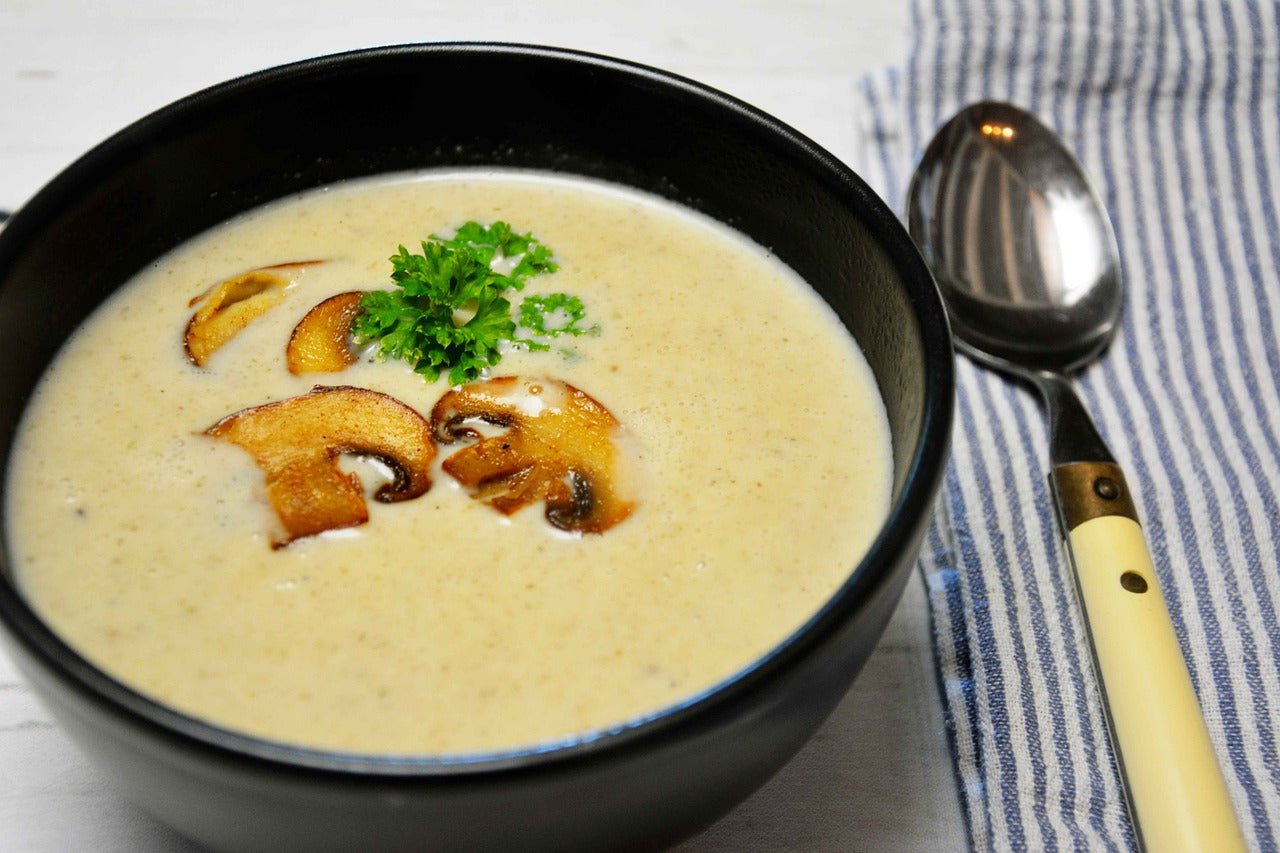 Want to try something new for dinner? Need something warm when there's a nip in the air? This wild mushroom soup with garlic olive oil should do the trick. The rich broth goes well with a mix of mushroom varieties but what makes it truly special is Texas Hill Country Olive Co.'s Garlic Infused Extra-Virgin Olive Oil! The complex blend of flavors will bring the best of fine dining right to your kitchen.
The recipe is easy and quick to execute. You can whip it up as a main course for a quiet, cozy dinner or as an appetizer for a large dinner party. In half an hour, the aromatic garlic-infused olive oil will make your house smell like a gourmet kitchen.
30 Minute Wild Mushroom Soup With Texas Garlic Olive Oil
Ingredients:
5 Tablespoons of Garlic-Infused Extra-Virgin Texas Olive Oil

1 pound of a mix of wild and cultivated, thinly-sliced mushrooms with stems

2 sprigs of fresh thyme

4 large shallots, peeled and chopped

2 garlic cloves, peeled and minced

1 ¼ cups of dry white wine

1 ¼ cups of chicken or vegetable stock

1 bay leaf

Freshly-ground black pepper

Kosher salt to taste
How to Cook: A Step-by-Step Guide
Follow these simple steps to cook the wild mushroom garlic soup in less than 20 minutes. You will need a pan, a bowl, a ladle, a food processor, and a spider or slotted spoon
Step 1
Prepare all the ingredients. Peel and finely chop shallots, peel and mince garlic, and slice mushrooms into thin, small pieces. Splurge on a few expensive mushroom varieties but even out the volume with creminis and white mushrooms.
Step 2
Pour 2 tablespoons of garlic olive oil into a pan and heat it over medium-high heat. Add half of the mushrooms and season with a quarter tablespoon each of salt and pepper. Add a sprig of thyme and sauté the mixture. Make sure to stir the mushrooms often.
Step 3
Transfer the mixture to a bowl when soft. Add the second half of the mushrooms to the pan. Repeat the sautéing and seasoning process with the other half with a sprig of thyme, salt, pepper, and 2 tablespoons of garlic-infused Texas olive oil. Transfer the mushrooms to the bowl once cooked.
Step 4
Heat 1 tablespoon of the garlic olive oil in the pan. Add the chopped shallots and minced garlic and sweat for a few minutes until soft. Make sure they are not brown. Add the cup of white wine and cook until the mixture looks like syrup.
Step 5
Take the bowl of mushrooms and return them to the pan. Mix them well with the syrup. Pour in the chicken or vegetable stock and place the bay leaf into the mixture. Bring the soup to a simmer and cook for 10 minutes.

Step 6
Use a slotted spoon or spider to take mushrooms out of the soup. Transfer 1/3 of the mushrooms to a food processor and finely chop the mushrooms. After they are chopped, place the mushrooms back into the soup.
Step 7
Take a ladle and pour the soup into bowls. Use a drizzle of the garlic-infused Texas Olive Oil on top. We recommend serving with a helping of toasted bread.
You're Ready To Enjoy!
Enjoy a quiet evening with this wild mushroom and garlic-infused Texas Olive Oil recipe. The aromatic ingredients will make this a favorite comfort food and a dinner-party hit.

And fun fact: our delicious garlic olive oil works with more than just soups! From yummy Garlic Parmesan Chicken to  Posole Verde, this garlic olive oil with transform any meal. So once you've scarfed down your wild mushroom soup, try out another recipe.

Download Recipe
Share this
---