2023 Texas Hill Country Olive Co. Mother's Day Gift Guide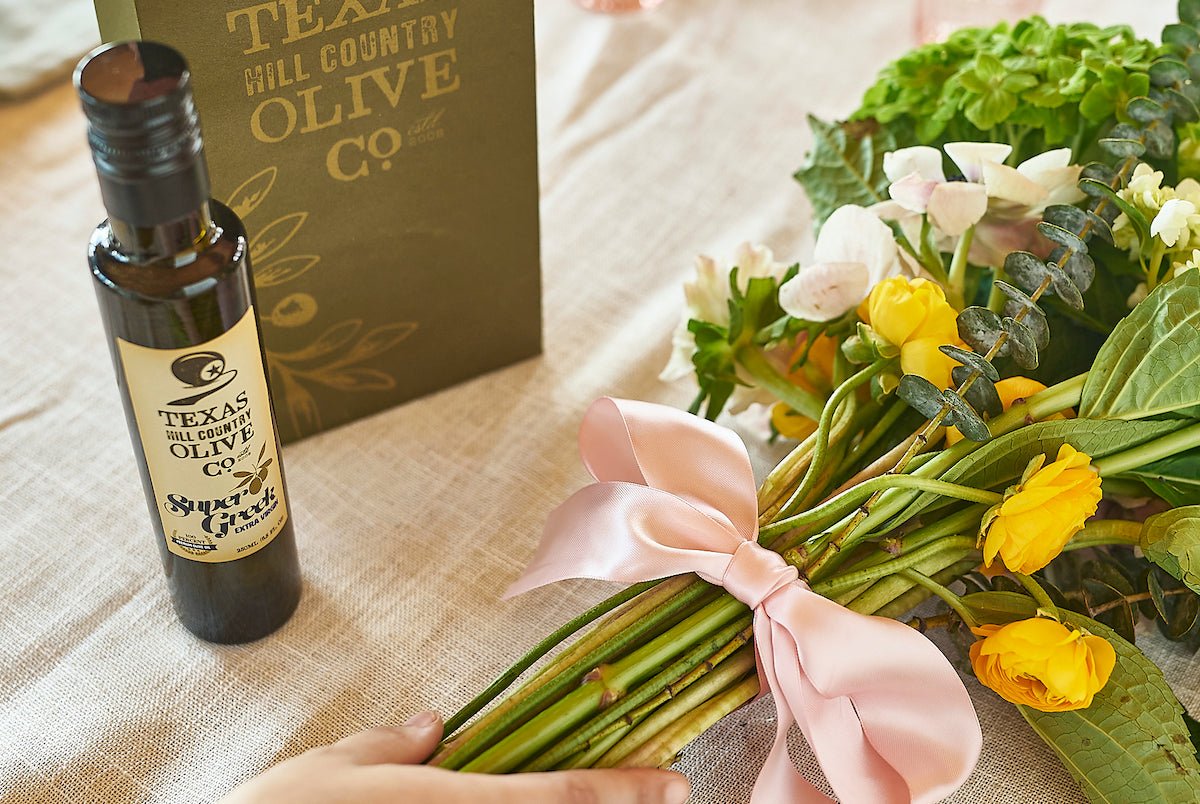 Mother's Day is almost here! To make gifting even easier, we've created a comprehensive list of gifts for every type of Mother there is. 
From the mom that deserves the world, to the mom that "doesn't want anything" this year - we've got you covered!
Although all of these gifts are unique, they all have one thing in common: olive oil! This kitchen staple is an essential component in a Mother's Day gift (ok, we may be a little biased). But hey, if your mom loves too cook, whether good at it or not, they should LOVE the gift of a high quality EVOO.
So get to perusing, and we've got a whole lot more gift options where those came from.
Texas Hill Country Olive Company Mother's Day Gift Guide
For The Mother... 
The Little Dipper Kraft Gift Box
Did the Mother in your life say she "doesn't want anything" this year? Well, chances are, she's lying! Or maybe she doesn't think she needs a gift this year, but who doesn't love presents? Sure, maybe you don't have to get her diamond earrings, but why not give her something small to thank her for all she does?
Enter the Little Dipper Kraft Gift Box: it's the perfect small box to show mom you care, without going crazy, or angering her that you spent too much money on her.
It comes with 100ml bottles of our award winning Sola Stella EVOO and our Traditional Balsamic Vinegar, plus a dipping spice pack. Enjoy them all paired together, or eaten on their own. The perfect small token of appreciation for your Mom on Mother's Day.
Shop the Little Dipper Kraft Gift Box
The True Texan Keepsake Box
Texans have a level of State pride that is truly unmatched. Does your mom fit the bill? Then maybe this Mother's Day, give her a gift that not only shows you love her, but that shows her you see her as a True Texan.
So get mom the True Texan Keepsake Box! It's the ideal present for a Texan who loves to cook, and entertain loved ones.
The perfect mix of robust, spicy, and whiskey themed products, that your Texas mother is sure to love. It even comes with a cactus towel! It's a large gift, as big as Texas - a wonderful way of saying "I love you."
Shop the True Texan Keepsake Box
Vinaigrette Recipe Set
Who doesn't love a salad? We sure do! But is your mom on a health kick? Is she bored of the same old boring salads she eats day in and day out?
Our Vinaigrette Sets (Texas Peach, pictured) are the best gift for the mom looking to change it up in the kitchen. There are a few pair options, so cater to your mom and the flavors she usually gravitates towards!
Each set comes with a 500ml Extra Virgin Olive Oil and 250ml Balsamic Vinegar - plus a recipe card for a great vinaigrette to make with the duo! 
Here are the options:
The Deluxe Gambini Keepsake Box
Does your mom work ALL THE TIME?! Does she get home from work and DO EVEN MORE WORK?! Well then your mom deserves all the presents and all the praise!
There's no better to thank your mom for all she does this mother's day than by giving her the gift of all gifts: the Deluxe Gambini Keepsake box.
It truly has everything. Extra Virgin Olive Oil? Check. Balsamic Vinegar? Check. Infused Olive Oil? Check. Stuffed olives, 2 spices packets, dipping bowl, and spoon? Quadruple check!
Shop the Deluxe Gambini Keepsake box
The Mediterranean Mini Set
Does the mother in your life want to see the world, but is just too dang busy? Does she have the travel bug, and want to taste some of the delicious flavors of the Mediterranean?
Sure, we can't physically take her to Greece, but we can send her tastebuds there! The Mediterranean Mini set is the best gift for the mother that loves Greek and Mediterranean cuisine, and wants her next meals to take her on a journey.
And if you don't feel like this gift is vacation enough, you can always visit us in Dripping Springs for lunch and a tour... 
Shop the Mediterranean Mini set 
Award Winning Keepsake Box
Not know much about this EVOO or whatever it's called? Well, it's time to learn! Any cook (amateur or not) needs to know a thing or two about Olive Oil.
Here is where you start: our Award Winning Keepsake Box!
This is the perfect gift for olive oil newbies and pros alike. You get 3 of our Award Winning Olive Oils, that have completely different flavor profiles. Give mom a chance to really taste the differences between a delicate, medium, and robust EVOO, and even pair them with a traditional balsamic vinegar.
Mom will never go back to the cheap meh stuff again.
Shop Award Winning Keepsake Box
Happy Mother's Day to all the Best Moms!
We hope all the moms out there are fully celebrated and cherished this Mother's Day. We are so grateful for the wonderful mom's in our lives, and we can't wait to show them with carefully thought out gifts that we know they'll love.
As a woman owned and run company (moms, too!), we know how hard all the moms out there work day in and day out. We really see and appreciate all you do, and we hope you all have the most wonderful holiday.
So happy Mother's Day, moms. Thank you for all that you do!
Share this
---