Harissa Black Eyed Peas and Collard Greens Soup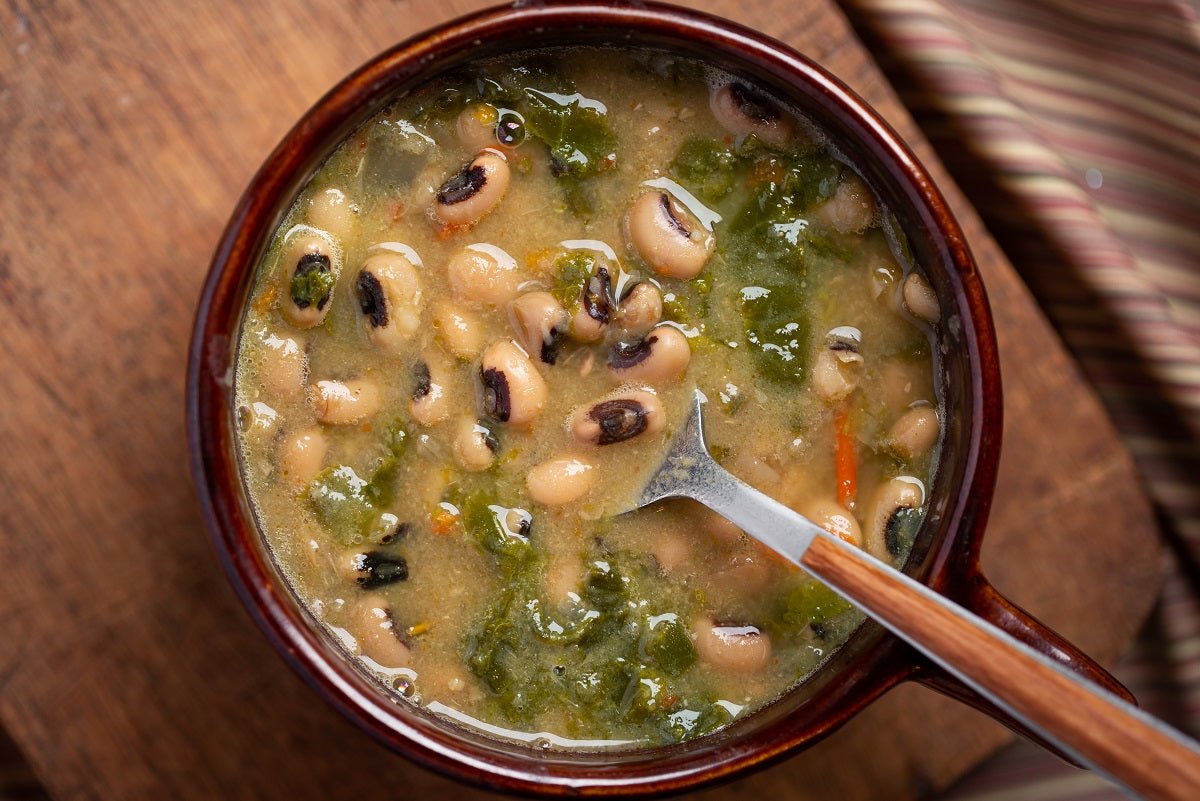 There are many foods that are said to help set you up for success in the New Year, and we need all the help we can get! But rather than eat a bunch of random items, we've found a delicious (and healthy) recipe to set you off right in 2023.
This New Years Soup is packed with ingredients to help you thrive in 2023. It contains the following essential items:
Black Eyed Peas: for luck
Collard Greens: for prosperity
Bacon: for luck
Besides the fact that you're taking in all that luck and prosperity, you're also starting the year off with a healthy choice! That's an extra perk if your New Year's resolution was to live a healthier lifestyle.
Black eyed peas are packed with tons of nutrients, complex carbohydrates and fiber. 1 cup of black eyed peas contains 44% of your daily vitamin A needs! It aids in digestion, and may help lower blood pressure and cholesterol.
If that weren't enough, collard greens also have loads of benefits. They are full of potassium, calcium, iron and more. The benefits of collards (or really, most greens) are endless, and they add so much extra flavor to your soup!
But the BIGGEST difference of all in our good luck soup? Olive oil. And not just any olive oil, oh no... we're talking about our harissa infused extra virgin olive oil. Not only does it add even more benefits to your soup, but the harissa flavor adds a whole other layer of depth and packs a punch. Too spicy for you? Opt for our garlic infused oil instead! Both options are insanely delicious. AND using oil over butter makes this dish completely dairy free!
Sounds pretty mouth watering, right? Give it a try!
Black Eyed Peas Good Luck Soup

Ingredients:
*you will need a dutch oven or slow cooker for this recipe
1 pound dried black-eyed peas (2.5 cups)
5 slices thick-cut bacon
2 tablespoons Harissa Infused Extra-Virgin Olive Oil (or Garlic Infused)
1 large diced onion
2 large diced carrots
2 ribs diced cellery

1½

cups frozen or fresh chopped collard greens (if frozen, thawed)
15oz can diced tomatoes with green chiles
3 cloves garlic, minced
4 cups chicken broth
1 tablespoon harissa powder
1 bay leaf
1 tablespoon of thyme
Kosher salt and freshly ground black pepper for taste
Want to make it vegan? Opt for vegetable broth and forgo the bacon! Easy peasy.
 How to Make: A Set by Step Guide
Step 1: Soak Your Peas Overnight
Now we want to emphasize this isn't a necessary step, but we think it really enhances the flavor AND doing this helps break down the more indigestible carbohydrates. submerge the peas in water, add a tablespoon of salt, and cover. If you don't have the time for this, soaking for an hour will still help.
Step 2: Prep Your Ingredients
Before you start cooking, chop up all your ingredients. You'll need to cut your bacon, veggies, and garlic and set aside.
Step 3: Cook Your Bacon
Then, add your bacon to a skillet on medium heat with 2 tablespoons of your harissa infused olive oil and your minced garlic. Cook lightly, do not let your bacon get crispy. Just enough to get build some bacon grease and cook slightly.
Step 4: Add Veggies to Cook
Next, add your onions, carrots and celery and saute. Cook for a few minutes, until softened.
Step 5: Add Peas, Broth, Bay Leaf, Thyme and Harissa
Now you'll add your black eyed peas (after draining them), chicken broth, bay leaf, thyme, and harissa and bring to a boil. Then cover and simmer on low for around 1 hour, or until peas are tender.
 Step 6: Add Remaining Ingredients
After your peas are tender, you'll add your can of tomatoes, collard greens, and salt and pepper to taste. Let simmer until your greens are cooked through.
Time to Eat!
We hope you and your loved ones enjoy this delicious soup and that it fills you with luck and good fortune for the New Year!
We highly recommend serving this soup with a side of traditional Italian cornbread or some hatch green chili zucchini bread! Both really compliment this soup, and are great to dip!
We can't emphasize enough the importance of including our harissa infused olive oil in this recipe. Not only does it add a nice kick, but it soaks into the bacon, leaving it with an unreal flavor!
AND you can use our harissa olive oil in tons of other delicious recipes! We highly recommend our harissa broccolini - it makes an incredible side dish.
Want an easier way to make this recipe? Click below to download your very own printout! Happy cooking, and Happy New Year!

Download Recipe
Share this
---