Shop Holiday Gift Set: A Guide for Foodies & Chefs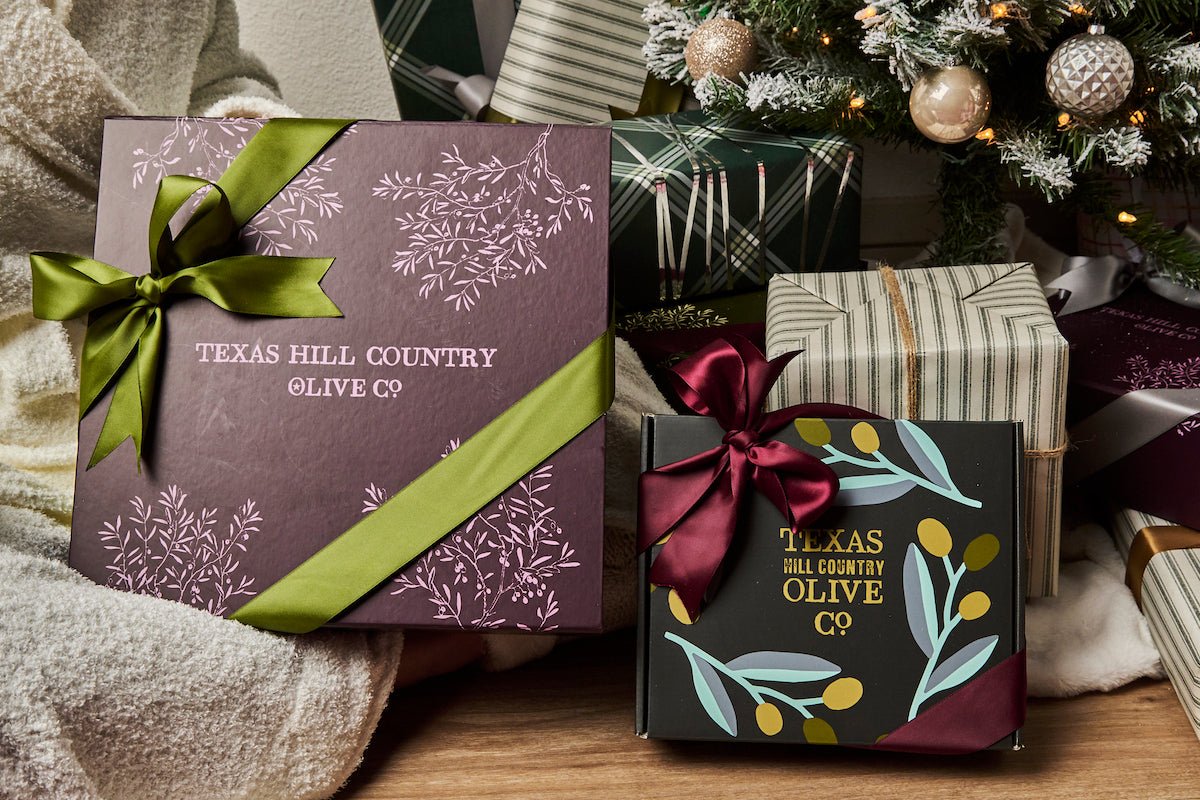 The holiday season is just around the corner, and it's time to start thinking about Christmas gifts. Sure, people love beauty products and skincare products (which we have), and gift cards are an easy options, but we want to cater to the chef and foodie in your life!
Not sure what to get them? Don't worry - we've got you covered. We'll give you a guide to shopping for holiday gift sets that will make any foodie or chef happy.
We offer a variety of gift sets that are perfect for foodies and chefs of all levels. Our holiday gifts include a variety of our products, such as extra virgin olive oil, infused olive oil, balsamic vinegar, olives and more.
Whether you're looking for a gift for the home cook who loves to experiment with new flavors or the professional chef who is always in search of the best ingredients, we have a gift set that is sure to please.
To make this even easier, we're organizing the gift sets by price, to help you find the perfect gift in your price range!
So here are some holiday food gifts to show your loved ones you care and get them in the holiday spirit!
Shop Holiday Gift Set: A Guide for Foodies & Chefs
Gifts Over $100
Is the foodie or chef in your life someone you REALLY want to impress or show them just how much you care? These gifts are packed with incredible goodies, and will surely inspire them in the kitchen. Plus, all of our keepsake boxes come in either purple, green, or red - perfect for the holidays!
This gift is perfect for the foodie in your life that potentially isn't the world's best chef. They know good quality when they see it, but don't dare to replicate culinary masterpieces in their kitchen.
But a delicious vinaigrette for a salad? A bowl of spices and high quality olive oil for a dipping appetizer? Sold!
This is even a great introductory gift for a person that is relatively new to the world of high quality olive oil. You get our Sola Stella Extra Virgin Olive Oil (delicate) and our Texas Miller's Blend Extra Virgin Olive Oil (robust). It's a chance to really compare two different type of EVOO, and see which is their favorite.
 Similar to the last box, this one is perfect for the food lover that isn't necessarily a culinary expert. Spice packets combined with olive oil are a delicious combination for your olive wood dipping bowl.
BUT, this gift also comes with an infused olive oil, balsamic vinegar, and some stuffed olives!
This box may as well be called the garlic lovers box, because it comes with Garlic Infused Olive Oil and Garlic Stuffed Olives! The perfect gift for a loved one that not only adores garlic, but wants to test out a garlic martini* (don't knock it till you've tried it).
 *to make a garlic martini, wash your glass with the Garlic Infused Olive Oil, make your classic martini to fill, and top with some Garlic Stuffed Olives.
Gifts $75-$100
Looking for a beautiful, extravagant gift, but trying to keep it under $100? These gifts in the $75-$100 range are packed with incredible products.
This is the perfect gift for a chef or foodie that doesn't want to go with the basics and loves Sicilian herbs and spices.
This Sicilian infused Olive Oil is the most delicious blend of herbs and garlic, and ads the most wonderful flavor to any dish.
The White Lemon Balsamic Vinegar is the perfect mix of sweet and tart, and works in so many ways. 
For the person that loves to experiment with different flavors and Italian cuisine, this is the gift for them!
Plus, you can never go wrong with some olives and dipping spice for an easy charcuterie addition!
This is the perfect gift for the chef or foodie that loves to explore high quality products. These 3 different Extra Virgin Olive Oils are an incredible way to learn about the versatility of olive oil and the vast amount of flavor profiles each different olive can bring to the table.
The addition of the Traditional Balsamic is a wonderful base to test out combinations of all the flavors.
We get our grape must straight from Modena, Italy, so this Traditional Balsamic Vinegar is the best way to really experience high-quality classic balsamic vinegar.
These are also our 4 best selling products, so it's also a wonderful gift for a novice looking to learn more about olive oils.
Plus, the keepsake box is stunning, and elevates the gift! It will look wonderful under any Christmas tree or be a great gift to hand on a night of Hannukah.
Gifts $50-$75
With gifts in the $50-75 range, you can find something special for everyone without breaking the bank.
 Filled with a booklet of Holiday recipes, this box is the perfect gift for your foodie or chef friend that plans to host.
It's a great idea for a gift to be given BEFORE the Holidays, as it will provide a handy guide to help with Holiday meals.
And trust us, you look a lot better arriving at a Holiday party with a gift for the host in hand. You can even have them open it and use some products during the meal! Olive oil and spices dip for bread is an easy no-brainer.
But even if it's a gift for under the tree, this set is full of delicious olive oils and balsamics that can be used in recipes all year long. And perhaps a New Years or Valentine's feast? 
 Our mini sets are the perfect Holiday gift. Each one is a set of 4 100ml products, packed into a stunning monochromatic box with a ribbon.
They look wonderful under a tree as is, or they're easy to wrap if need be.
We think the Lone Star Mini Set is the perfect gift for someone that loves variety and wants to embrace some of the popular flavors of the Lone Star state.
With our Award Winning Texas Miller's Blend Olive Oil, a Jalapeño Infused Olive Oil, Hot Honey Balsamic Vinegar, and Bourbon Aged Balsamic Vinegar, your gift recipient gets some of the best flavors we have to offer.
Love this gift box, but want a different set of products? Try some of our other Mini Sets at the same incredible price!
Gifts $35-$50
These gifts are packed full of product, in adorable boxes to boot! Yes, that's right, you can get stunning Texas Hill Country Olive Co. Gift Boxes in this price range.
 These adorable olive print boxes are the perfect gift for under the tree! It comes in green (pictured left) and black (pictured in main photo). 
If the packaging wasn't enough, wait until you see what you can get inside!
The Lemon Vinaigrette Recipe Box ($46) comes with 2 100ml bottles, one of Sola Stella Extra Virgin Olive Oil, one of White Lemon Balsamic Vinegar. It also includes a vinaigrette tea towel and recipe card.
 The Olive You Recipe Box ($46) is similar to the last box in types of products, but with a different combination. It contains 2 100ml bottles, one of Super Greek Extra Virgin Olive Oil, one of Blood Orange Infused Olive Oil, along with a Texas tea towel and recipe card.
Is the foodie/chef in your life a lover of all things spicy and garlic? Then this is the box for them!
You get to try our two spiciest infused olive oils, the Harissa and Jalapeño! Plus some spicy garlic stuffed olives to add to dishes and martinis alike.
Don't forget the spice pack! Make a delicious spicy olive oil dip by combining either oil with the garlic and herb spices.
The delicious products and stunning gift box make this an incredible gift for the spice lover in your life! Plus - you don't even have to wrap it! It's beautiful just the way it is. 
Gifts Under $35
Looking for a gift on a budget? Need something under a certain price range for Secret Santa or White Elephant? These are the perfect gifts! Simple packaging but incredible products inside.
This is the perfect gift for someone that needs the staples. With 100ml bottles of our Sola Stella Extra Virgin Olive Oil and our Traditional Balsamic Vinegar, they'll get to try 2 of our most popular and best selling products.
Both bottles, as well as the spice pack included, are incredibly versatile, yet also easy to work with. They are great for both an experienced chef and a novice that just loves food.
Salad dressings? Check. Cocktails? Check. Roasted proteins and veggies? Double check! You can truly find so many uses for these products.
This gift may not be small enough to fit in a stocking, but it still fits all the qualifications to be the perfect White Elephant or Secret Santa gift, as it falls into a lot of common price points!
This is our most affordable gift option, but that doesn't mean it isn't as lovely as the rest! 
There are 3 options, and each comes with a 100ml Extra Virgin Olive Oil and a 100ml Balsamic Vinegar - plus a recipe card that uses both ingredients.
Pictured is the Lemon Ricotta Cannoli Recipe Box with Sola Stella EVOO and White Lemon Balsamic Vinegar.
Happy Holidays!
These gift sets are easy ways to show someone you care this Holiday season. Perfect on their own, or with your favorite wrapping paper, these gifts are a great way to ring in the Holiday spirt. And don't forget to treat yourself and get a gift for yourself too!
Didn't see a gift set you absolutely MUST have? We have even more where these came from. Check them out here.
Photos: Tomas Segura
Share this
---