Garlic Parmesan Chicken Breasts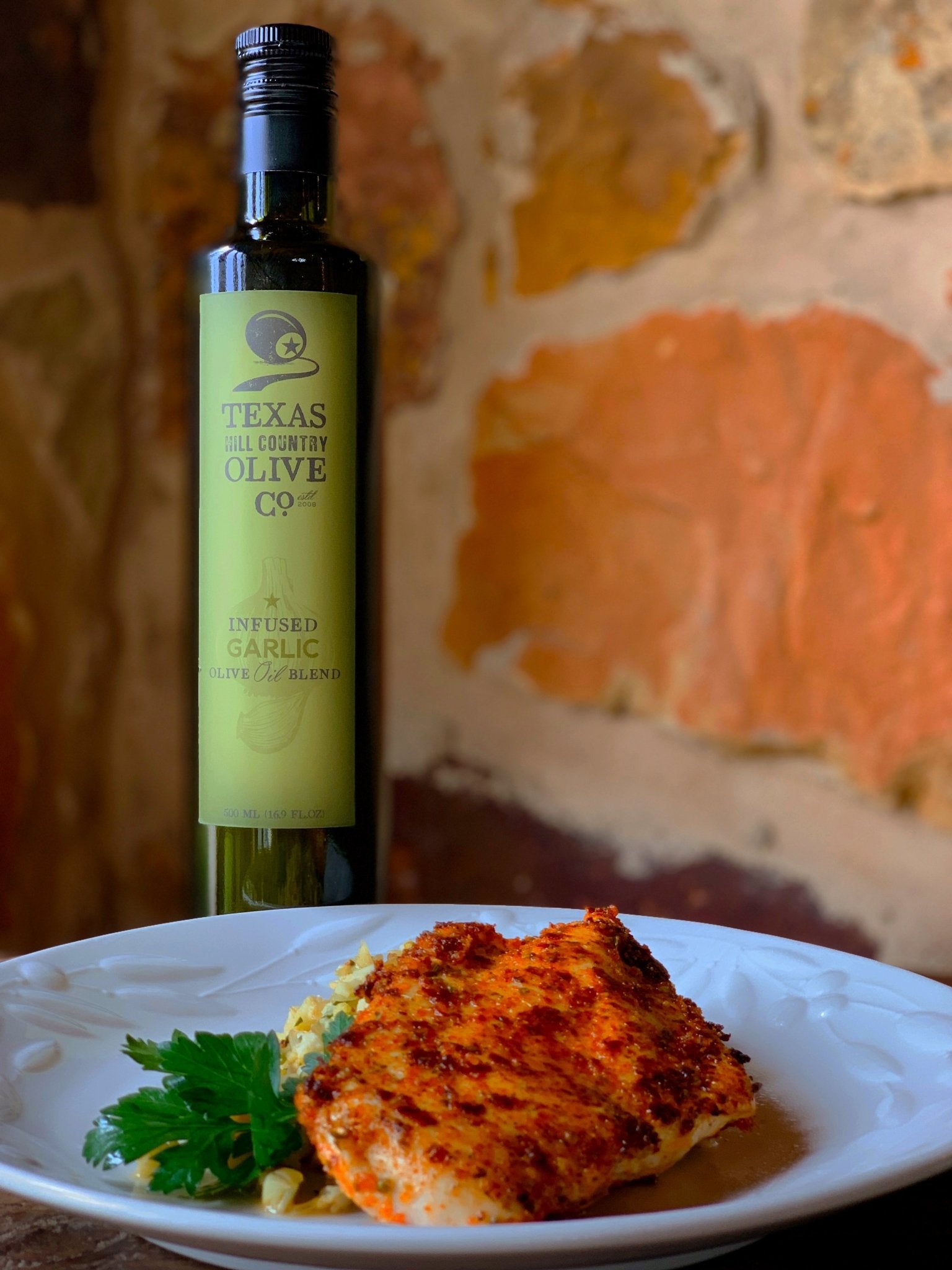 Ingredients:
2 ea large chicken breasts, butterflied in half
½ c grated parmesan cheese
3 ea garlic cloves, grated
1 tsp paprika
1 tsp dried oregano
¼ tsp salt
¼ tsp black pepper
4 tbsp Garlic Infused Extra Virgin Olive Oil, divided
½ c yellow onion diced fine
2 ea garlic cloves, minced
¼ tsp red pepper flakes
2 oz white wine
3 c riced cauliflower
2 oz chicken stock
3 tbsp flat leaf parsley, chopped
to taste salt and pepper
How to Make:
In a large bowl combine parmesan cheese, grated garlic, paprika, dried oregano, salt, and pepper. Mix until well combined.
Dredge butterflied chicken breasts in the cheese and spice mixture, being sure to pat each side to make sure the mixture spreads.
In a large sauté pan, heat 2 tbsp of Garlic Infused Extra Virgin Olive Oil over medium-high heat.
When ripples appear in the oil carefully place the chicken breasts in the pan and sauté for 3 to 4 minutes per side or until golden brown and cooked through.
Remove from the pan and allow to rest covered.
In the same pan add the remaining Garlic Infused Olive Oil along with the onion, garlic, and red pepper flakes. Sauté for 3 to 4 minutes stirring frequently.
Deglaze with the white wine and add the riced cauliflower. Sauté for an additional 3 to 4 minutes then add the chicken stock and chopped parsley.
Cook until stock evaporates and the cauliflower is tender.
Season with salt and pepper. Serve with the rested chicken breast.
Share this
---