Acqua Pazza: Italian Poached Fish in "Crazy Water"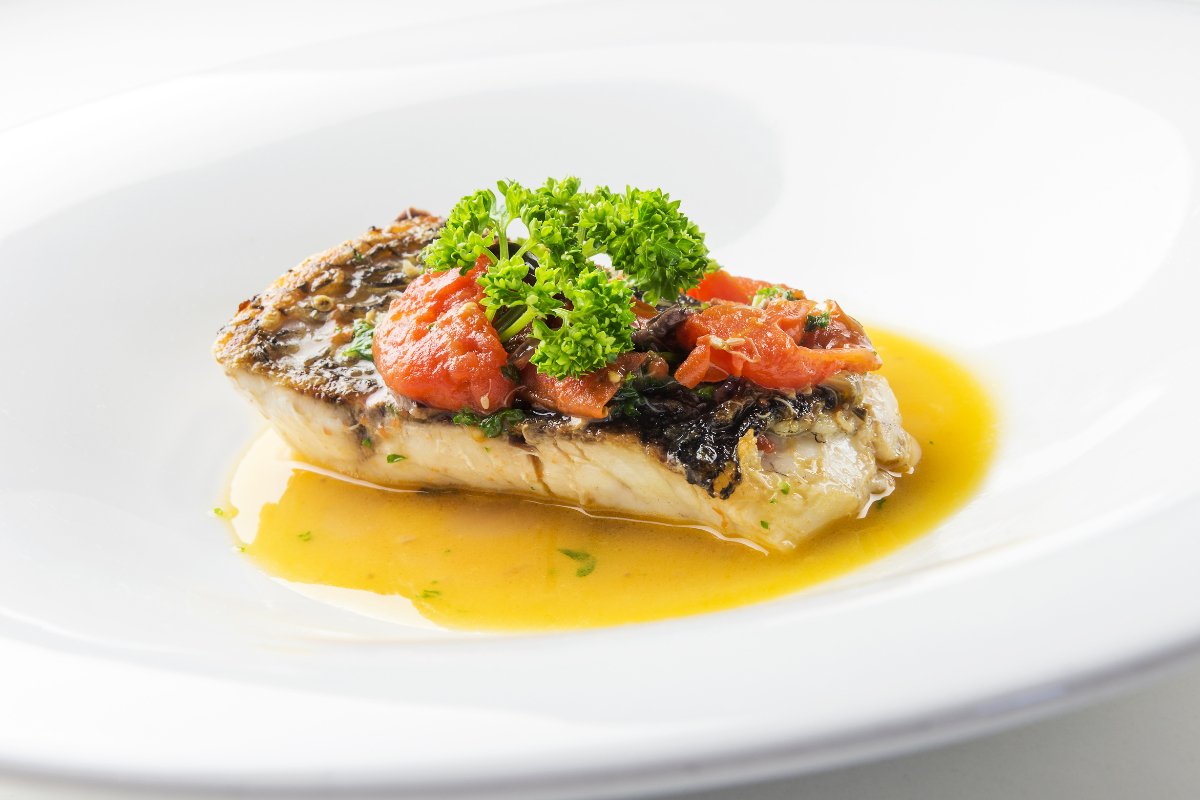 This is quite possibly my favorite fish dish. Yes, you read that right.
Acqua Pazza, or "Crazy Water", is a traditional Italian poached fish dish that involves poaching the white fish in a herby water-based sauce.
You take a nice, delicate and flaky white fish, douse it in broth and yummy ingredients, and soak some of it up with a piece of bread.
It's truly heavenly, not only to eat, but to make and serve. Yes, it's delicious, but it's also visually stunning and easy to make.
The combination of fresh ingredients is essential. Core ingredients like sweet tomatoes, herby thyme, salty capers, and a nice grassy EVOO, yields a simple dish that is undeniably perfection.
For this recipe, we love to use our Terra Verde Extra Virgin Olive Oil, because its medium profile perfectly balances the light fish and adds so much flavor!
Acqua Pazza: Italian Poached Fish in "Crazy Water"
Ingredients:
2 filets of flaky white fish, such as fresh cod, snapper, or barramundi
2 clove garlic, very thinly sliced
2 sprigs of fresh thyme
Sea salt and freshly ground black pepper, to taste
1 pint grape or cherry tomatoes
1/4 cup water
1 1/2 tbsp capers
2 slices of toasted crusty bread for serving
How to Make: A Step by Step Guide
Drizzle 1/4 cup olive oil in the bottom of the pan, like a large skillet or large frying pan.
Place the fish fillets in the pan. If it has skin, place it fish skin side down.
Scatter garlic slices and thyme sprigs evenly over the fish filets.
Season generously with salt and pepper. Add the tomatoes, remaining olive oil, water, and a big pinch of salt to the pan. Do not stir.
Turn the stove to medium-high heat and bring the liquid to a gentle simmer.
Reduce to medium to low heat, cover, and cook for 15 minutes.
Transfer fish to 2 shallow bowls.
Add capers to the sauce, turn heat to high and bring to a boil.
If there are any unburst tomatoes, press them with the back of a wooden spoon or a potato masher to burst.
Boil for 3-4 minutes until thickened slightly.
Taste for seasoning, adjust if necessary, and pour the sauce over the fish.
Serve with toast that has been doused an extra drizzle of olive oil.
Time to Enjoy!
Want a great recipe that is not only delicious but quick and easy to make, with only a few simple ingredients? This is the one for you! This Italian fish recipe is the perfect balance of light, zesty, and herbaceous, and it's a healthy choice for dinner.
Extra Virgin Olive Oil is a key ingredient when creating a flavorful broth and cooking your fish to perfection. We love to cook fish in extra virgin olive oil rather than butter or other oils because it is not only delicious but so much better for you!
So get to cooking! We hope you love this recipe as much as we do. And don't forget to click below to download your own copy of the recipe!
Download Recipe
Share this
---