4 Unique Valentine's Day Gift Ideas For Him & Her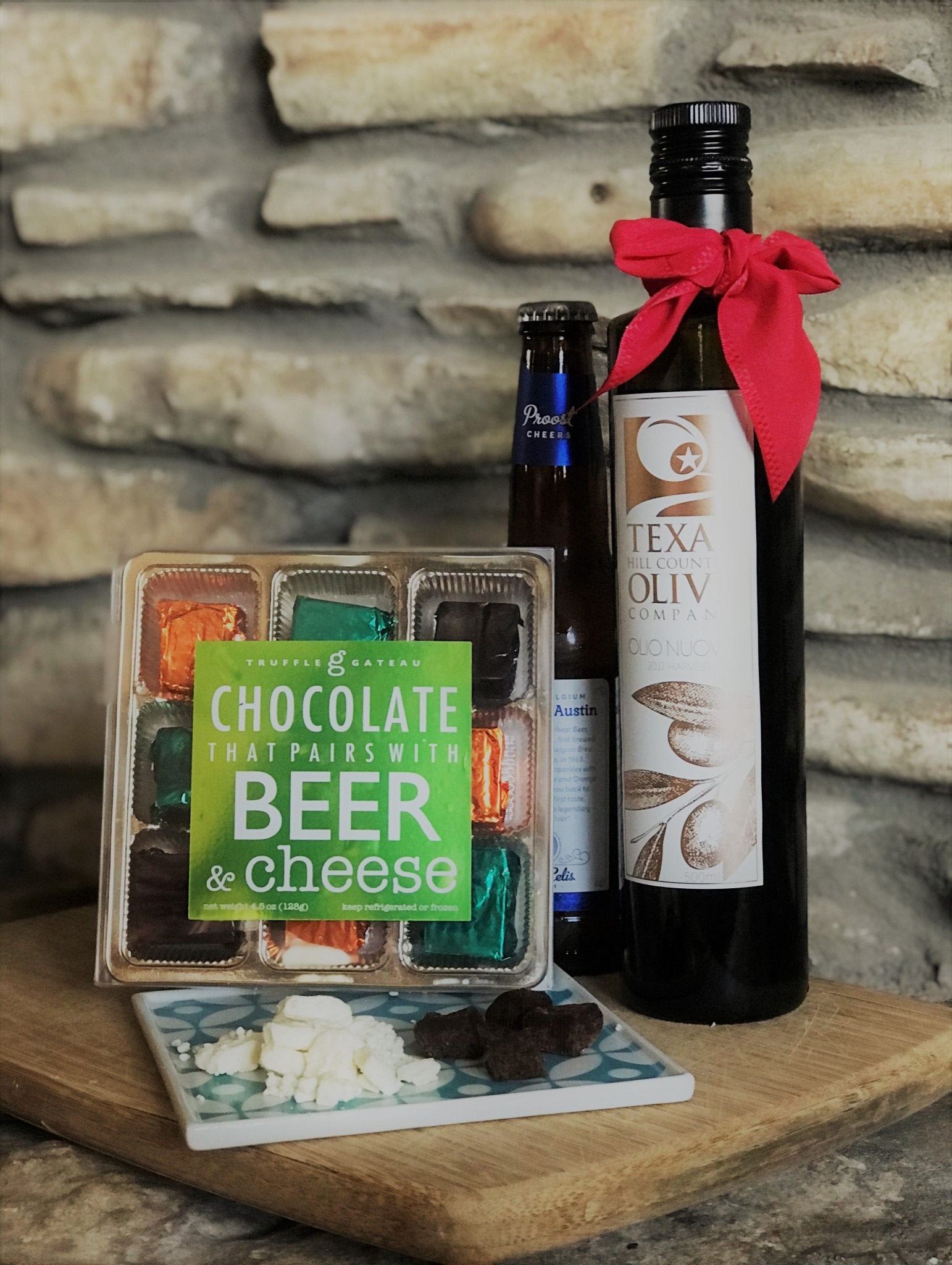 We all love Valentine's Day gifts that are unique, but with each year doesn't it get more and more difficult to think of something that will wow him or her? Sure, a simple box of chocolates is always enjoyable, but there's something about giving and receiving a gift that's outside of the (chocolate) box that ignites that spark! Here are 4 unique ideas that will certainly do just that.
4 Unique Valentine's Day Gift Ideas For Him & Her
For Him:
Chocolates That Pair With Beer & Cheese
These specialty chocolates from Truffle Gateau, out of Austin, are handcrafted to pair with beer and cheese. How fun is that?! The box includes a legend that shows which beer and cheese to pair with each chocolate. For instance, the salted orange dark chocolate pairs with feta and olive oil (we recommend our new Texas Hill Country Olive Oil Co Super Greek extra virgin olive oil for a heavenly combination) and a Belgian wheat beer. If you're in the Austin area, pick up Celis Brewery's (Austin's first craft brewery) White witbier...you won't be disappointed. Put together a gift set that includes the chocolates alongside each of the beers and cheeses and maybe, just maybe, he'll share this fun tasting experience with you.
A Spicy Man-Basket
Spice things up with a man-basket sure to please the spice-lover in your life! Pair our fiery Jalapeno Infused Olive Oil, some local Yellowbird Hot sauce, and the spiciest beef jerky you can find (we picked up Katie's Seriously Spicy Beef Jerky and it seriously lives up to the name). Get creative with this HOT gift!
For Her:
Wow Her With A Decadent Handmade Dessert
Now this idea takes a little prep work, but no doubt she'll appreciate the time and effort you spent preparing such a luscious dessert experience for her! This Olive Oil Chocolate Bundt Cake is delicious, and sure to wow your partner. Our Sola Stella extra virgin olive oil works perfect with this recipe. For extra "brownie points," make your own whipped cream to go with it. Lastly, pick up a bottle of dry rosé and strawberries to finish off your special Valentine's Day treat.
Set A Date To Visit The Texas Hill Country Olive Company Orchard
Tour our olive orchard, sample our olive oils and balsamic vinegars in the tasting room, have a gourmet lunch at our bistro, share a glass of wine on the patio, and take her shopping for a special gift in our unique store. Everything a girl could ask for!
Share this
---