Peach Braised Chicken Thighs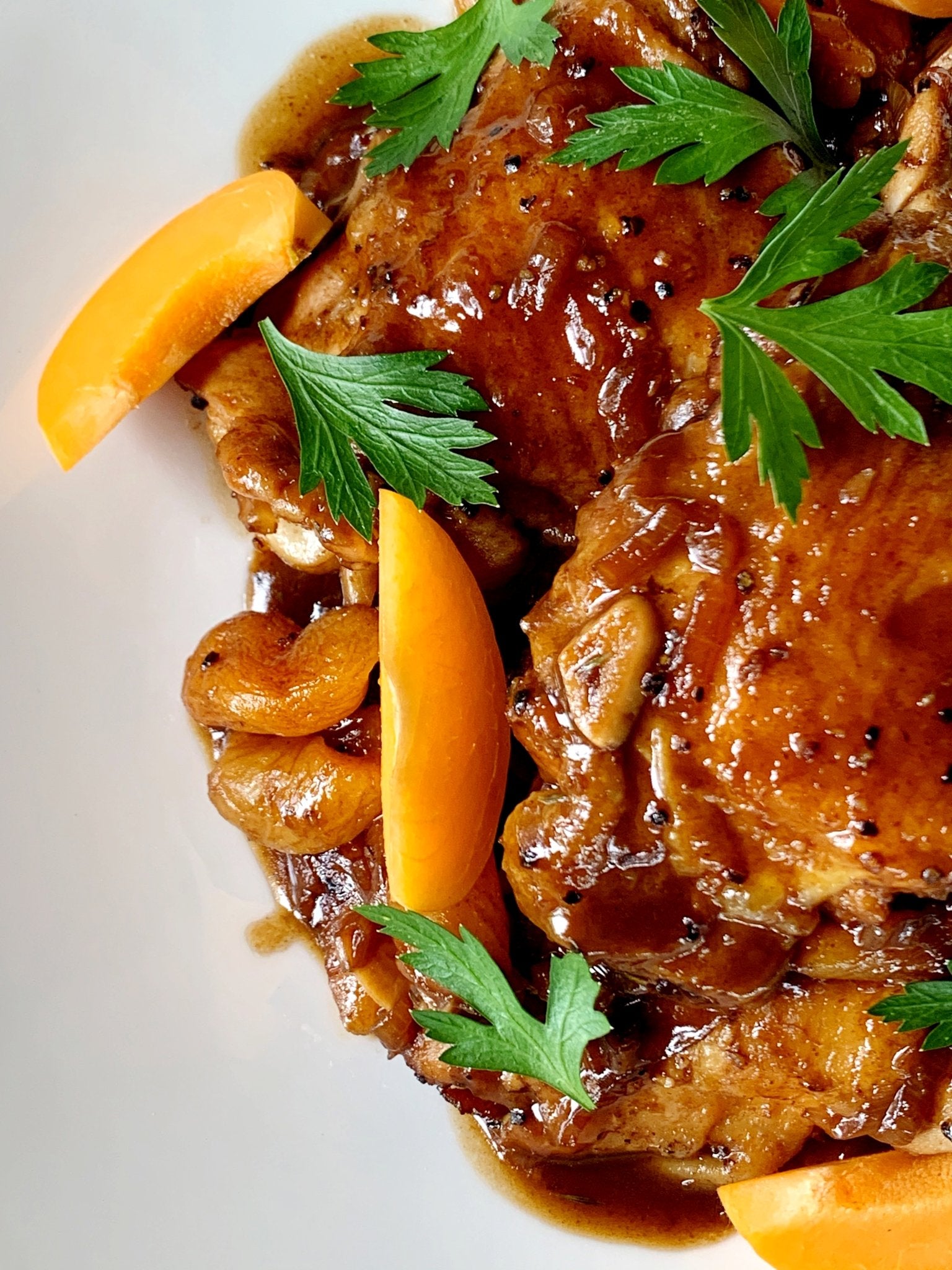 This dish is a crowd pleaser. Perfect for a summer bbq. You'll be lucky if you have leftovers the next day. It's that good! The Garlic Infused Extra Virgin Olive Oil married with the Peach Balsamic Vinegar is the perfect combination of sweet and umami. Give it a try and tell us what you think.
Ingredients:
4 ea chicken thighs
1 tbsp kosher salt
1 tbsp black pepper
½ tbsp ground coriander
½ tbsp ground cumin
2 ea shallots, sliced
2 ea garlic cloves, sliced
½ c dried peaches, cut in half
1 tbsp fresh thyme, chopped
1 c chicken stock
Directions:
1. Remove chicken from the refrigerator and allow to come to room temperature for 20 minutes. Season chicken thighs with salt, pepper, coriander, and cumin.
2. Place a large ovenproof skillet over medium-high heat. Once hot add Garlic Infused Extra Virgin Olive Oil.
3. Sear chicken skin side down for 5 to 7 minutes until golden brown. Flip and sear on other side for another 5 minutes. Remove from the pan.
4. Lower temperature of the stove to medium and in the same pan, add shallots, garlic, dried apricots, and thyme. Cook until softened, about 5 minutes.
5. Add Peach Balsamic Vinegar and cook for another few minutes until shallots and garlic begin to brown.
6. Return chicken to the pan skin side up and add the chicken stock.
7. Place pan in preheated oven and cook for 20-25 minutes or until the chicken thighs are cooked through.
Share this
---