Traditional Cacio e Pepe with Extra Virgin Olive Oil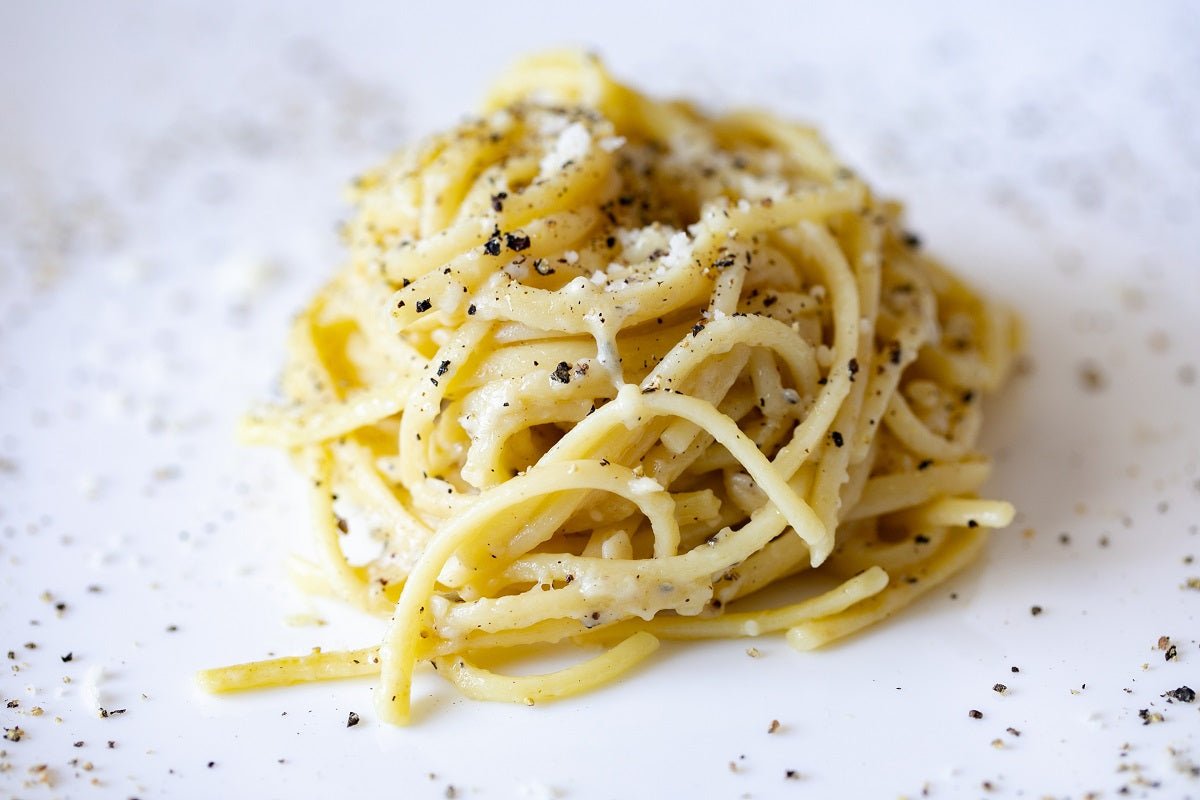 For us Italians, nothing makes us feel cozier in the winter than a heaping portion of pasta. Delicious carbohydrates and warm homemade sauce are the combination of kings, and what dreams are made of.
And when we want something warm, comforting, and oh-so simple, we always gravitate towards Cacio e Pepe.
If you haven't tried it before, Cacio e Pepe translates to "cheese and pepper." Besides your noodles, it's really only 4 other ingredients: pecorino romano cheese, cracked black pepper, salt (for the water), and Extra Virgin Olive Oil (we like to use our extra fresh Olio Nuevo).
Although some people use butter in their Cacio e Pepe, we opt for EVOO to add a buttery yet earthy impact (and it's the healthier choice!)
Although we love to make our own pasta, sometimes we just don't have the time! If you're getting store bought pasta, you can easily have this recipe done in 15 minutes or less! It's seriously that simple. So try out our yummy Cacio e Pepe below:
Easy Cacio e Pepe with EVOO
Ingredients:
6 oz thin spaghetti, spaghetti or bucatini pasta


½ tbsp fresh cracked black pepper

¾ c grated pecorino romano cheese

Kosher salt for pasta water
How to Make: A Step by Step Guide
Step 1: Cook Pasta
Bring 3 quarts of salted water to a boil in a large pot.  Add pasta and cook until al dente, drain, reserving ¾ cup of the pasta water.
Step 2: Heat Oil and Toast Pepper
In a 12 inch, heavy-bottom sauté pan, heat Olio Nuovo over medium heat and add the cracked black pepper and swirl until toasted and fragrant.
Step 3: Save Some Pasta Water
Add ½ cup of the reserved pasta water and bring to a simmer.

Step 4: Add Remaining Ingredients
Add pasta and pecorino romano cheese, toss until the cheese melts. Thoroughly coat pasta with sauce.
Step 5: Finish Cooking and Serve
Cook until pasta is tender and add more pasta water if the pasta starts to dry out. Serve immediately.
Time to Eat!
We hope you enjoy this mouth watering Cacio e Pepe! We love to eat it with our Italian Cornbread fresh out of the oven. It's truly one of our favorites, and the addition of our Olio Nuovo is essential.
If you're curious, Olio Nuovo is a pretty special EVOO. It's made from the first harvest of the olive season, and we leave it unfiltered to pack a whole lot of flavor. It's not only delicious in this dish, but it makes an incredible snack when paired with some olive dip and fresh bread.
Want to make the whole cooking process even easier for yourself? Click below to download a easy print out of the Cacio e Pepe recipe!

Download Recipe
Share this
---