Hillside Farmacy's Texas Gazpacho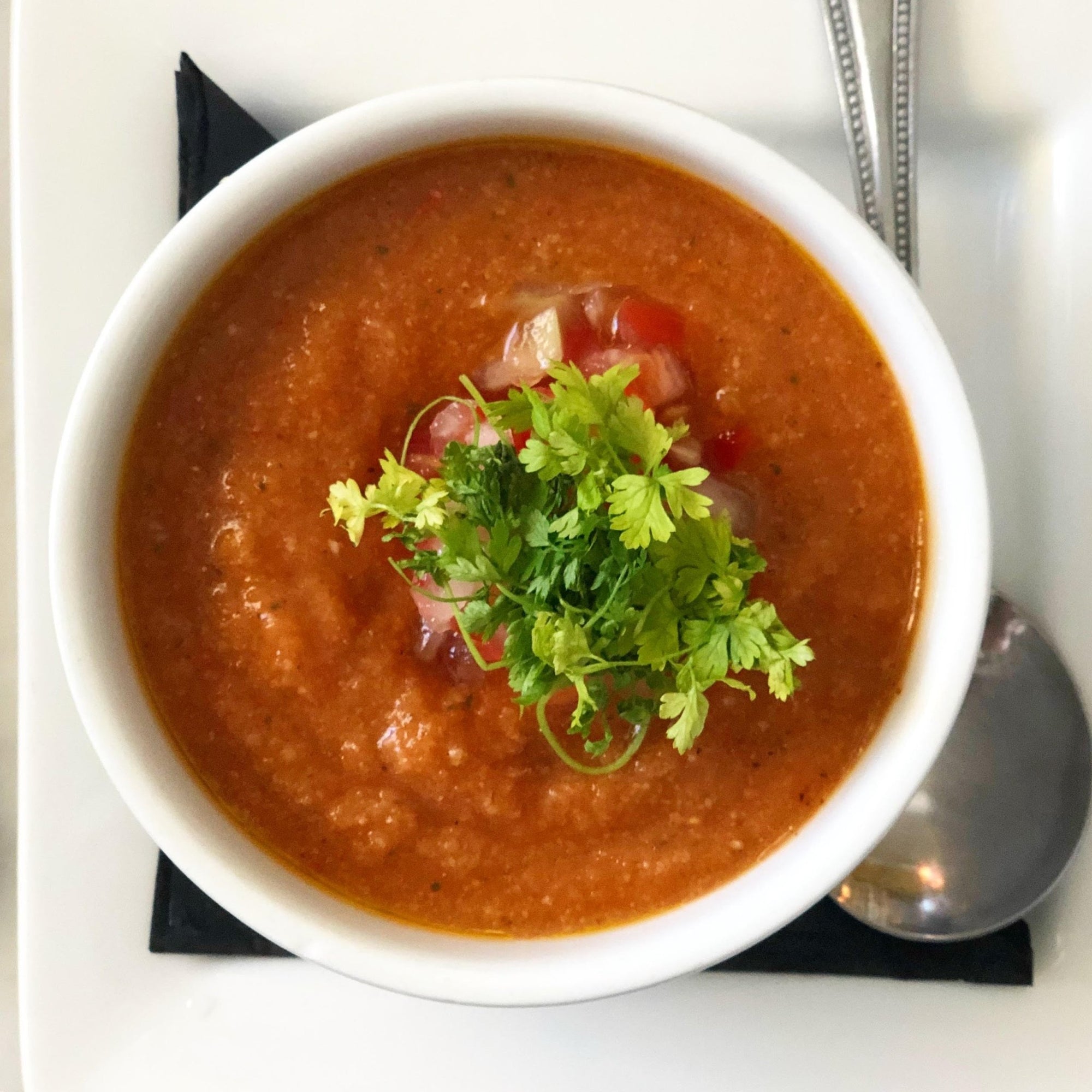 Ingredients
2 medium cucumbers, peeled & deseeded

2 ripe red tomatoes, peeled & deseeded*


1 large green bell pepper, deseeded

1/2 white onion

4-6 cloves garlic, peeled

kosher salt 

black pepper

pinch of cumin optional

3 teaspoon apple cider vinegar 

1/2 loaf day old ciabatta, or any 1/2 small loaf crusty bread (about 6-8 slices)

*Tomato sizes & water content vary greatly, feel free to add extra tomatoes for a smoother texture. This recipe used Heirloom tomatoes.
Day before:  Small dice the cucumbers, tomatoes, pepper, onions.  Marinade over night with good amount of salt & pepper.  
Roast garlic in Olive Oil in small oven safe pan, until garlic is soft & slightly browned.
Break up the ciabatta bread in a hotel pan & place in oven along side the garlic, bake bread until crunchy about 20-25 minutes, until no moisture remains.  Cool & break toasts into small chunks. 

In a blender (this is done in small batches) Blend the cucumber, tomato & onion mixture, ladling the garlic oil & garlic. Pour the blended soup over the bread chunks, let sit in the fridge until soft & squishy.  Blend again, add the cider vinegar. Adjust seasoning with salt, pepper & cumin to taste.
Note: letting the tomatoes & cucumber sit overnight will allow the water to release out of the vegetables and will help to blend together.  If there is not enough liquid, add a small amount of water that will allow mixture to blend until smooth.
Share this
---