Classic Chicken Marbella with Lemon Infused Olive Oil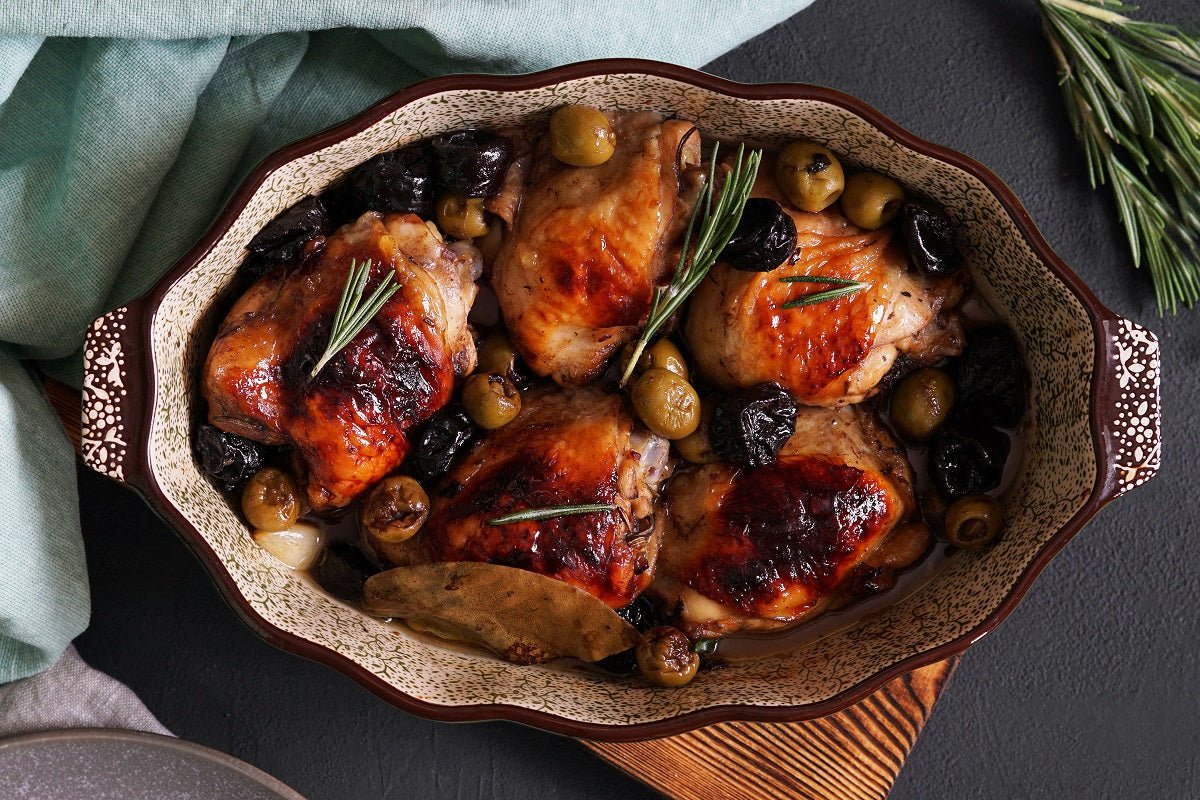 Chicken Marbella is the perfect briney chicken dish to share with loved ones. How so, you ask? The olives, capers, and olive oil combine to add a massive, and delicious impact.
Yet, it's not as intense as it sounds. The addition of dates and brown sugar balance this dish with a sweetness that is truly delectable, and we can't get enough!
Plus, we like to use our Lemon Infused Olive Oil to add a bit of zest. This chicken dish truly has an incredible balance of flavors, and we can't get enough.
Now one caveat - this dish turns out best when you let your chicken marinate overnight, so give yourself plenty of time to create this amazing recipe!
Classic Chicken Marbella with Lemon Infused EVOO
by Chef Jen
Ingredients:
6 bone in chicken thighs
1/2 cup Lemon Infused EVOO
1/2 cup red wine vinegar
1 cup prunes, chopped and pitted
1/2 cup green olives
5 bay leaves
1 head garlic
1/4 cup oregano
3/4 cup brown sugar
1 cup white wine
1/4 cup flat leafed parsley, chopped
salt and pepper, to taste
How to Make: A Step by Step Guide
Step 1: Combine Ingredients
Create brine mixture by combining lemon infused olive oil, vinegar, prunes, olives, capers, bay leaves, garlic, oregano, and salt and pepper.
Step 2: Marinate Chicken Overnight
Add chicken to the brine mixture. Cover and refrigerate overnight.
Step 3: Preheat Oven
The next day before cooking, preheat oven to 350F.
Step 4: Prepare Chicken
Place chicken in a single lay in a glass baking dish. Carefully spoon the brine all around the chicken, careful not to cover the chicken. Add white wine, and sprinkle each chicken thigh with brown sugar.
Step 5: Bake Chicken
Bake for 35-45 mins, until there's an internal temp 165F.
Step 6: Plate and Serve
Transfer to serving platter and sprinkle with chopped parsley.
Eat and Enjoy!
We hope you love our delicious Chicken Marbella. It makes a wonderful date night meal or a great centerpiece at a party feast. We love ours paired with Rosemary Parmesan Smashed Potatoes or some Celery Root Potato Puree with Leeks.
Looking for other ways to use your Lemon Infused EVOO? Try these easy lemon sugar cookies or these caramelized peach and goat cheese tartines!
And don't forget to try more of our infusions of the best Texas olive oil around!
And don't forget to click below to download an easy-to-print version of this recipe!

Download Recipe
Share this
---