Chocolate Fudge Cake with the Best Texas Olive Oil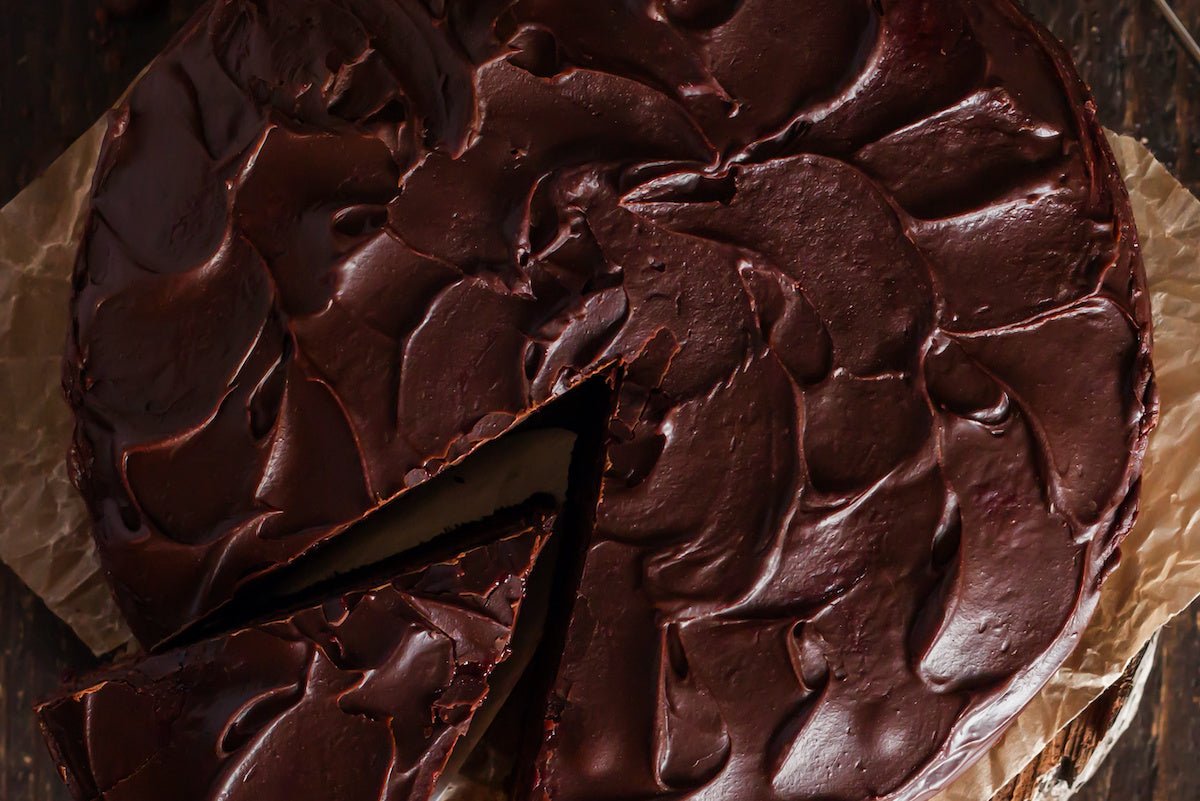 Not all chocolate cake recipes are created equal. Welcome to the ultimate chocolate fudge cake recipe! If you're a chocolate lover with a desire for a moist and indulgent treat, you've come to the right place. With two cake layers of the most delicious, moist chocolate cake, this recipe will surely satiate all your chocolate cravings!
What sets this cake apart and yields the best results is the use of olive oil, which not only adds a healthier twist but also enhances the rich chocolate flavor. Baking with olive oil instead of butter or vegetable oil brings a multitude of benefits to your baking endeavors.
PLUS our Sola Stella Extra-Virgin Olive Oil has a smoke point of 410 degrees Fahrenheit, so it's perfect for baking (most baked goods are baked at around 350F). It's the perfect way to ensure you're getting all those nutritional benefits without sacrificing the buttery flavors you love in a classic cake.
So, let's dive into the recipe and discover why this truly is the best chocolate fudge cake that will satisfy both your sweet tooth and your desire for a healthier option.
Chocolate Fudge Cake with the Best Texas Olive Oil
Ingredients:
For the Chocolate Cake Recipe:
1 and 3/4 cups all-purpose flour
1 and 1/2 teaspoons baking powder
1 and 1/2 teaspoons baking soda
3/4 cup unsweetened cocoa powder
2 cups granulated sugar
1 teaspoon salt
2 large eggs
1 cup milk
2 teaspoons vanilla extract
1 cup boiling water
For the Chocolate Fudge Frosting:
1 and 1/2 cups dark chocolate chips
3/4 cup heavy cream
2 tablespoons unsalted butter
1 teaspoon vanilla extract
Pinch of salt
Instructions:
Preheat your oven to 350°F (175°C). Grease and flour two 9-inch round cake pans.

In a large mixing bowl, combine the flour, baking powder, baking soda, cocoa powder, sugar, and salt. Mix well to combine.

Add the wet ingredients,  eggs, milk, olive oil, and vanilla extract, to the dry ingredients. Beat on medium speed with an electric mixer for about 2 minutes until well combined.

Gradually add the boiling hot water to the batter while mixing on low speed. The batter will be thin, but that's normal.

Pour the cake batter evenly into the prepared cake pans, use a measuring cup if necessary.

Bake in the preheated oven for 30 to 35 minutes, or until a toothpick inserted into the center of the cakes comes out clean.

Remove the cakes from the oven and let them cool in the pans for 10 minutes. Then, transfer them to a wire rack to cool completely.

While the cakes are cooling, prepare the chocolate fudge frosting. In a heatproof bowl, combine the dark chocolate chips, heavy cream, butter, vanilla extract, and salt. Place the large bowl over a saucepan of simmering water, making sure the bottom of the bowl doesn't touch the water. Stir the mixture occasionally until the chocolate chips are melted and the frosting is smooth. Remove from heat and let it cool for a few minutes.

Once the cakes have cooled completely, spread an even layer of chocolate fudge frosting on top of one cake layer. Place the second cake layer on top and frost the top and sides of the cake with the remaining chocolate fudge frosting. If you have any left over, store in airtight container or cover bowl with plastic wrap.

For a finishing touch, you can decorate the top of the cake with chocolate shavings, sprinkles, or any desired toppings.

Let the cake sit for a little while to allow the frosting to set. Then, slice and serve your delicious cake!
Time to Enjoy!
This olive oil chocolate fudge cake is a delectable masterpiece that combines the best of both worlds: a moist, flavorful cake with the added health benefits of olive oil.
By using olive oil instead of butter or vegetable oil, you create a lighter and more heart-friendly dessert without compromising on taste or texture. The olive oil not only contributes to the cake's moistness but also enriches the chocolate flavor, making each bite an unforgettable experience.
Whether you're baking for a special occasion or simply indulging yourself, this chocolate fudge layer cake will surely impress your taste buds and leave you craving more. So, go ahead and give it a try – discover the magic of baking with olive oil and treat yourself to the best chocolate fudge cake you've ever had! Happy baking!
First time trying this recipe? Don't forget to download a copy of the recipe card by clicking below to make the process even easier!
Download Recipe
Share this
---