Olive Green "Greek" Quinoa Salad with Sweet Heat Vinaigrette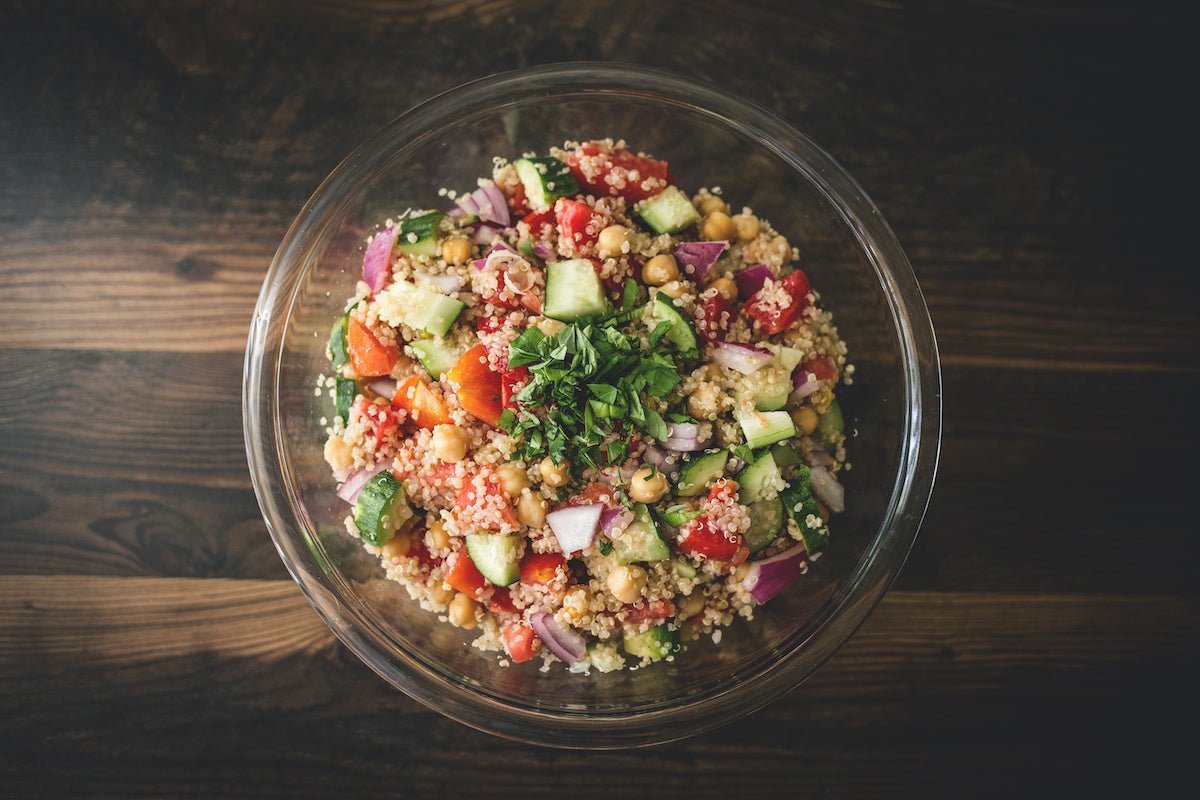 Who doesn't love a Greek salad? We sure do! But our favorite is a little different from the norm.
We like to add a hefty amount of chickpeas and pepperoncini peppers to the mix. They add some delicious flavors and texture, while the chickpeas add a dose of that necessary protein. We also like to use our Sicilian Olives for some extra delicious flavor - as they include some herbs and garlic that really stand out!
Lastly, we like to make a delicious vinaigrette. A typical Greek salad dressing is Extra Virgin Olive Oil and some seasoning. But not this dressing! We like a combination of our Robust Texas Millers Extra Virgin Olive Oil, Traditional Balsamic Vinegar, tahini, honey, garlic, and some fresno pepper or jalapeño for a little heat.
This Sweet Heat Vinaigrette is really just what is says: sweet and spicy. And it's the perfect addition to this Olive Green "Greek" salad! We hope you enjoy it just as much as we do.
Olive Green "Greek" Salad with Sweet Heat Vinaigrette
Ingredients:
Olive Green:
2 large tomatoes, chopped
1 large cucumber, peeled and chopped
1/2 red onion, thinly sliced
1 green bell pepper, chopped
1/2 cup sliced pepperoncini
1/2 cup crumbled feta cheese
1 cup cooked garbanzo beans (canned or freshly cooked)
1/2 cup Sicilian Olives (already pitted)
Sweet Heat Vinaigrette:
¼ cup tahini

2 tsp salt and pepper

2 garlic cloves minced

1 Tbsp honey

5 Tbsp water

2 Tbsp parsley chopped

1 Fresno pepper or jalapeño seeded and finely minced (optional)
Directions:
In a large salad bowl, combine the chopped tomatoes, cucumber, red onion, green bell pepper, sliced pepperoncini, cooked garbanzo beans, and sicilian olives.
Make Dressing. Before adding the Fresno, slice the pepper and remove the seeds.
Place all ingredients in a blender and blend until smooth. You can also mix in a jar with a tight-fitting lid. Place all ingredients in a jar and shake till it's blended. Store in the fridge in an airtight container for up to a week.
Drizzle the dressing over the salad and toss to coat evenly.
Sprinkle the crumbled feta cheese over the top of the salad.
Serve immediately
Time to Enjoy!
This olive green salad is the perfect Greek-ish salad with tons of extra delicious additions. We wanted to make an even healthier and more filling version of one of our favorites, and this one truly delivers!
This salad also makes a delicious meal prep salad for your work week! Just put your dressing on the side, and sub full cherry tomatoes so it doesn't get soggy. You can even incorporate some grilled halloumi instead of feta, or a little garlic parmesan chicken or shrimp to change it up on different days.
FUN FACT: Did you know that you can buy a vinaigrette set for our Sweet Heat Vinaigrette? It not only gives you the Texas Millers Extra Virgin Olive Oil and Traditional Balsamic Vinegar in a set, but provides you with a print out of the dressing recipe! It really makes life a whole lot easier.
We hope you love this salad as much as we do! Make sure to click below to download your own copy of the recipe.

Download Recipe
Share this
---