3 Cheese Queso with Spicy Chorizo and Texas Olive Oil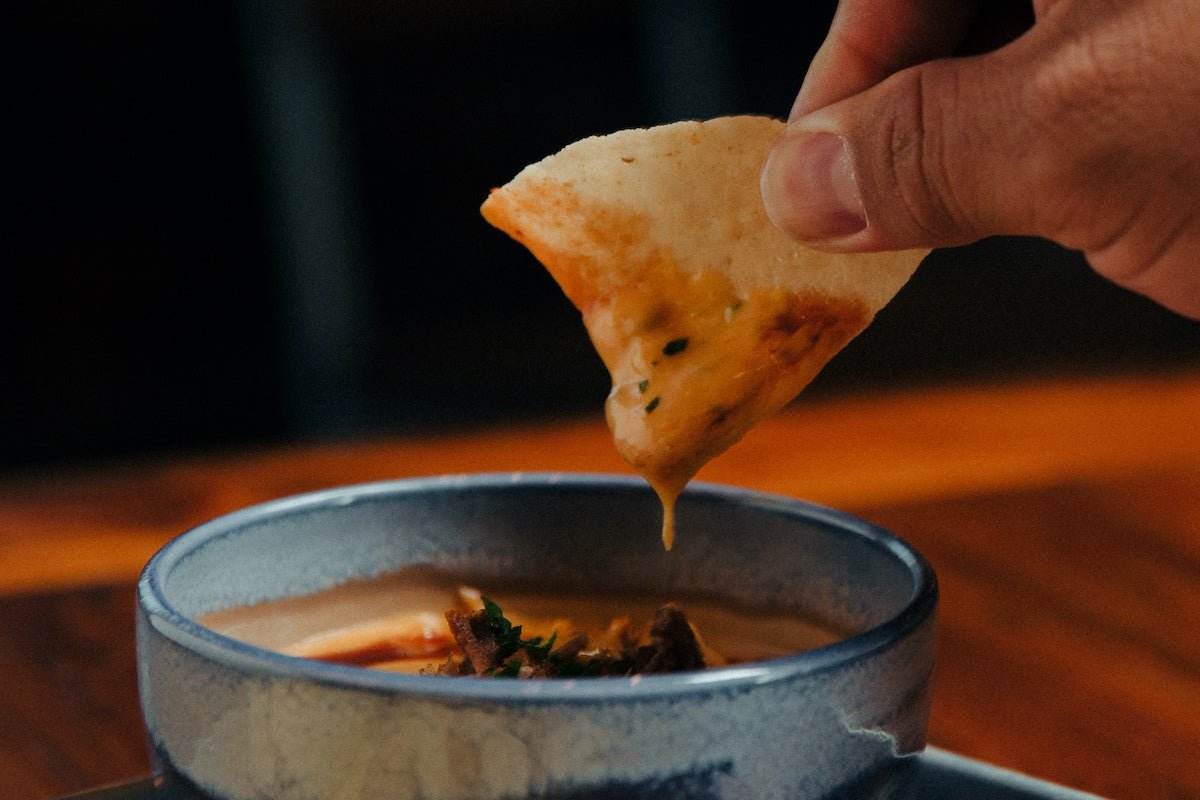 Cinco de Mayo is just around the corner, and what better way to celebrate than with a spicy and delicious dip? This 3 cheese chorizo queso dip is the perfect addition to your Cinco de Mayo fiesta, or any casual gathering with friends and family.
With a combination of cheddar, Monterey Jack, and queso fresco cheeses, as well as the added kick of chorizo and our Jalapeño Infused Olive Oil, this dip is sure to be a crowd-pleaser.
And as Texans, we firmly believe a good queso is a necessity all year round, so don't only whip this recipe out on cinco! Whatever time of year it is, make this recipe ASAP. So grab some tortilla chips and get ready to dig in!
3 Cheese Queso with Spicy Chorizo and Texas Olive Oil
Ingredients:
1 lb. chorizo, casings removed and crumbled
1 tbsp. Jalapeño Olive Oil or Hatch Green Chile Infused Olive Oil (seasonal)
2 cups shredded cheddar cheese
2 cups shredded Monterey Jack cheese
1 cup whole milk
1/2 cup diced tomatoes
1/2 cup diced green onions
1/4 cup diced jalapenos
1 tbsp. cornstarch
1 tbsp. water
Salt and pepper to taste
Instructions:
Heat the infused olive oil in a large skillet over medium heat. Add the crumbled chorizo and cook until browned and crispy, about 8-10 minutes. Remove from skillet and set aside.

In the same skillet, add the shredded cheddar cheese, shredded Monterey Jack cheese, whole milk, diced tomatoes, diced green onions, and diced jalapenos. Stir occasionally until the cheese is melted and smooth.

In a small bowl, whisk together the cornstarch and water. Add this mixture to the cheese mixture and stir until fully incorporated.

Add the cooked chorizo to the cheese mixture and stir to combine. Season with salt and pepper to taste.

Serve the spicy queso with tortilla chips, vegetables, or crackers. Enjoy!
Note: You can adjust the level of spiciness by adding more or less jalapenos. Additionally, you can substitute the jalapeno or hatch olive oil with regular olive oil and add fresh jalapenos instead.
Enjoy Your 3 Cheese Spicy Chorizo Queso!
There you have it, a tasty and easy-to-make recipe for 3 cheese chorizo queso dip that's perfect for your Cinco de Mayo celebration or any casual get-together. The combination of three cheeses, chorizo, and Jalapeño Olive Oil creates a dip that's both creamy and spicy.
You can even add a dollop of salsa or guacamole to the top for an extra special touch. Serve it with tortilla chips, vegetables, or crackers and watch as your guests devour it. Give it a try and let us know what you think!
And don't forget to click below and download your own copy of the recipe! Enjoy!

Download Recipe
Share this
---