How Is Texas Olive Oil Made?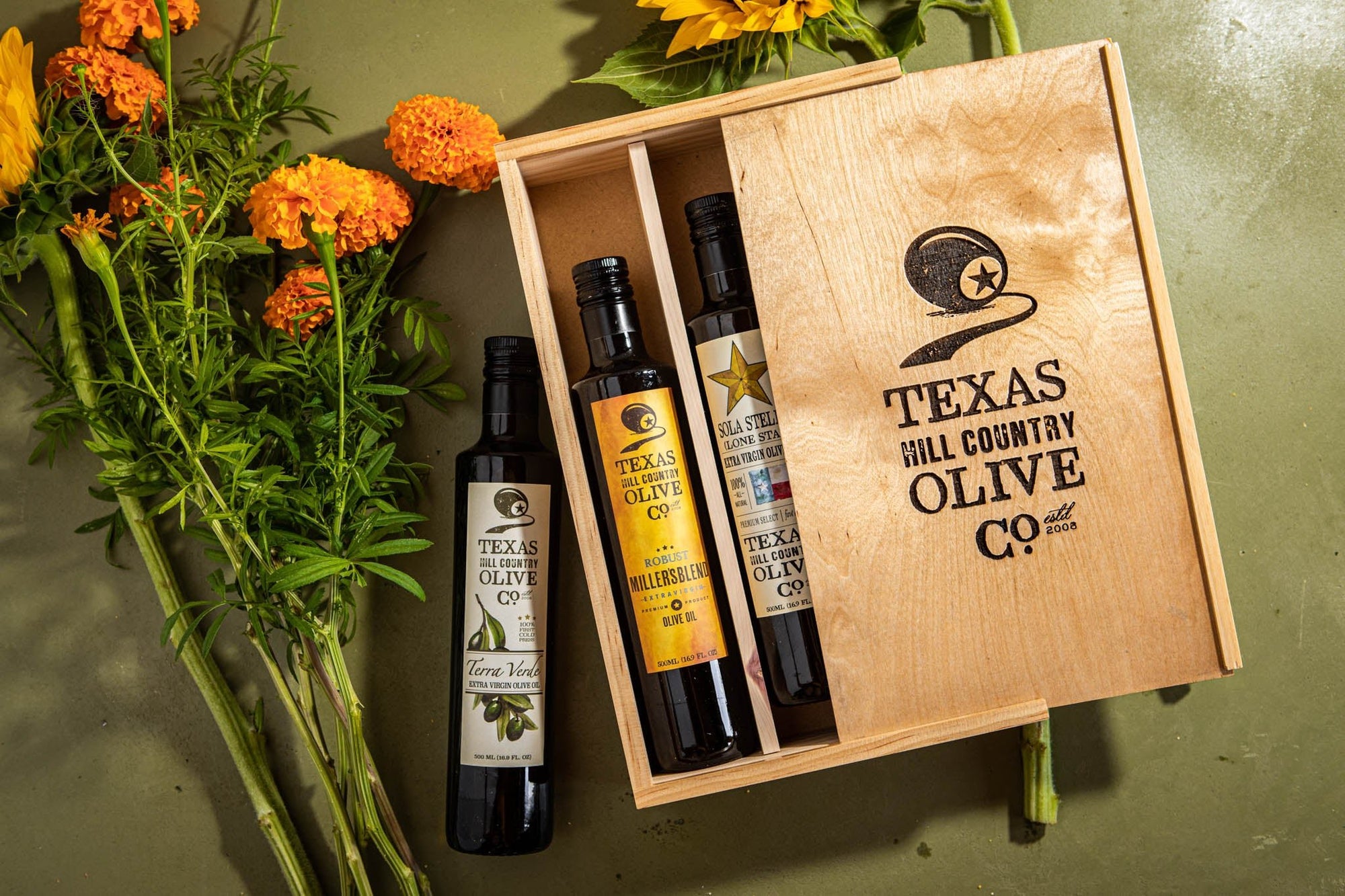 Transforming the Olea Europaea tree's fruits into a golden liquid that shows hues of green and purple in the sunlight and tastes like a Mediterranean holiday is no easy feat. We mastered the process when we founded our company and planted our orchard in Dripping Springs. Ever since then, we have been making high-quality extra virgin Texas olive oil; to this day, it is still the best EVOO in the state.
For us, producing this pantry staple and making it the best it can be is a way of honoring our Italian heritage. Italy, together with Spain, Greece, Portugal, and Tunisia, is known worldwide for its orchards. We were lucky enough to find soil similar to the one in Italy right here in Dripping Springs; our idea simply made sense and had to become a reality. We planted the trees, started harvesting the fruit, and… 
Extracting the Oil
Once the fruits are ripe enough to be turned into EVOO, they are harvested and quickly transported to the mill. There, they go through a defoliator that removes any leaves, twigs, or stems. The first step of the extraction process, called grinding, starts when they are free of any debris and dirt. The entire fruit, including the pit, gets crushed and turned into a thick paste. 
The paste then goes into a malaxator where it gets stirred slowly. The first drops of oily goodness start forming, making the malaxation step a crucial one; this part of the extraction process needs to happen in temperatures and atmospheric conditions that are carefully controlled. The centrifugation step comes next; the entire mixture goes into a decanter where the EVOO is separated from the solids and water.
Filtering the Oil
While the "olio nuovo" from the decanter can be used straight away, it is best if it gets filtered or racked first. By doing so, we make sure it is free of any particles that might compromise its quality over time. Before bottling the EVOO, we filter it until it is clear and no traces of water or particulates are found inside. This ensures our product will have no issues qualifying for the extra virgin certification during the testing stage.
Testing the Texas Olive Oil
While this stage is technically not part of the production process, it does have to happen before the bottles of EVOO can reach the shelf. Testing involves a chemical analysis that determines whether certain chemical parameters are met; the authenticity and purity are then tested. Our products also undergo sensory analysis where trained testers get to sample them.
Producing EVOO might not be easy but for us, it is worth it. We love making high-quality products that make our customers happy and keep them healthy! If you want to see where the magic happens, book a tour of the orchard; this is a great opportunity to learn more about our company and to sample our delicious products. We look forward to having you here!
Share this
---