Our 5 Favorite Dishes with Olive Oil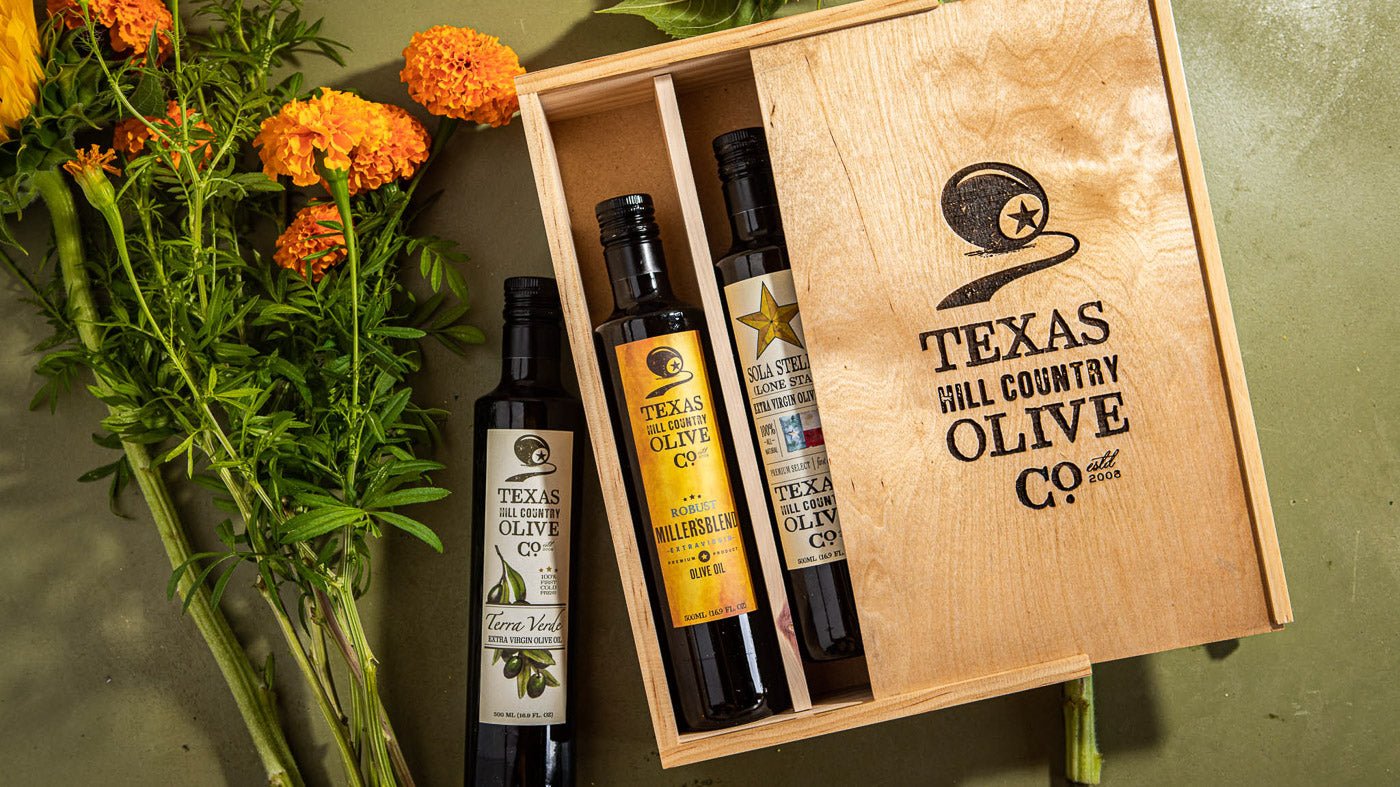 #ILoveFoodDay is September 9th, but you don't need an obscure holiday to enjoy this ancient gold standard ingredient. After all, your dishes deserve the very best every day, and so do you! We've hand-selected recipes that perfectly showcase the one-of-a-kind flavor profiles of our house-made olive oils. On that note, here are five of our favorite ways to add olive oil to the menu, whether you're entertaining a crowd — or just yourself!
1. Peach Panzanella
A rustic recipe treasured by Tuscan farmers for generations, "Panzanella" comes from the Italian words for "bread" and "small basket". The surprising addition of sweet summer fruit makes this fresh chopped salad the perfect way to savor the bounty of your end of season harvest. Zesty peaches, cherry tomatoes, red onions and country-style sourdough come alive with the bright Mediterranean flavor of Super Greek Extra Virgin Olive Oil and our Peach Balsamic Vinegar.
2. Texas Gazpacho
A refreshing chilled bisque hailing from the Andalusian region of Spain, tangy tomato-rich gazpacho is a perfectly smooth starter or late-summer supper. Fresh summer vegetables are blended with roasted garlic cloves, along with crusty day-old ciabatta bread to thicken up the soup. Made with a robust combination of Arbequina, Mission and Pendolino olives, Terra Verde Extra Virgin Olive Oil provides the perfect fruity finish in this piquant crowd pleaser, which comes to us courtesy of Hillside Farmacy.
3. Moroccan Spiced Lamb Meatballs With Cilantro & Gold Raisin Chimichurri
These rockin' Moroccan meatballs get their kick from smoked paprika, cinnamon, turmeric and cumin, brought alive by our silky smooth Super Greek Extra Virgin Olive Oil, proudly made in the traditional Greek fashion from single variety Koroneiki olives. Our very own White Lemon Balsalmic Vinegar adds mouthwatering zing to the sweet chimichurri sauce. Serve with cooling Greek yogurt and pomegranate seeds to balance out the warm spiciness of these bite-sized beauties.
4. Pan Seared Salmon & Charred Brussels Sprouts With Goat Cheese, Pancetta, & Fig Balsamic
This award-worthy recipe for pan seared salmon deserves nothing less than Sola Stella Extra Virgin Olive Oil, the most awarded olive oil in our lineup! Crunchy on the outside and delightfully tender on the inside, this indulgent dish pairs buttery salmon filets with salty pancetta, savory goat cheese, and charred brussel sprouts. Serve with a final drizzle of our very own Fig Balsalmic Vinegar to impart just the right amount of sweet tanginess.
5. Blood Orange Olive Oil & White Chocolate Cookies
The bold and citrusy infusion of our Blood Orange Extra Virgin Olive Oil in this delectable recipe introduces an unexpected twist on the cookie classic. The aromatic fresh-squeezed orange flavor is the perfect complement to tart cranberries and sweetly creamy white chocolate. For even more bite, marinate the dried cranberries in a spoonful of our balsamic vinegar for about an hour beforehand. (We suggest Wild Cherry or traditional flavor.) The results will impress even the pickiest cookie connoisseur.
Share this
---