Peach Balsamic Summer Panzanella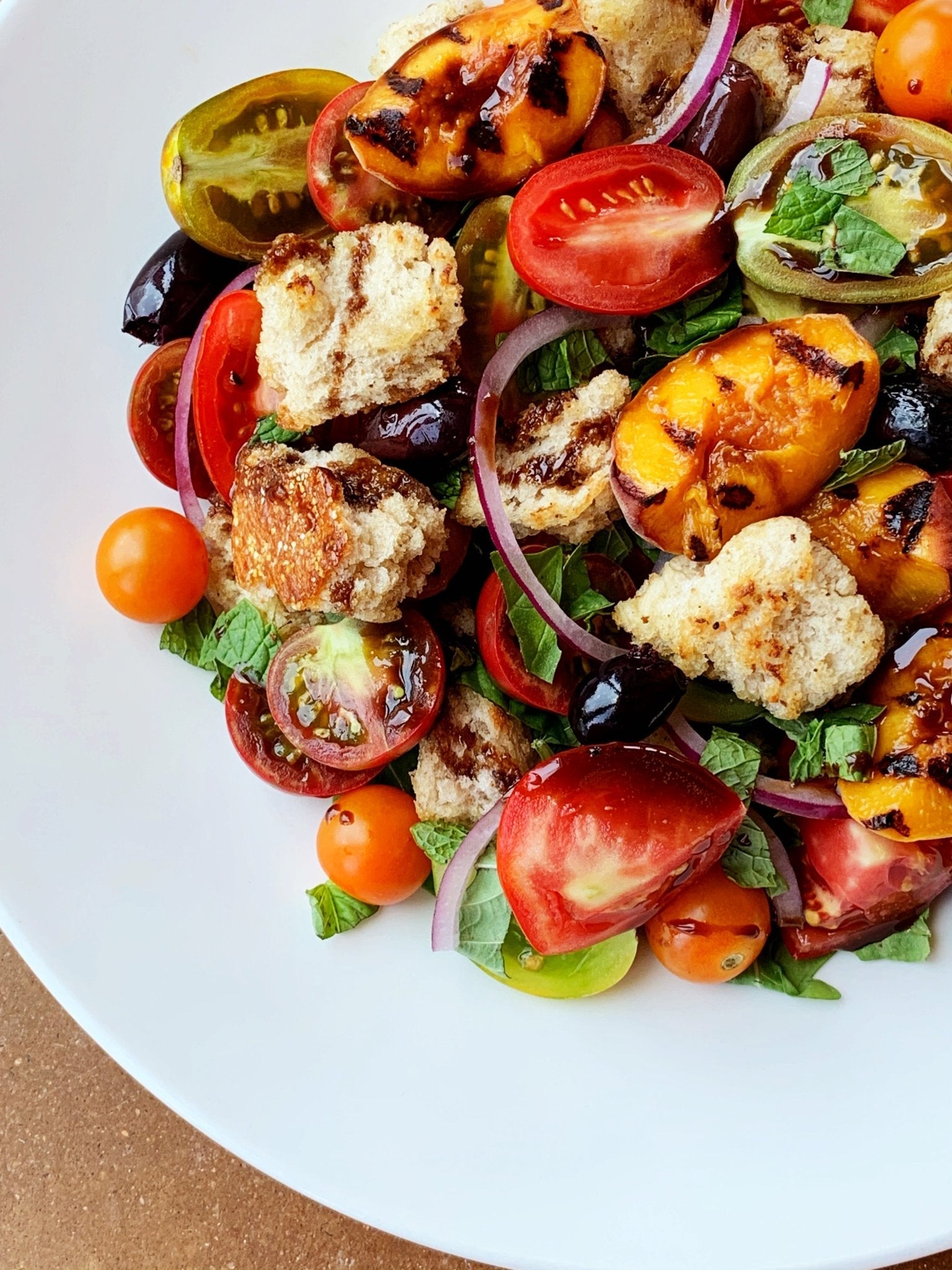 Serves 4
Ingredients:
1 loaf country-style sourdough bread, cut into 1-inch cubes
1 lb freestone peaches (yellow or white), cut in half with pit removed
1 lb assorted cherry tomatoes, halved
½ ea large red onion, sliced thin
½ c kalamata olives halved
¼ c ea fresh basil and mint leaves, cut into thin ribbons
1 tbsp shallot, minced
½ oz red wine vinegar
1 tsp dijon mustard
1 c Super Greek Extra Virgin Olive Oil
to taste salt and pepper
Directions:
Begin by tossing torn bread pieces with ¼ c Super Greek Extra Virgin Olive Oil.
Place in a large sauté pan over medium-high heat and stir until the bread begins to brown and get crisp. Remove from the pan and cool.
To grill peaches, cut peaches in half and remove the pit. Heat grill or grill pan to high and place peaches flesh side down on the hot grill for about 4 minutes until seared. Remove from the heat and cut into wedges.
Combine grilled peaches, tomatoes, red onion, olives, toasted bread, and fresh herbs into a large bowl and gently toss.
In a separate bowl whisk together shallots, Peach Balsamic, red wine vinegar, and Dijon mustard.
Once well combined, drizzle in 1 c Super Greek Extra Virgin Olive Oil to make the vinaigrette. Season with salt and pepper.
Drizzle vinaigrette over salad and toss gently to coat.
Share this
---