Almond Olive Oil Sheet Cake with Dulce de Leche Buttercream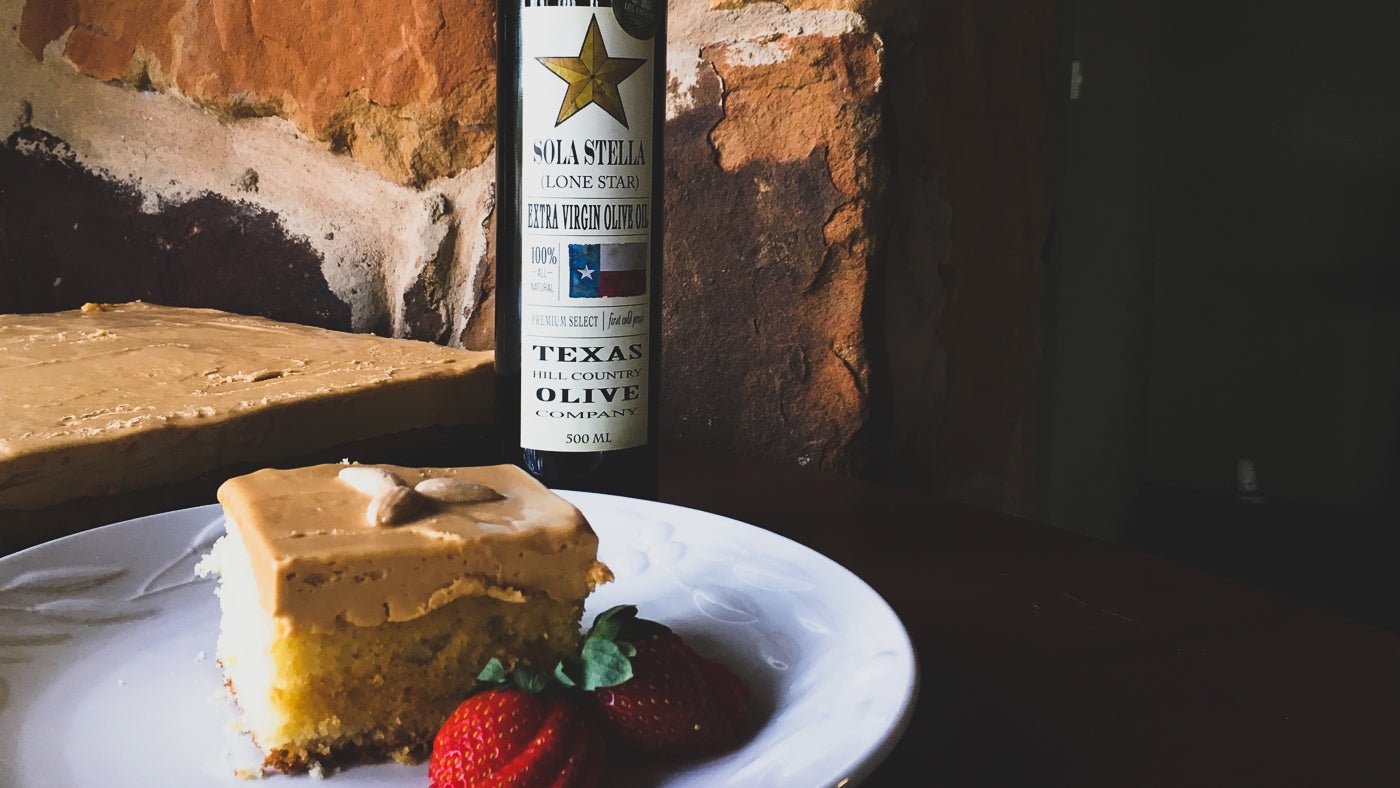 Almond Olive Oil Sheet Cake
Ingredients:
2 ½ Cups Sugar
4 Cups All Purpose Flour
½ Cup almond flour
4 teaspoons Baking Powder
1 teaspoon salt
2 teaspoons vanilla extract
½ teaspoon almond extract
1 ½ cups whole milk
6 large eggs
 Directions:
Preheat the oven to 350 degrees.
Spray and line with parchment a ½ sheet pan.
In a medium bowl, whisk together flours, baking powder and salt.
In a larger bowl, or the bowl of a stand mixer, combine EVOO and sugar until the mixture resembles wet sand.
Add the extracts and milk, scraping down the sides, mix until combined.
Add the eggs one at a time, scraping down between additions, at low speed.
Add dry ingredients in three batches, scraping down sides with each addition.
Mix just until all ingredients are thoroughly combined. Don't over mix.
Scrape batter into prepared pan and bake 20 to 25 minutes, or until a toothpick inserted near the center comes out clean.
Cool on a wire rack before removing cake from pan.
Dulce de Leche Buttercream
Ingredients:
1½ Cups dulce de leche
1 Cup unsalted butter
5 Cups 10x Sugar
2 teaspoons vanilla extract
2 Tablespoons heavy cream
Directions:
In a stand mixer, cream the butter.
Add dulce de leche, blending until combined.
Add cream and vanilla, combine.
Add sugar one cup at a time until desired consistency.
Share this
---