German Potato Salad with White Balsamic Vinegar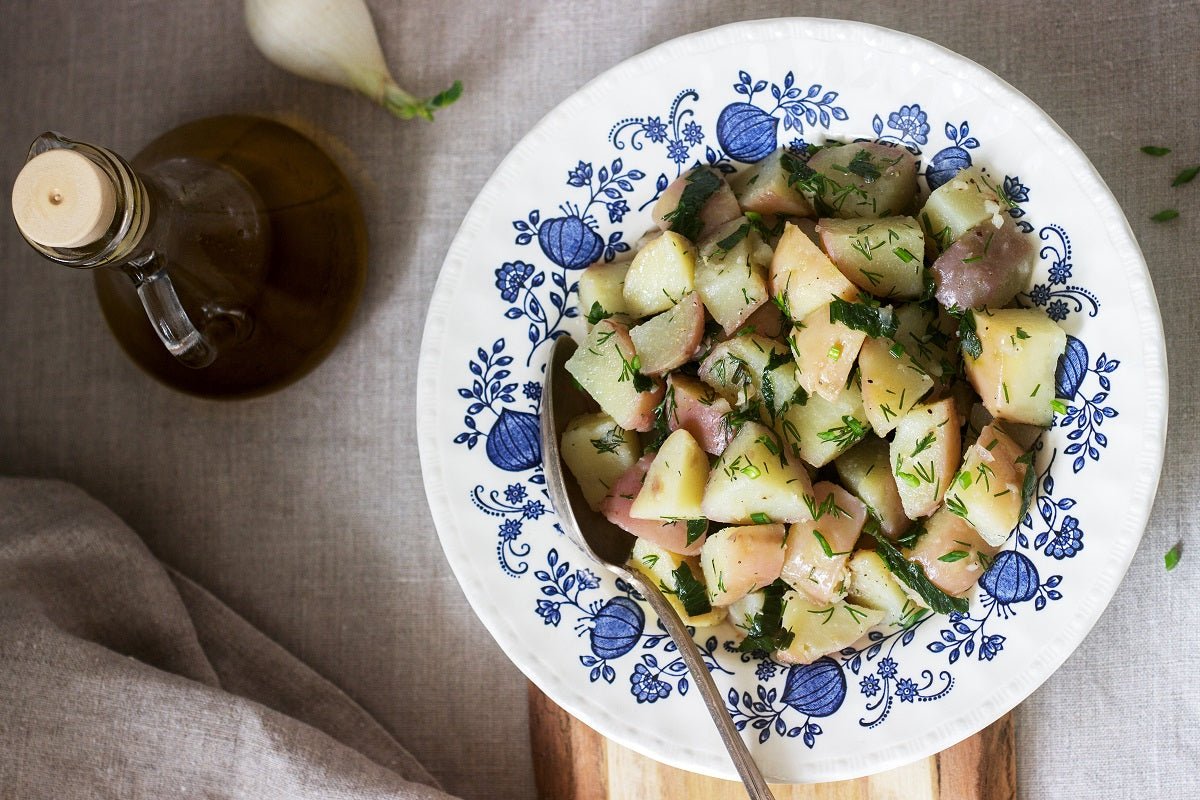 We firmly believe a solid potato salad recipe is a staple at any BBQ, picnic, or large gathering. But in our hearts, no potato salad comes as close to a German potato salad. Why you ask? Vinegar, of course!
We love the warmth of a German potato salad, combined with the punch vinegar gives to every bite. A potato salads with heaps of dairy? No thanks!
And do you know what sets our German potato salad apart from the rest? We use a balsamic vinegar rather than a red wine or apple cider vinegar! We prefer our White Balsamic Vinegar, which adds a hint of sweetness to this savory dish.
Looking to make this German potato salad for your next gathering? Keep following below for this easy-peasy recipe!
German Potato Salad with White Balsamic Vinegar
Ingredients:
5lbs red potatoes, chopped
2 white onions, diced
2lbs bacon chopped
1/2 cup diced pickles
1 cup white balsamic vinegar
1/4 cup chicken demi glace
1/4 cup whole grain mustard
2 tablespoons minced garlic
1/2 cup water
1/3 cup chopped parsley
1 tablespoon salt
1 tablespoon pepper
How to Make: A Step by Step Guide
Step 1: Prepare Potatoes
Cut your red potatoes into bite sized pieces. Then place in boiling water to cook until tender, strain, and then set aside.
Step 2: Prepare Bacon
Chop bacon into small pieces, then cook in a pan, pull off when ready, and save the grease.
Step 3: Create Dressing
Mix all remaining ingredients (including bacon grease) into a mixing bowl, and mix well.
Step 4: Mix Together & Serve
Pour dressing over your potatoes, toss, and serve!
Time to Enjoy!
This easy German potato salad is perfect for so many occasions! From picnics, to parties, a side for your juicy burgers, it makes a great addition to any meal.
Looking for other ways to use that white balsamic vinegar? Combined with our Spaniard EVOO, with some other ingredients, it makes the BEST Curry Tahini Vinaigrette for a roast carrot and orange salad. To make matters even easier (and cheaper), you can purchase them in a combined recipe set - you're welcome!
PLUS: don't forget to click below to download a printable copy of this German potato salad recipe. Happy cooking!

Download Recipe
Share this
---