Lucky Lunar New Year Dumplings with Blood Orange Chili Sauce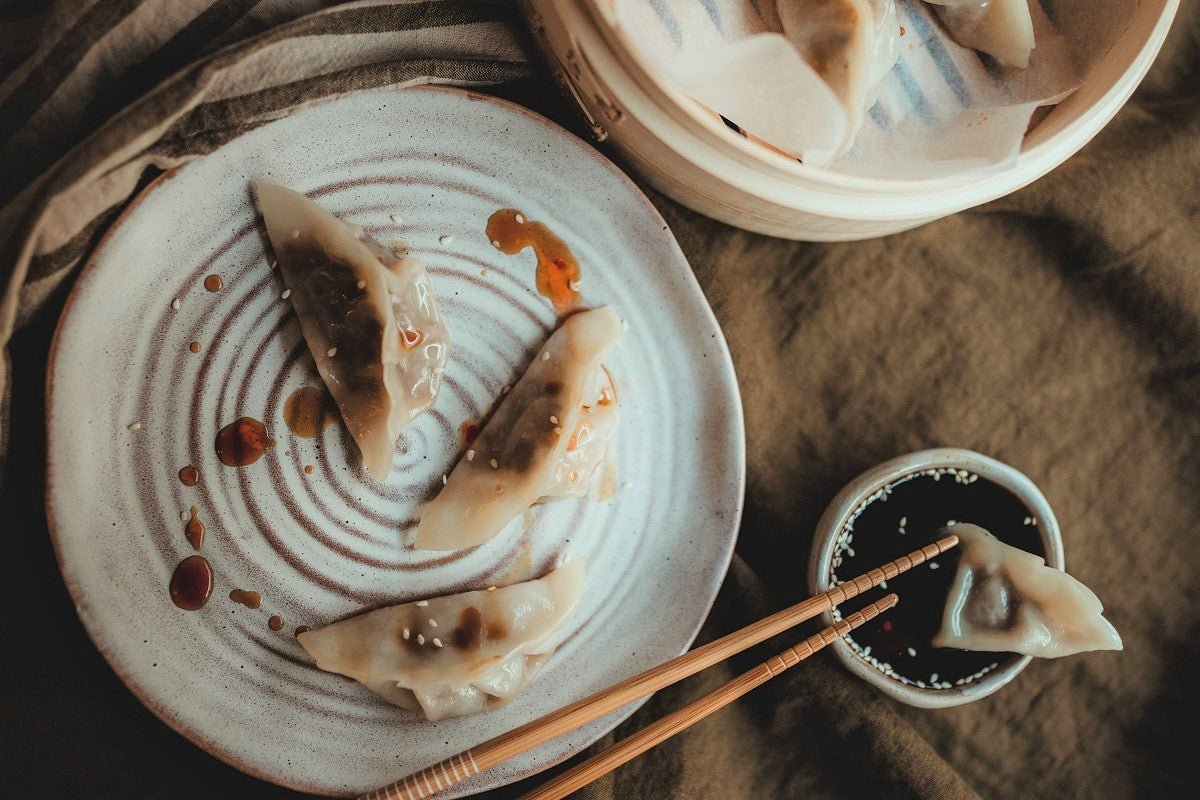 Happy Year of the Rabbit! We want to spend this Lunar New Year eating delicious food, and preparing for the year to come.
Although these dumplings are PERFECT for bringing you luck in the Year of the Rabbit, they're also delicious all year round.
In Chinese tradition, dumplings represent luck all year around. But people eat dumplings to bring wealth in the New Year, as they resemble ancient Chinese gold inglots. Traditionally, it's also a symbol of family unity, as the family often gets together Lunar New Year's Eve to prepare dumplings together for the next day.
So get your family or friends together, and make these delicious Lunar New Year dumplings! We've even added a zesty dipping sauce with our Blood Orange Infused Olive Oil to the mix. Orange is also meant to be eaten on Lunar New Year  for good luck - so let's hope the dumpling and orange combination is extra lucky!
Lucky Lunar New Year Dumplings with Blood Orange Chili Sauce
Ingredients:
Dumplings:
12 ounces lean ground pork (or 2 cups shitake mushrooms, diced for vegetarian)
2 green onions, minced
2 tablespoons minced fresh ginger root
2 garlic cloves, minced
3 tablespoons soy sauce
1 tablespoon sesame oil
1 package (10 ounces) round pot sticker or gyoza wrappers
1 tablespoon Sola Stella EVOO
1/2 cup water
Blood Orange Chili Sauce:
1/4 cup soy sauce
2 tablespoons blood orange infused olive oil
2 tablespoons rice vinegar
2 tablespoons orange juice (no pulp)
1 tablespoon minced fresh ginger
2 tablespoons spicy chili crisps
How to Make: A Step by Step Guide

Step 1: Prep the Filling
Time to get your ingredients together to make your dumpling filling. Combine the ground pork (or diced mushrooms for vegetarian), minced green onions, garlic and fresh ginger in a large bowl along with sesame oil and soy sauce. Mix well.
Step 2: Fill Your Dumplings
In this recipe we've opted for pre-made dumpling wrappers to minimize some of the kitchen time. Set a tablespoon of filling in the very center of each wrapper.
Step 3: Shape Your Dumplings
Wet the edge of the wrapper with water and fold it in half. Pinch the center to keep the wrapper in place, and then fold over twice on each side. At the end, it should look like a little fan. Once folded, place the dumplings on a baking sheet folded-side up, gently flattening the bottom.
Step 4: Prep Pan & Cook
Cook in small batches so as not to overcrowd your pan. Heat your Sola Stella EVOO in a large saute pan over medium heat. Add dumplings, flat-side down, and cook until the bottoms are golden—about 5 minutes. After browning, add a 1/2 cup of water, place the lid, and cook for 5 minutes or so until most of the water has evaporated. Then remove the lid until all the water is gone and the centers of your dumplings are cooked through—about 1 to 2 minutes more.
Step 5: Make Your Sauce
Whisk all your ingredients together to serve alongside dumplings as a dipping sauce.
Time to Enjoy!
We hope these delicious dumplings get you in the Lunar New Year spirit! They're such a fun dish to make with loved ones, and a great way to set intentions for the Year of the Rabbit.
Our blood orange infused olive oil adds a little extra luck and zest to your dumpling dip - but that's not all you can use it for! Add it to a protein, like our blood orange mahi with citrus braised fennel. Or even try it in a dessert, like these blood orange olive oil and white chocolate cookies.
Want to make creating this recipe even easier? Download a printable version below! Now go enjoy - and Happy Year of the Rabbit!
Share this
---