Hatch Green Chile Chocolate Olive Oil Cake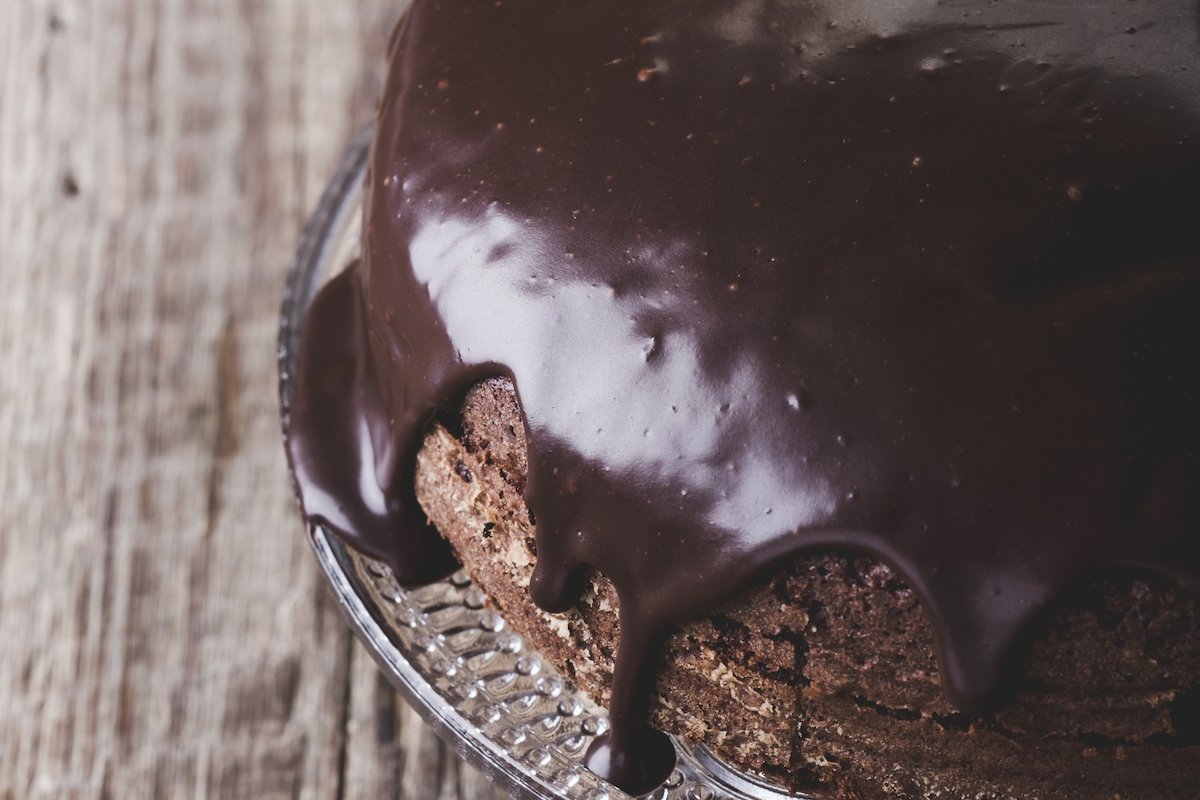 Who doesn't love a chocolate cake? It's a dessert staple that is a necessity at birthday parties and weddings alike. But the same old chocolate cake can get a tad boring, and we like to spice it up every once in a while...literally.
Enter the mocha hatch green chile cake you never knew you needed. The combination of chocolate, coffee, and our Hatch Green Chile Extra Virgin Olive Oil might sound crazy to some - but all you coffee and spice lovers out there will be thanking us later.
It's the perfect blend of flavors, and the use of olive oil instead of butter adds a wonderful density. The moisture in olive oil cakes just can't be beat! PLUS the chocolate hatch green chile glaze is the best finishing touch.
Mocha Hatch Green Chile Cake with Chocolate Glaze
Ingredients:
For the Cake:
1 1/2 c all-purpose flour

3/4 c unsweetened cocoa, sifted

1 1/2 t baking soda

1/2 t fine sea salt

3/4 c granulated sugar

3/4 c dark brown sugar

1 1/2 c strong brewed coffee

1 T cider vinegar
For the Glaze:
3/4 c semisweet chocolate chips

2 T cocoa powder

1 T light corn syrup

Flaky sea salt 
How to Make: A Step by Step Guide
Step 1: Preheat the Oven
Heat oven to 350 degrees F.
Step 2: Prepare Cake Pan
Line the bottom of 9-inch round cake pan with a fitted round of parchment paper and coat the bottoms and sides with nonstick cooking spray.
Step 3: Mix Cake Ingredients
In a large mixing bowl, whisk together flour, cocoa, baking soda, salt and granulated sugar. Add brown sugar and olive oil, and whisk to combine. Add coffee and vinegar, and whisk until smooth. Pour into prepared pan.
Step 4: Bake the Cake
Bake for 30 to 35 minutes, or until the top is springy and a tester inserted in the center comes out with just a few sticky crumbs.
Step 5: Cool the Cake
Cool the cake in the pan on a wire rack for 10 minutes. Loosen around the edges of the pan with a knife and flip out onto a cooling rack to cool completely. 
Step 6: Make Glaze
For the Glaze, combine chocolate, cocoa powder, olive oil, corn syrup, and a pinch of salt in a medium bowl and microwave to melt, in 15 to 30 second increments, stirring between each until just melted. Whisk until smooth.
Step 7: Add Glaze & Finishing Touches to the Cake
Pour over completely cooled cake and use spatula to gently nudge it down the sides. Sprinkle more flaky sea salt over the top. 
Step 8: Serve or Store
Store at room temperature for 2 to 3 days and up to a week in the refrigerator.
Time to Enjoy!
We hope you love this mocha hatch green chile cake as much as we do! It's the perfect way to serve up a chocolate cake that is far from boring.
Looking for other things to make with your Hatch Green Chile Extra Virgin Olive Oil? Try the following recipes:
It's also delicious on salads, cooked with a protein, or even drizzled on some mac n' cheese!
Looking to make the baking process of this yummy cake even easier? Click the link below!
Share this
---