Hatch Green Chile Cornbread with Texas Olive Oil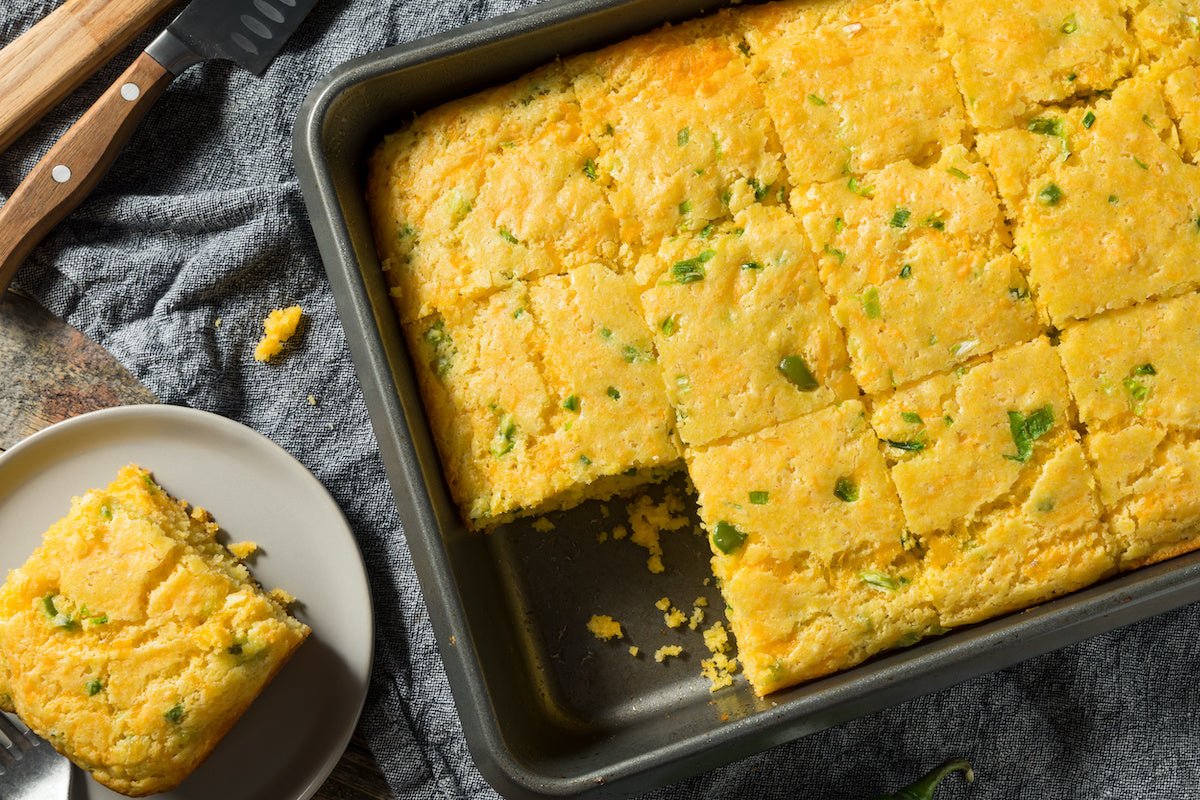 Nothing says Southwestern Summer like a recipe with hatch green chiles - especially when it's a cornbread recipe. This cornbread combines the earthy taste of New Mexico's prized hatch green chiles with the rich essence of Texas olive oil to create a truly unforgettable dish.
But this dish isn't just regular old cornbread with some hatch chilies thrown in - it's a hatch lover's dream with the addition of our Hatch Green Chile Infused Olive Oil! This seasonal flavor is back, and as delicious as ever. Combine some Hatch Olive Oil with fresh (or canned) hatch green chiles, and you've got yourself the spicy cornbread of your dreams.
And whether you're a seasoned hatch chile aficionado or new to the pepper's fiery allure, this cornbread will undoubtedly become your next favorite thing. So, gather your ingredients, preheat your cast iron skillet, and get ready to embark on a culinary journey during the peak of hatch chile season!
 Hatch Green Chile Cornbread with Texas Olive Oil
Ingredients:
1 cup yellow cornmeal
1 cup all-purpose flour
1 tbsp baking powder
1 tsp salt
1 cup buttermilk (or 1 cup milk + 1 tablespoon vinegar or lemon juice, let sit for 5 minutes)
2 large eggs
1/3 cup honey
1/2 cup roasted and diced hatch green chiles (canned or fresh peppers, mild or hot depending on your preference)
1/2 cup grated cheddar cheese (optional, for extra richness)
*If Hatch is out of season or our Infused Oil is sold out, substitute for Jalapeño Infused Olive Oil and diced jalapeños
Instructions:
Preheat your oven to 375°F. Place the baking dish or skillet in the oven while it preheats.
In a large bowl, combine the dry ingredients: cornmeal, all-purpose flour, baking powder, and salt. Mix them together well.
In a separate bowl, whisk together the wet ingredients: buttermilk, eggs, honey, and hatch green chile infused olive oil until well combined.
Add the wet ingredients to the dry ingredients, stirring gently with a wooden spoon or rubber spatula until just combined. Avoid overmixing; a few lumps are okay.
Gently fold in the diced hatch green chiles and grated cheddar cheese (if using) into the batter.
Carefully remove the preheated baking dish or hot skillet from the oven. Grease the dish with butter, oil, or cooking spray.
Pour the cornbread batter into the greased baking dish, spreading it out evenly.
Place the baking dish back into the oven and bake for 25 to 30 minutes, or until the top is golden brown and a toothpick inserted into the center comes out clean.
Once the cornbread is done, remove it from the oven and let it cool in the dish for a few minutes.
Cut the cornbread into squares or wedges and serve warm. It's delicious on its own or served with a dollop of unsalted butter, a drizzle of honey, or some sour cream.
If there are any leftovers, store them in an airtight container.
 Time to Enjoy!
Enjoy the versatility of this Hatch Chile Cornbread, whether as a comforting companion to your favorite bowl of chili or relished on its own.
But don't be surprised if this cornbread becomes a new family favorite, vanishing within minutes. And if you find yourself craving another batch, remember, the beauty of this recipe lies in its adaptability.
Experiment with different types of hatch peppers, a little bit of extra honey or 1/4 cup sugar for sweetness, some corn kernels for texture, or add cheddar cheese for an extra layer of indulgence.
Looking for more ways to use your new Hatch Green Chile Infused Olive Oil? Try these recipes out next:
Don't forget to download and print a copy of the recipe by clicking below!
Download Recipe
Share this
---