Breakfast Time: Muffins with Mom & Mother's Day Brunch Ideas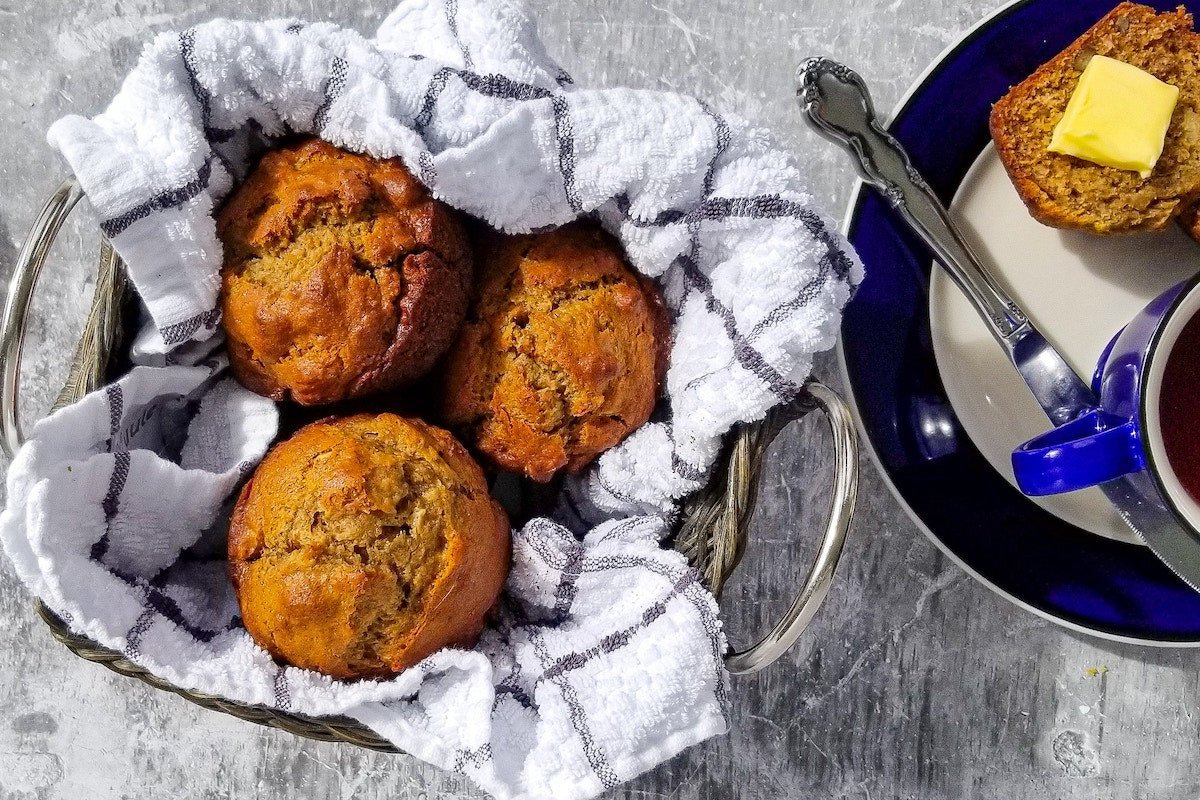 It's the time of year to say loud and proud how much we love our moms! From the stay-at-home mom to the working mom, we want to show every type of mom the love and appreciation they deserve!
As a women owned and run business, we have a strong appreciation for the women in our lives - especially the mothers.
Many of the ladies of THCOC, from the owner, to the chef, to the store managers and employees, are all not only incredible women - but wonderful mother's who deserve all the love and appreciation.
And what better way to say "thank you mom!" than starting the day off right with a delicious Mother's day breakfast?
Breakfast Time: Muffins with Mom & Mother's Day Brunch Ideas
Whether you want to serve up some breakfast in bed, make a delicious at home brunch, cook with mom herself (but you do all the cleanup), or take her out for a brunch in town - you need a plan in place to show mom how much you care and that this wasn't an afterthought.
To make the planning process a little easier for you, we've rounded up plenty of Mother's Day brunch and breakfast ideas, from muffins to mimosa bars.
So here are some ideas for a memorable Mother's Day brunch that you and your mom will love.
What to Serve On Mother's Day
The most important part of any Mother's Day breakfast is the star of the show: the meal of course! But what you make and serve depends on the type of experience you're going for.
Breakfast in bed? Family brunch? Cooking together? Each different brunch idea requires different recipes. So let's break down the perfect meals to serve for each type of Mother's Day breakfast.
Breakfast in Bed Meal Ideas
The breakfast in bed meal is slightly different from the norm. With the extra task of transporting your meal on a tray, and serving it to your mom while in bed, you need to consider logistics and the mess factor. So here are a few ideas for breakfast in bed foods that won't turn the meal into chaos:
Muffins with Mom - You can't go wrong with some muffins or other pastries for a breakfast in bed! Sure, there's the occasional crumb, but there's zero major liquids or spillage potential. Plus, if you're not much of an early riser, you can prep some of these goodies in a muffin tin the night before, and heat up in the oven in the morning.
Serve up some balsamic berry muffin tops or croissants, and give mom a side of spreads, like butters and jams, to make the meal slightly customizable. We also love this recipe for dark chocolate, cherry, and orange olive oil scones!
Balsamic Fruit Salad - Fruit salads are not only healthy and delicious, but they're insanely easy to make. They also add some color to your Mother's Day breakfast in bed spread. PLUS - they're not too messy! Consider forgoing the traditional fruit salad and making a medley of all your moms favorites. Then pair with a balsamic vinegar that meshes well with your blend! Here are a few suggestions to get you started:
Berries:

 

Try a mixed berry blend, like strawberries, blueberries, raspberries, and blackberries, and top with a drizzle of a berry balsamic. Try

 

Strawberry Balsamic

 

for a lighter base, or

 

Raspberry Balsamic

 

if you want something darker.
Tropical:

 

Does your mom love tropical fruits? Try a fruit salad of pineapple, mango, banana, and kiwi, and top with a drizzle of

 

Pineapple Balsamic!
Citrus:

 

Some slivers of oranges, blood oranges, and grapefruit are a delicious citrusy salad, especially when paired with a hint of

 

White Lemon Balsamic Vinegar!
Quiche or Frittata - If mom loves a more savory breakfast, a quiche or frittata is a great way to make something delicious that isn't too messy! You can include some of her favorite veggies, and even finish off with a drizzle of an infused olive oil or balsamic vinegar for a fancy finishing touch. You can also prep a lot the night before, so it's a time saving yet delicious recipe.
Serving Brunch for the Family
Is the school year over and you want to make this a family affair? Looking for meals that yield enough food for the family, while minimizing time spent in the kitchen? We've got a few ideas for you that people from young students to grandparents will love and are classic and easy brunch dishes you can make on your own.
Scrambled Eggs - A large egg scramble is really a no brainer. It's a safe bet, and you can prepare a lot at once. Want to keep it from being too boring? Cook them with a dash of an infused olive oil, like Garlic, for a little extra flavor.
Biscuits - Homemade biscuits are easier to make than they sound. They're a great addition to a family breakfast, because there are so many ways to eat them. They can be made both sweet and savory, and be a side as well as a main. Make a big batch of biscuits, and add loads of toppings to the side. Biscuit breakfast sandwiches? Check. Biscuits with balsamic compote? Check. The possibilities are endless!
Breakfast Potatoes - Another breakfast staple: and for good reason. They're not only incredibly delicious, but they're so simple to make! Bake in the oven with some onions, herbs and Rosemary Infused Olive Oil and you've got an easy and delicious side.
Cooking with Mom and the Family
If your mom wants to spend the morning cooking together as a Mother's Day activity, we've got a few fun ideas that she'd probably love to take part in!
Pancakes and Waffles - Pancakes and waffles are classic brunch favorites that are easy to make and always delicious. The best part is that people can really customize their own pancakes or waffles to their tastebuds. You can top them with fresh fruit (or even balsamic compote), syrup, chocolate chips, and whipped cream. It's a fun way to set up a pancake or waffle bar for the family, so people can really do their own thing! You can even set some batter into different bowls so people can even add additional ingredients and sweet treats to the batter.
Avocado Toasts - An avocado toast bar is another fun way for the family to cook together and customize their own meal. Set up different types of bread, avocado, and other potential toppings like arugula, tomato, goat cheese, etc! Having a few infused olive oil options, like Jalapeño and Sicilian (garlic + herbs) are also fun yet unexpected additions! You can even man the egg station, and serve up eggs to people's liking.
Mimosa Bar - Ok, this one isn't for the kids. But we love a Mimosa bar for a fun and interactive brunch. Set up a bar of bubbles, various fruit juices, fresh fruit, and even some balsamic vinegars for just a dash of a little something unexpected (and delicious). The Peach Balsamic has been a hit at our Mimosa bars in the past.
Breakfast in Bed Tips for Mother's Day
If you want to make Mother's Day extra special, consider making brunch or breakfast in bed. Here are some tips to make it a success:
1. Plan Ahead
Create a web page or checklist to organize your plan for the day. Decide on a menu and gather all the necessary ingredients and supplies. You also want to think about logistics. Will this meal be too messy in bed?
2. Make it Personal
Think about your mom's favorite foods and flavors when planning the menu. Make sure to add some sides dishes, such as fresh fruit or pastries, to make the meal extra special.
3. Set the Scene
Create a cozy atmosphere by setting the table with a tablecloth, flowers, and candles. If you are serving breakfast in bed, make sure to use a tray to keep things tidy.
4. Get Everyone Involved
Incorporate family dynamics by involving siblings or other family members in the preparation of the meal. This will make the experience more enjoyable for everyone.
5. Don't Forget the Details
Remember to pay attention to the little things, such as the presentation of the food and the temperature of the dishes. Making sure everything is perfect will show your mom how much you care.
6. Be Careful Transporting
Moving a tray full of food and drinks, and potentially going up and down stairs, can be a struggle. Make sure not to fill glasses too high so drinks don't spill everywhere, or pile on way more than you can carry. Transporting a tray, especially with beverages is tough, so make it easier on yourself.
7. Clean Up Afterwards
Once breakfast is over, be sure to clean up any spills or crumbs. You don't want to leave the clean up for mom! It's her day, after all.
Visit the Bistro at Texas Hill Country Olive Co.
Happy Mother's Day!
Whether you choose to make muffins with mom or plan a more elaborate brunch, Mother's Day is a great time to show your appreciation for all the hard work your mom has done over the years.
By taking the time to plan a special event or a thoughtful breakfast in bed, you can create a memorable experience that your mom will cherish for years to come.
Want to get the mom in your life a little something extra? Check out our Mother's Day Gift Guide for a list of gift recommendations that your mom is sure to love.
Share this
---