Muffin Tops with Balsamic Berries and Texas Olive Oil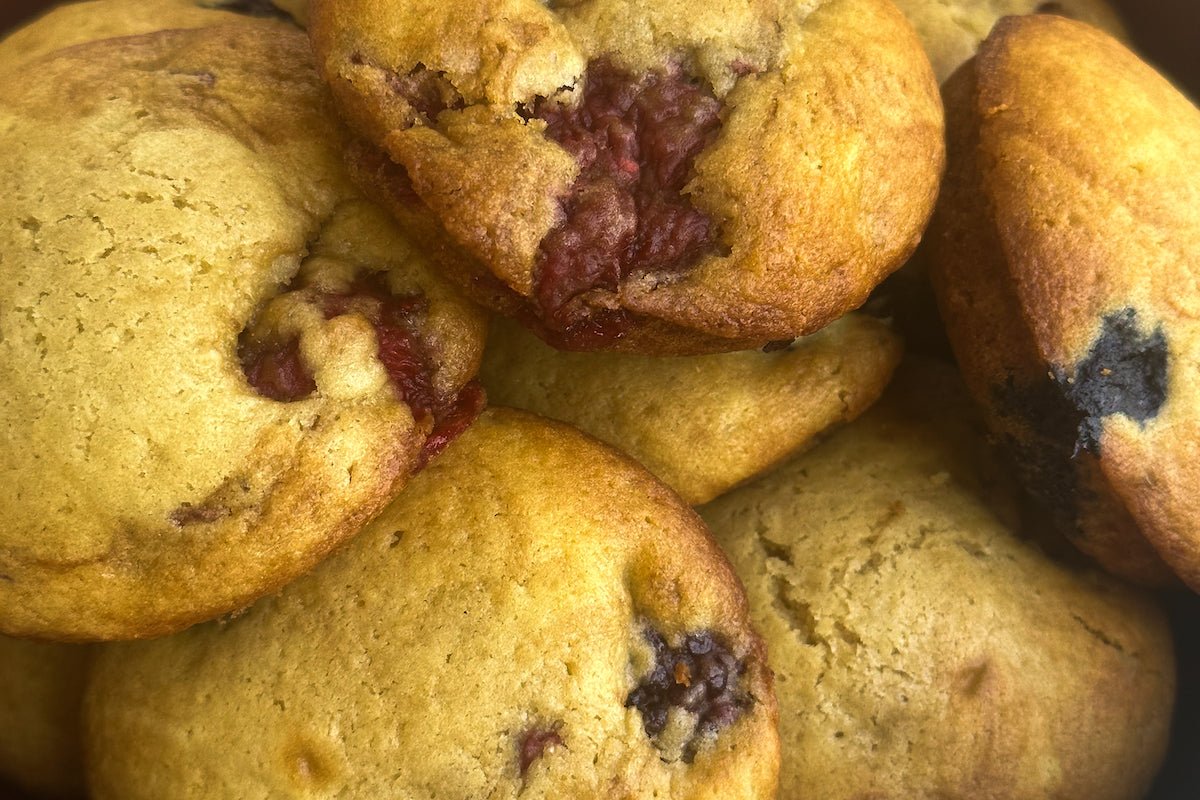 Before you have to ask: no, we're not talking about those muffin tops! We're talking about the delicious pastry that is solely the best part of the muffin - the top!
If you've never had one of these yummy goodies before, you're in for a treat. They're packed with flavor, and perfect for a breakfast on the go.
But what makes our muffin tops different? We use our Sola Stella Extra Virgin Olive Oil in our batter and our Raspberry Balsamic Vinegar in our berry medley!
Besides being a healthier alternative to butter, the Sola Stella EVOO also adds a buttery, rich, slightly fruity flavor to the muffin tops, 
AND these balsamic berries are a game changer. Our raspberry balsamic vinegar is a sweet and tangy vinegar that adds a subtle complexity of flavor to the mixed berries, especially when added to muffin tops (or even on their own!).
So keep following along to learn how to make this delicious recipe!
Muffin Tops with Balsamic Berries and Texas Olive Oil 
Ingredients:
1 1/2 cups all-purpose flour
1/2 cup granulated sugar
1 1/2 teaspoons baking powder
1/2 teaspoon baking soda
1/2 teaspoon salt
2 large eggs
1/2 cup milk
1 teaspoon vanilla extract
1 cup mixed berries (such as blueberries, raspberries, and blackberries)
1 tablespoon Raspberry Balsamic Vinegar (Strawberry or Blackberry work as well)
**you'll need a specific muffin top pan for this recipe
Instructions:
Preheat your oven to 375°F (190°C) and line a muffin top pan with paper liners.

In a large bowl, whisk together the flour, sugar, baking powder, baking soda, and salt.

In a separate bowl, beat the eggs until frothy. Add the olive oil, milk, and vanilla extract and whisk until well combined.

Pour the wet ingredients into the dry ingredients and stir until just combined.

Mix your berries with your raspberry balsamic vinegar.

Gently fold in the balsamic berry mix.

Spoon the batter evenly into the muffin top pan.

Bake for 15-18 minutes, or until the muffin tops are golden brown and a toothpick inserted in the center comes out clean.

Let the muffin tops cool in the pan for a few minutes before transferring them to a wire rack to cool completely.
Time to Enjoy!
We hope you love these delicious muffin tops with balsamic berries as much as we do!
They're the perfect breakfast to grab on the go, and are way less messy than your classic muffin. Not nearly as much crumbs or clean up!
They're also the perfect pastry for brunches or a Mother's Day breakfast in bed treat.
Looking for other ways to use berry balsamics? Try these recipes out:
Want to make the baking process for these muffin tops even easier? Download the recipe below!
Download Recipe
Share this
---