Renovating the Classic Sloppy Joe With Texas Olive Oil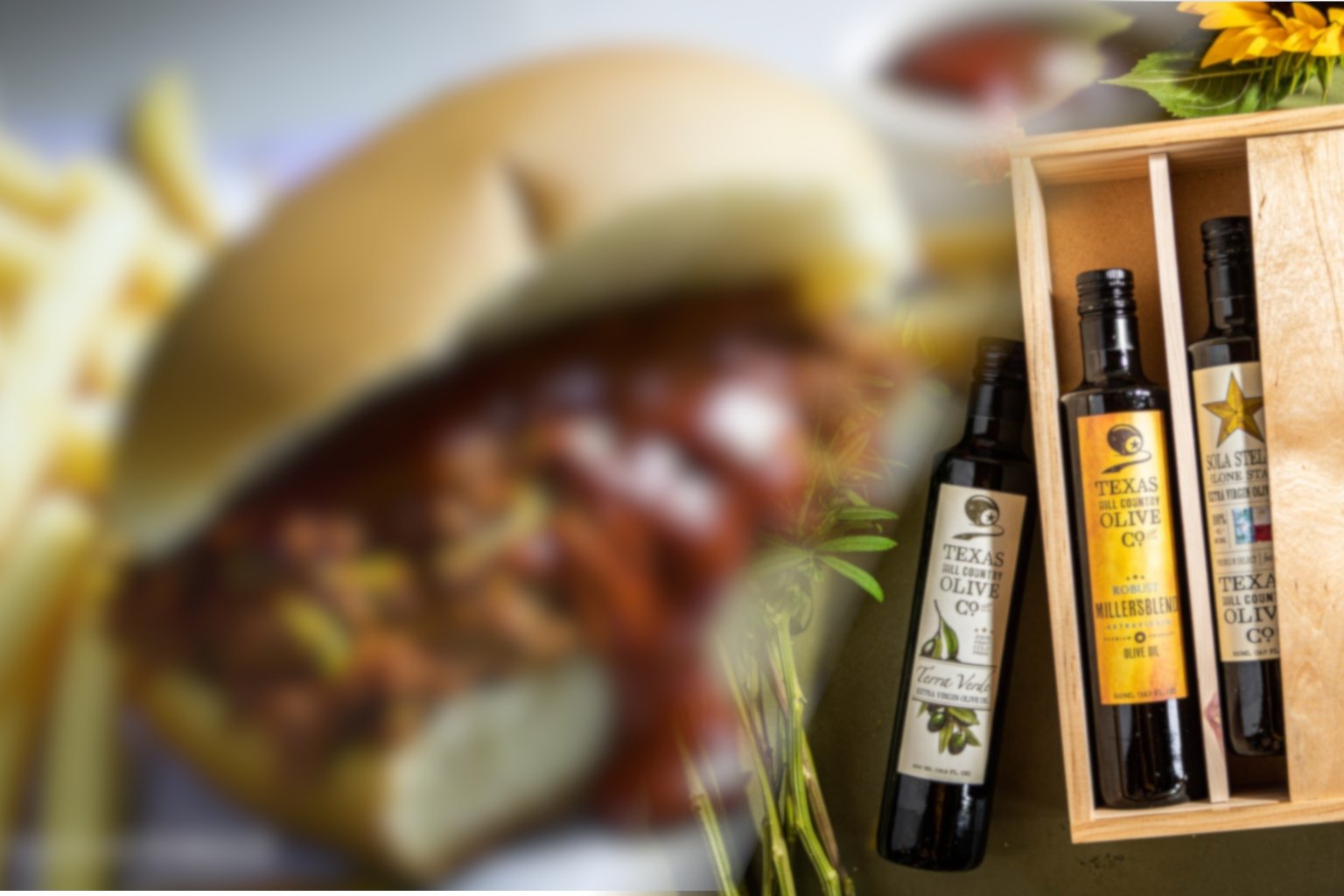 National Sloppy Joe Day is just around the corner, and it's the perfect opportunity to show off your culinary skills. Celebrating this March 18th in true Southern style, we want to help you elevate and refine your culinary skills. While Sloppy Joes are a classic, it's time to step up your game and add a touch of southern charm to the manwich. Introducing Texas Olive Oil, a nutritious and delicious oil that will elevate your sandwiches and dips to the next level.
Benefits to Consider
Texas olive oil offers several benefits when making Sloppy Joes.  This golden fat is a rich source of monounsaturated fats, is considered healthy, and can help reduce the risk of heart disease and stroke. Extra virgin olive oil (EVOO) adds a rich, fruity flavor to the Sloppy Joes, enhancing the dish's taste. 
Additionally, the high smoke point of olive oil allows you to sear the meat at high heat to create a nice crust while keeping the interior moist and tender. Furthermore, olive oil is rich in antioxidants, including polyphenols, which can help to reduce the risk of certain types of cancer. Using olive oil when making Sloppy Joes is a nutritious and delicious way to add flavor and healthy fats to this classic American dish. 
Get ready for the ultimate taste experience. Shop for your favorite Texas Olive Oil here.
Here's How You Can Elevate Your Sloppy Joes
When prepping your sloppy joes, use a robust and flavorsome EVOO to fry your meat and toast your buns. Use a New York bagel bun to add sweetness for an extra special treat. Or, if you are gluten-free, you can use your meat to top Tex-Mex rice or your favorite gluten-free bread. 
Another great idea is to use sourdough bread lightly brushed with olive oil and a clove of garlic before you toast it in the oven. This adds a little Southern flavor to more than just the meat - to the bread that holds it together! Another delicious way to add flavor is by marinating your toppings, such as tomatoes. In a bowl, combine a teaspoon of brown sugar, some balsamic vinegar, and robust EVOO; add aromatics such as cilantro and some cumin powder, and add a little salt. Slice your tomatoes and add them to the bowl; toss to coat in the marinade. Leave them to stand for a few hours in the refrigerator. 
Transform your sloppy joe game with just one ingredient. Shop here.

Texas Olive Oil Dips For The Best Meal
There is nothing better than a hearty dip. Whether adding the dip to bites of your sloppy joe or for fries, they are a must-have: 
Garlic Aioli - Making this emulsified aioli is a must - it is tangy, creamy, and utterly delicious. Go bold and use a robust and herbaceous EVOO for this recipe! 

Honey Mustard - Sweet, tangy, and delicious, honey mustard is always a treat! Use a delicate EVOO for this dip, as it shouldn't overwhelm or detract from its flavor profile. 

Ranch Dressing: Use your aioli to make this dip an elevated ranch dressing! 
In conclusion, Texas Olive Oil is a must-have ingredient for anyone who loves to cook and wants to elevate their sandwiches, dips, and sauces. Its rich flavor and numerous health benefits make it the perfect addition to any recipe. So, celebrate National Sloppy Joe Day with a delicious and nutritious twist by incorporating Texas olive oil into your meals.
Share this
---