Rosemary Parmesan Smashed Potatoes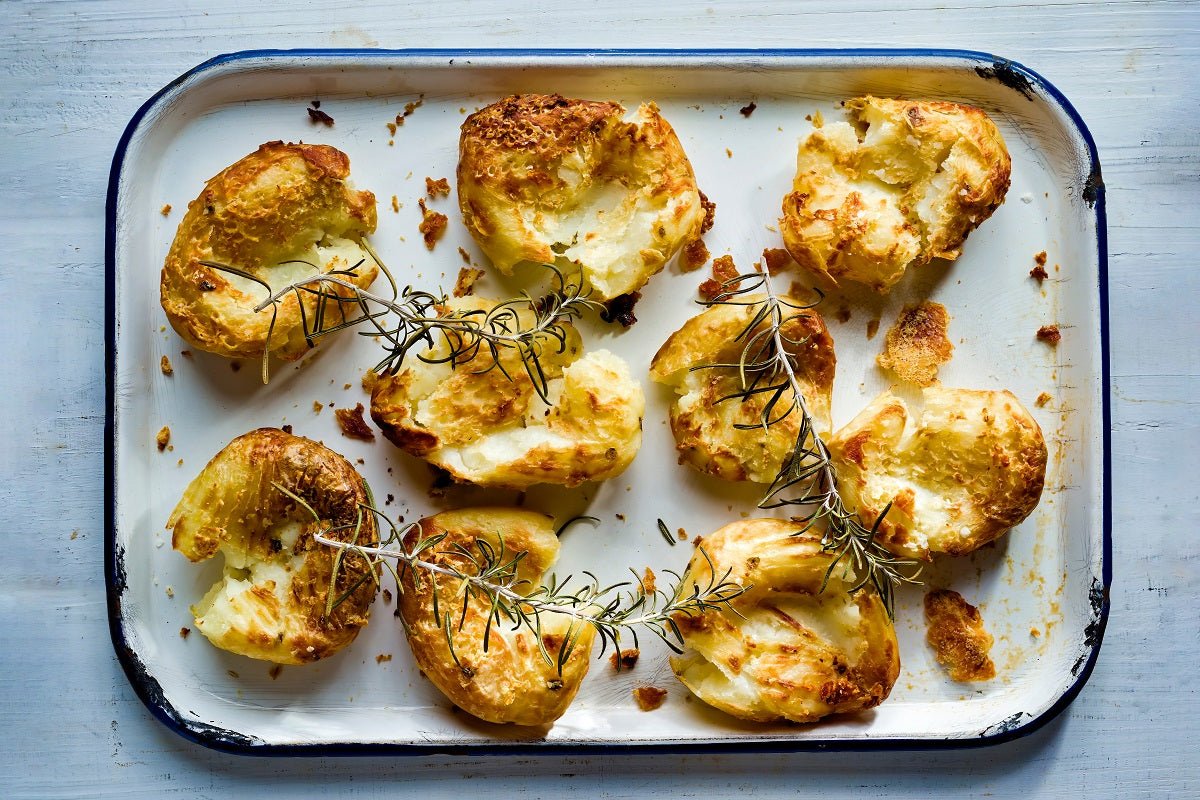 Potatoes are an essential side at any feast. Mashed, au gratin, baked - we love them all! But have you ever tried smashed potatoes? That's right - smashed! It's a delicious and slightly unique way to cook your potatoes, and we've got the perfect recipe for you to test out.
We like our smashed potatoes with our Rosemary Infused Extra Virgin Olive Oil, some parmesan cheese, and a little sour cream to finish it off. It's not only simple, but insanely delicious. Don't believe us? Give it a try! It's a super easy and exciting new way to eat potatoes, and we can't get enough.
Rosemary Olive Oil and Parmesan Smashed Potatoes
Ingredients:
1 ½ lb small Yukon gold new potatoes

½ cup Parmesan cheese

Salt and pepper to taste


1 cup sour cream

4 tbsp chopped chives
How to Make: A Step by Step Guide
Step 1: Prep Oven & Wash Potatoes

First, preheat the oven to 475° F. While it is starting to heat, wash your potatoes.

Step 2: Boil Potatoes
Place washed potatoes in a large pot and cover with cold, salted water and bring to a boil. Simmer until fork tender and drain.

Step 3: Cool Potatoes
Place potatoes back into the hot pot and allow to cool slightly. (The heat of the container will help the potatoes to dry.)
Step 4: Smash Your Potatoes
Once cooled, place potatoes on a lined baking tray and gently smash each one with the bottom of a glass, so the skin breaks and the potatoes flatten to about ½ inch.
Step 5: Season and Bake
Brush potatoes with Rosemary Infused Extra Virgin Olive Oil and place in the preheated oven. Bake for 5 minutes then remove and flip potatoes over. Brush again with the olive oil and sprinkle with parmesan cheese and salt and pepper. Return potatoes to oven and cook for an additional 5 minutes or until golden and the edges are crispy.
Step 6: Remove and Serve
Remove from oven and let cool. Then serve with sour cream and garnish with chopped chives.
Time to Eat!

Our delicious rosemary smashed potatoes make the perfect side. Although we make a lot of the best Texas olive oil, our rosemary infused olive oil is one of our favorites, and an essential ingredient.
Looking for something to pair them with? Try our Sicilian Herb Rack of Lamb or our Garlic Parmesan Chicken - which both pair incredibly with the potatoes.
Want to make the cooking process easier for you? Make sure to click below to print your own copy of this recipe!

Download Recipe
Share this
---