Terra Verde Olive Oil Roasted Root Vegetables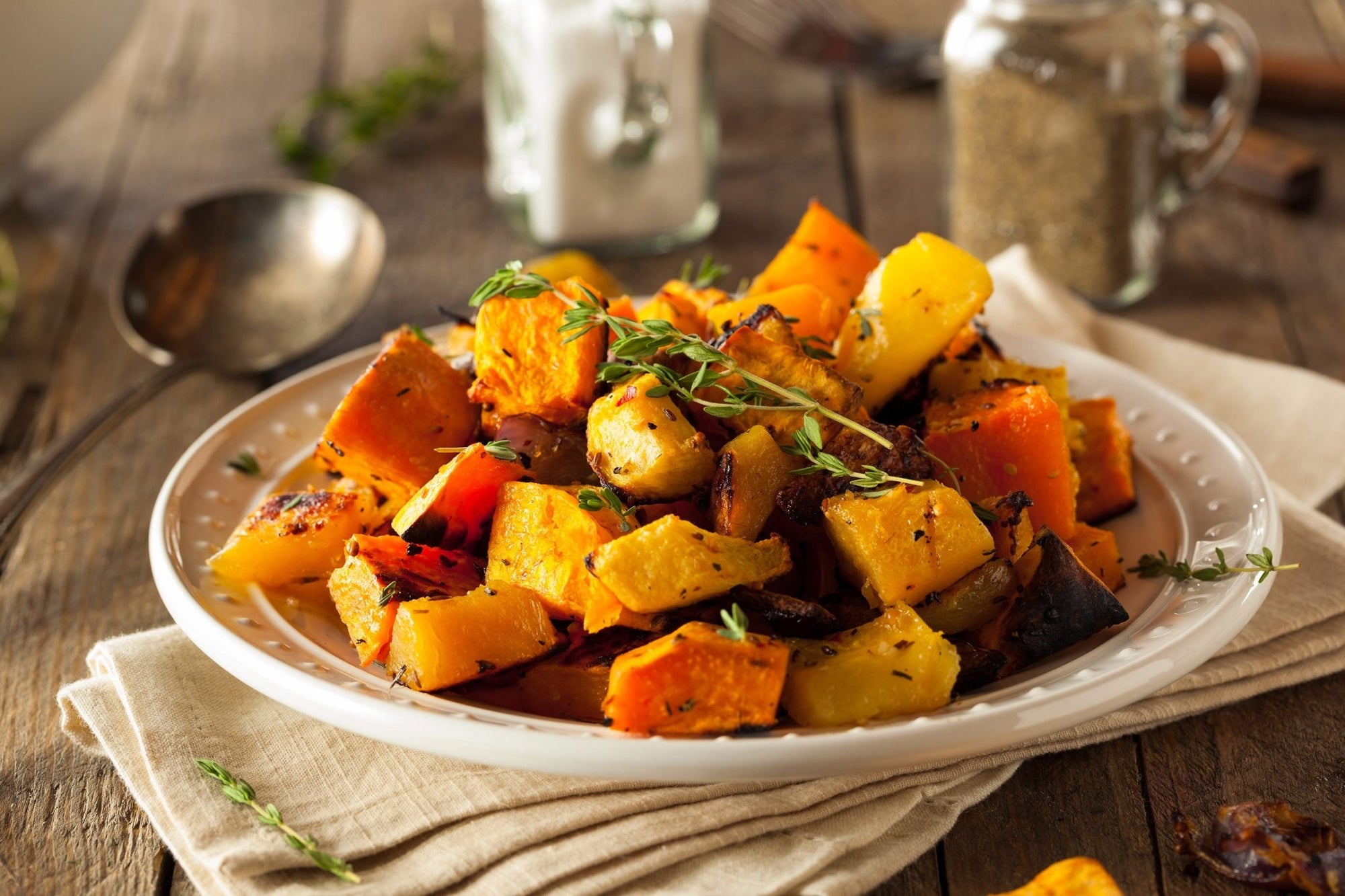 There's nothing quite like perusing a farmers market and looking at all the beautiful fresh produce. And what feels more like fall than a bundle of colorful root vegetables?
We love to roast a combination of root veggies to get us into that fall and winter spirit. From carrots to beets to sweet potatoes, roasted root vegetables are the perfect addition to any meal to make you feel warm and cozy in the cooler months.
In this recipe, we pair the fresh green flavor of our Terra Verde Extra Virgin Olive Oil with an array of fall root vegetables. Not only that, but complete with the sweet and savory twist of Pomegranate Balsamic Vinegar, you've got yourself a healthy and rich fall treat.

So follow the recipe below and enjoy the flavors of fall!
Roasted Root Vegetables with Terra Verde Extra Virgin Olive Oil

Ingredients:
1 lb carrots
1 lb medium sweet potatoes
1 lb parsnips
1 lb beets
1 small red onion
5 garlic cloves
2 sprigs fresh rosemary
4 sprigs fresh thyme
2 Tbsp Pomegranate Balsamic Vinegar (try with any other dark balsamic)
Salt and pepper to taste
How to Cook: A Step by Step Guide

Step 1: Preheat
First things first: get the oven ready. Preheat the oven to 400° F and line a baking sheet with foil in preparation for the veggies.
Step 2: Prepare Vegetables
Wash and clean all vegetables. Then cut to 1 ½ inch pieces, place veggies in a bowl, and toss in the Terra Verde EVOO, salt, and pepper.
Step 3: Start to Bake
Place the mixture on your foil lined pan and place in the oven once it reaches 400°. Leave for 15-20 minutes.

Step 4: Remove, Stir, Resume
Halfway into cooking (around 15-20 minutes), remove your veggies and add your garlic and herbs, and stir the veggies before placing back in the oven. Mixing the veggies will help them cook evenly.

Step 5: Finish Baking
Let bake for another 15-20 minutes, and remove once the veggies are cooked to your liking.
Step 6: Serve and Finish
Once the vegetables are done, place them in the serving dish. Best served with a drizzle of balsamic vinegar. We recommend our pomegranate balsamic, but many varieties will do the trick!

Time to Eat!
Buon Appetito! Your veggies are done, and boy, they are delicious. This dish makes the perfect side to any meal. We particularly enjoy these with Sicilian Herb Lamb or Garlic Parmesan Chicken.
Looking to bring them to an event, and be the talk of the party? Spread on top of some Greek or strained yogurt, and everyone will think you're a professional chef! It's an easy extra step to elevating this delicious medley. And don't forget to drizzle that pomegranate balsamic and maybe a little extra Terra Verde EVOO for good measure!

Want to make the cooking process even easier? Click below to print out your very own copy of the recipe:
Download Recipe
Share this
---