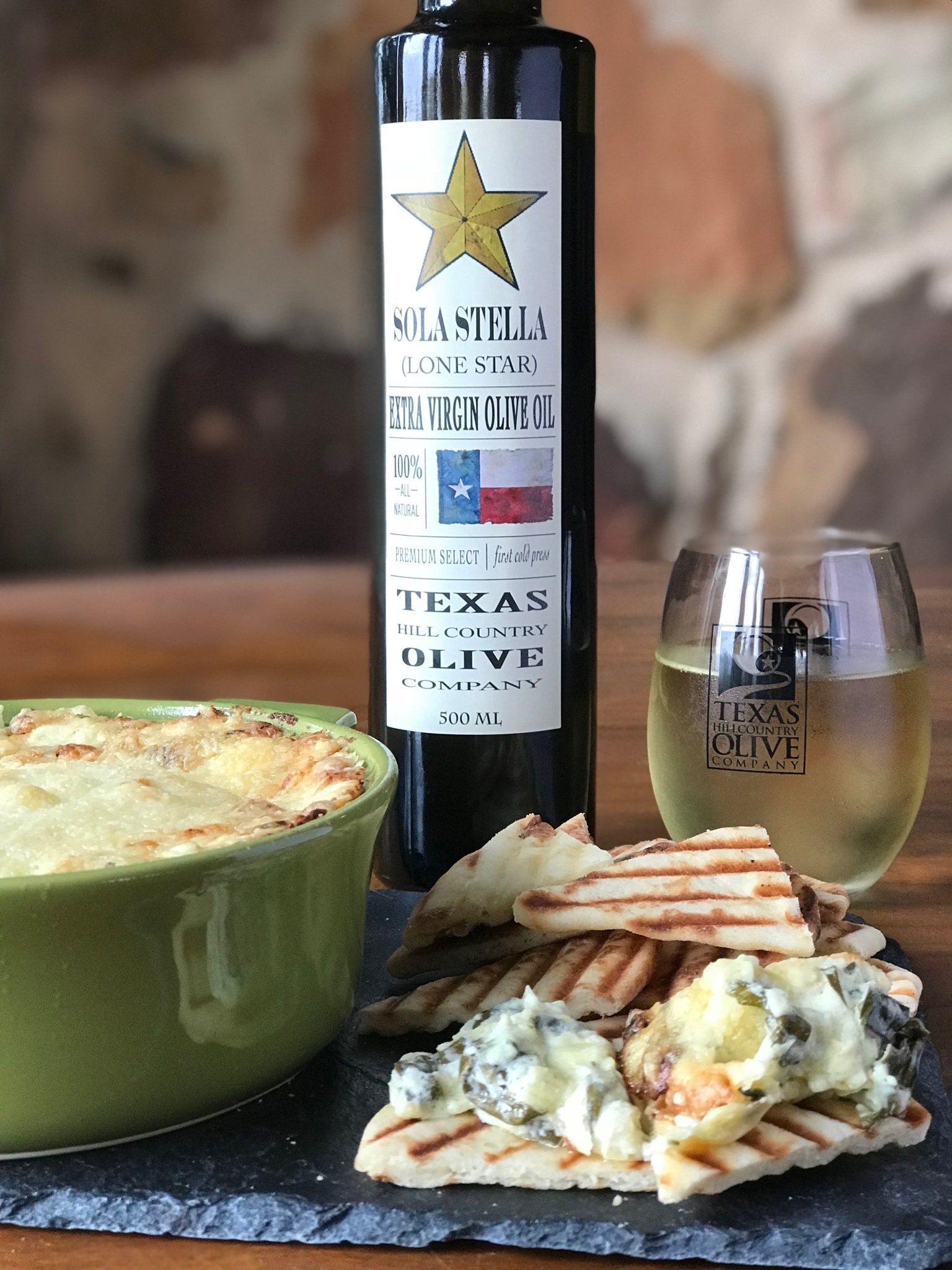 Our Artichoke & Spinach Dip is the perfect appetizer for all of your upcoming Holiday Parties, warm and comforting and great for sharing. We have replaced the mayonnaise and sour cream typically found in many dips with our buttery Sola Stella Extra Virgin Olive Oil for a lighter flavor. Serve with toasted baguette slices or grilled pita chips. Add a drizzle of our Traditional Balsamic Vinegar or Fig Balsamic Vinegar for an extra little twist. Enjoy with a glass of Sauvignon Blanc or Pinot Grigio.

Ingredients:
8 oz cream cheese, softened
1 ½ c asiago cheese, shredded
1 ea zest and juice of 1 lemon
2-3 ea garlic cloves, minced
1 tsp crushed red pepper
10 oz artichoke hearts, chopped
6 oz fresh baby spinach, cleaned and chopped
to taste salt and white pepper

Method:
Preheat oven to 375°.
Place cream cheese, asiago cheese (reserving ¼ c), and Sola Stella Extra Virgin Olive Oil in a large mixing bowl and blend using a rubber spatula. 
Add lemon zest, lemon juice, garlic and crushed red pepper and mix until smooth.
Fold in chopped artichoke hearts and chopped spinach and blend until well combined being careful not to crush the artichoke hearts.
Season to taste with salt and white pepper.
Spoon mixture into a greased 8-9 inch gratin dish and top with the remaining ¼ cup of asiago cheese.
Bake at 375° until bubbly, and the top is golden brown, approximately 15-20 minutes.
Serve while warm.
Recipe developed by resident Chef Michael Anderson for Texas Hill Country Olive Company.
Share this
---