No-Bake Basil Mojito Goat Cheese Cheesecake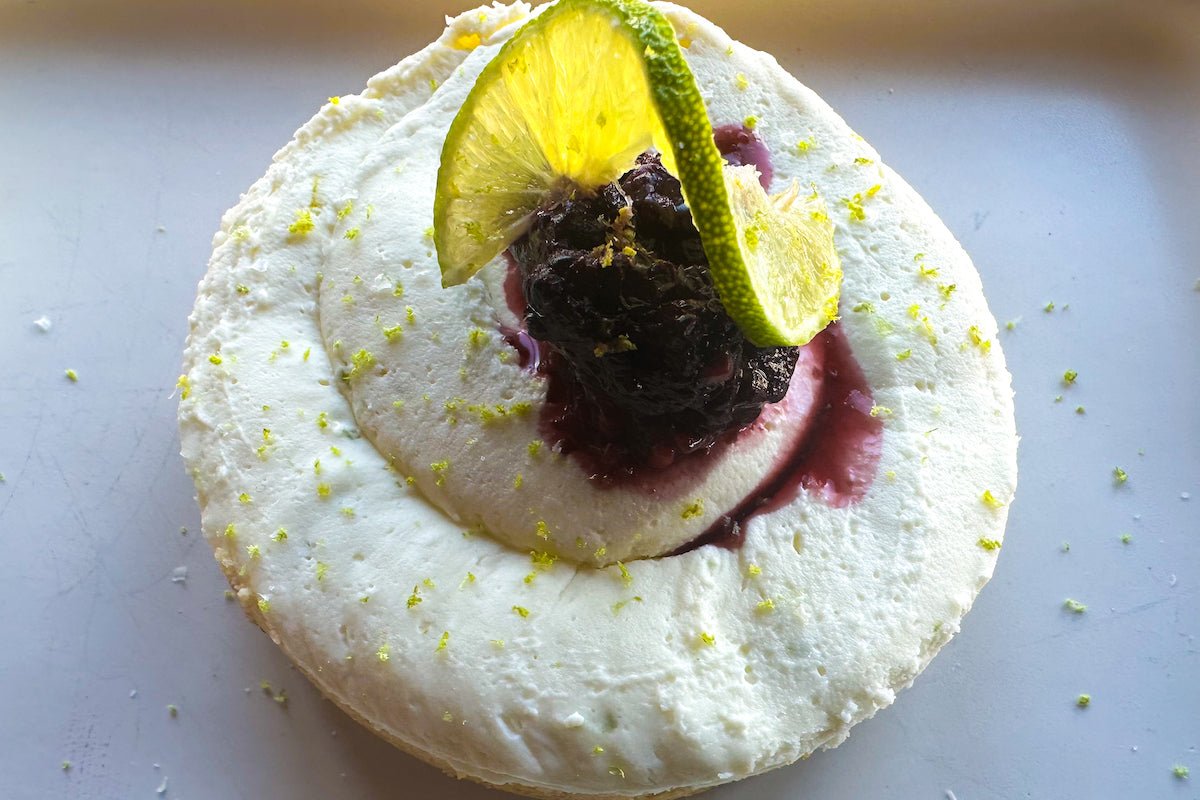 Who doesn't love cheesecake? That's a serious question. Cheesecake is one of the best cakes there is, and this recipe is no exception.
Meet the Basil Mojito Goat Cheese Cheesecake, created with love by Chef Jen for our May 2023 Club Box.
It's the perfect not-too-sweet cheesecake with bits of citrus, herbs, and of course creamy and delicious goat cheese.
And you know what makes this cheesecake extra special? The use of our Basil Infused Olive Oil! Yes, you read that right! The EVOO you may have only considered for savory meals is the perfect addition to delicious desserts.
And did we mention how easy this recipe is to make? It requires ZERO baking, and just a little patience when waiting for it to set. And you can make 1 larger cake, or a few mini ones!
No-Bake Basil Mojito Goat Cheese Cheesecake
by Chef Jen
Ingredients:
Crust:
1 3/4 cups graham cracker crumbs
8 tablespoons melted butter
1/2 cup white sugar
Filling:
16 ounces goat cheese
8 ounces cream cheese
1/2 cup and 4 tablespoons sugar
2 limes, zested and juiced
1/2 cup Basil Infused Olive Oil
1/2 teaspoon vanilla extract
2 cups heavy whipping cream
Optional Toppings:
Directions:
Mix all ingredients for crust and press in to a 10 in springform pan,

set aside.

Whip whipping cream in a stand mixer with the 4 tablespoons of sugar. Place whipped cream in fridge.

Using paddle attachment beat goat cheese, cream cheese, sugar, basil EVOO, lime 

juice, lime zest and vanilla in stand mixer and combine well.

Add 1/2 cup of the whipped cream and paddle into goat cheese mixture.

Remove from stand mixer and fold goat cheese mixture into the whipped cream.

Add the filling to a piping bag and add to the crust starting at the edge working your way 

to the middle of the springform pan till you have used all of the filling.
Allow to set in fridge for minimum of 4 hours.
Garnish as desired, and serve.
 Time to Serve!
We hope you enjoy this delicious recipe! Whether you make a large cake or a few minis, this basil mojito goat cheese cheesecake is the perfect dessert for Spring and Summer gatherings, and any special occasion.
Looking for other ways to use your Basil Infused Olive Oil? Try these recipes out:
Plus: click below to download your own copy of the recipe!

Download Recipe
Share this
---