The Best DIY Anti-Aging Face Masks with Texas Olive Oil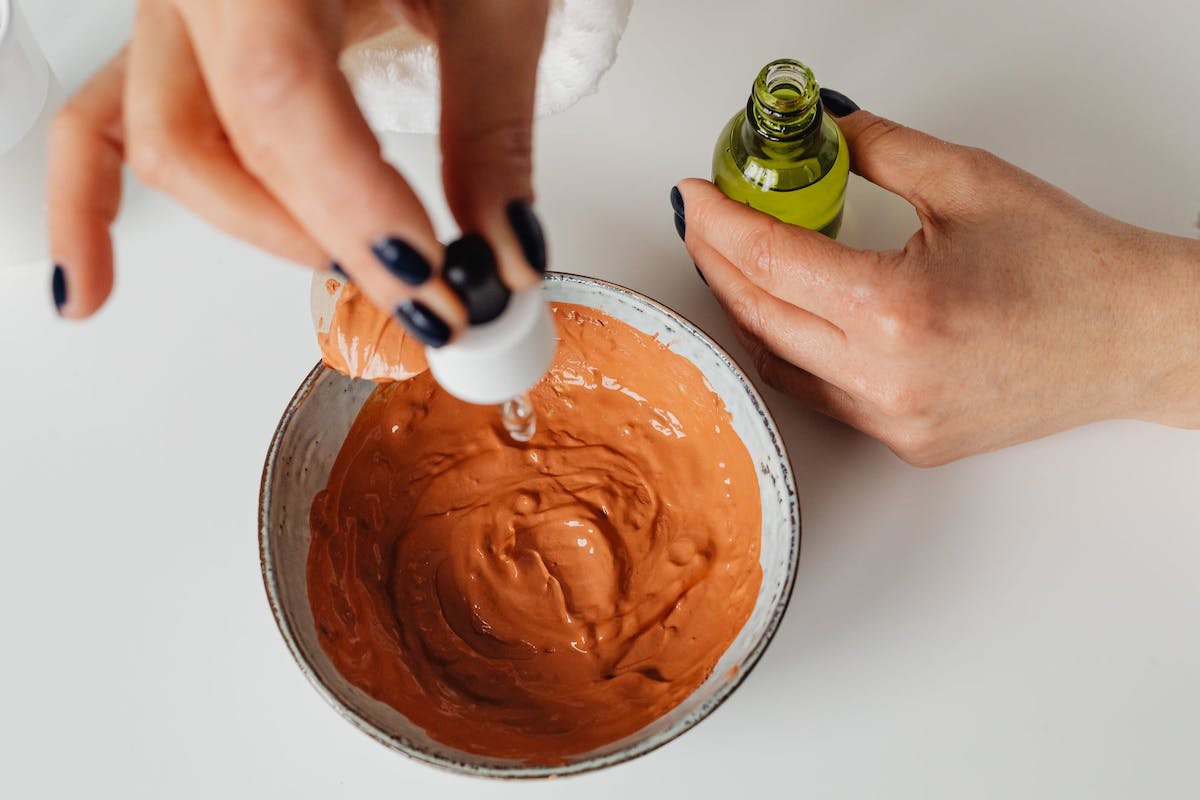 Face masks are the best skincare item for when you want a spa-like treatment on a night in. There's nothing quite as relaxing as putting on a face mask while either taking a hot bath, prepping a quick dinner, or watching an episode of your favorite show.
But a lot of the face masks with the best ingredients cost around $30 dollars, or more! Especially masks that boast anti-aging benefits. We've seen some masks on sale for closer to $80, and we aren't about that life.
But did you know you can make an affordable and effective anti-aging face mask right at home with ingredients you have stocked in your kitchen? Seriously!
From pantry items, to refrigerator staples, there are so many natural ingredients that you can incorporate into your next face mask. We'll walk you through what ingredients to use, how to make your masks, and all the benefits that come with making your mask right at home!
Best Pantry Skincare Ingredients for Anti-Aging
There are so many natural ingredients that have anti-aging properties. It's truly incredible how many items you can find right at home contain wonderful skin benefits! Here is a list of some of our favorite pantry and refrigerator items that will do wonders anti-aging:
Extra Virgin Olive Oil - Yes, that's right! That glorious ingredient you use for salad dressings and frying food has so many benefits for your skin - one of which is its anti-aging properties. It contains high amounts of Vitamins A, D, E and K, which helps with loads of things, including reducing inflammation. This is super essential, as inflammation and the like are some of the main causes of signs of aging (i.e. collagen breakdown, dark spots, etc).
Oatmeal - My breakfast food...on my face?! Yup, oatmeal is a wonderful ingredient for your skin! Oats are full of antioxidants that will help prevent toxins responsible for skin cell damage. They are also a wonderful physical exfoliant that will remove dead skin cells without being too harsh. However, if you're not looking for a physical exfoliant, colloidal oats ground to a powder are a great alternative.
Honey - This is another ingredient that is packed with antioxidants that are helpful when reducing signs of aging! It's also incredible at helping with hydration and chemical exfoliation (it has natural enzymes and AHAs!).
Berries - Your favorite fruits are a great addition to your skincare routine. They are full of polyphenols, such as tannins, that aid in shrinking and tightening skin cells, thus resulting in a more youthful appearance.
Egg Whites - These bad boys are a wonderful skincare ingredient for tightening and firming skin, and reducing the appearance of pores. 
These are just a few natural ingredients that contain anti-aging benefits - and there are SO many more! We'll tell you about some more in the next portion.
5 Easy DIY Anti-Aging Face Masks
There are so many wonderful face masks you can make right at home using some of the ingredients above (with loads of EVOO), plus countless others. We've made a list of 5 amazing mask combinations that only contain 4 ingredients. These masks not only combat aging, but other common skin concerns.
*All masks can be made with equal portions of ingredients, around 2 tbsp each, unless specified.
1. Moisturizing Mask
Honey + EVOO + Mashed Avocado (or Banana) + Yogurt
Besides the anti-aging benefits within honey and olive oil, there are so many moisturizing benefits as well! If you're looking to add extra moisture to your anti-aging mask routine, this mask is the one for you. Avocado, banana, and yogurt both have additional anti-aging properties, and are also wonderful for moisturizing, nourishing and providing antioxidants.
2. Brightening Mask
Turmeric* + EVOO + Lemon Juice + Mashed Berries
Want to make your anti-aging mask brightening? Turmeric and lemon juice both have anti-aging properties, but they also help add vitamin c, a huge brightening ingredient, and aid in evening/brightening your skintone.
*Use only a 1/4 tsp of turmeric as it can stain the skin! Do not wash off mask using a nice towel, as it may also stain from the turmeric.
3. Soothing Mask
 Aloe Vera + EVOO + Chamomile + Colloidal Oats*
Does your skin need a little TLC, but you still want to cash in on some anti-aging properties? Look no further than this soothing mask! As you likely know from your last sunburn, aloe is incredible at cooling and soothing irritated skin. Similarly (but without the cooling effect) chamomile and colloidal oats are wonderful for their soothing properties.
*Make sure your oats are ground into a powder, because large chunks of oats will act as a physical exfoliant, and could add further irritation.
4. Acne Mask
Egg White + EVOO* + Mashed Banana + Tea Tree Oil*
Tea tree oil is known for helping with acne and breakouts, but did you know that egg whites and banana are also super helpful? Bananas are full of vitamin A, which is said to help reduce dark spots and blemishes. Egg whites are also helpful in closing or shrinking pores, and getting rid of build up. It's important to also keep some extra virgin olive oil in this mask, as it's great at fighting bacteria and keeping your skin clean (Chloe Grace Moretz swears it cleared up her cystic acne)!
**Only use 1 tsp of both tea tree and EVOO, as tea tree can be very strong, and EVOO can clog pores if used in excess for acne-prone skin.
5. Exfoliating Mask
Brown Sugar + EVOO + Honey + Baking Soda
A great exfoliating mask should have both a chemical and physical exfoliant. This all natural mask has both! As mentioned before, honey contains AHAs that are great chemical exfoliants, but the baking soda is also a wonderful addition to get rid of dead skin cells. The brown sugar acts as your physical exfoliant. Brown sugar is a great physical exfoliant as it dissolves when used, so it's not as harsh on the skin as, let's say, a seed or nut. The EVOO and honey also help latch onto your physical exfoliant to help make the application process even easier.
Do not use an exfoliating mask more than once or twice a week, depending on your skin type.
Why You Need Olive Oil in Your Skincare Routine
If you haven't caught on throughout this post, we think olive oil is a pretty wonderful beauty ingredient. Besides being great for face masks, it's also wonderful as a natural makeup remover, hair oil, and more!
Besides its anti-aging properties, olive oil has been said to help with cystic acne, lock in moisture, and provide loads of Vitamins, like A, D, E, and K.
With all of those benefits, it's no wonder we want to include olive oil in all of our DIY face masks. But that begs the next question...
Which Olive Oil is Best for Face Masks?
Not all olive oils are created equal. We highly recommend using a first cold-pressed extra virgin olive oil, and this applies to both cooking and skincare.
We also suggest checking the date on your olive oil, and making sure that it's not expired. All olive oils should have a production date and a best buy date. If your bottle does not have that information on it, it's probably not good enough for your skin.
Another tip? Try using a delicate EVOO, as it is less likely to cause any sort of irritation. Our Sola Stella is, in our opinion, the best Texas olive oil when it comes to skincare.
Although we loved our infused Texas olives oils, we would NEVER suggest using them on your skin. Sure, some of them contain beneficial ingredients, such as lemon, but your skin is better off using pure EVOO, and pure lemon juice, as separate components.
Face masks are the our favorite part of our beauty regimen, and we hope you incorporate some of these easy DIY masks at home!
Sources:
https://www.bebeautiful.in/all-things-skin/skin-concerns/anti-ageing-face-masks-for-smooth-and-tight-skin
https://www.dermstore.com/blog/top_ten/natural-ingredients-for-skin/
https://www.peteandgerrys.com/blog/egg-white-masks-for-summer
https://gisou.com/blogs/blog/honey-for-anti-aging
https://www.thelifeco.com/en/blog/9-natural-anti-aging-secrets/
https://www.self.com/gallery/9-easy-diy-face-masks
https://www.mindbodygreen.com/articles/all-natural-moisturizers-you-can-find-in-the-kitchen
https://verilymag.com/2018/01/healing-skincare-ingredients
https://www.lisaliseblog.com/2017/03/what-makes-colloidal-oatmeal-colloidal.html
https://helloglow.co/face-masks-for-acne/
https://www.kiehls.com/skincare-advice/turmeric-skin-benefits.html
https://www.wellandgood.com/diy-moisturizing-face-masks/
https://www.healthline.com/health/homemade-facial-scrub#facial-scrub-recipes
https://www.bebeautiful.in/all-things-skin/everyday/the-benefits-of-baking-soda-for-your-skin
https://www.healthline.com/health/olive-oil-for-acne
Share this
---