The Perfect Crispy Portobello Mushroom Fries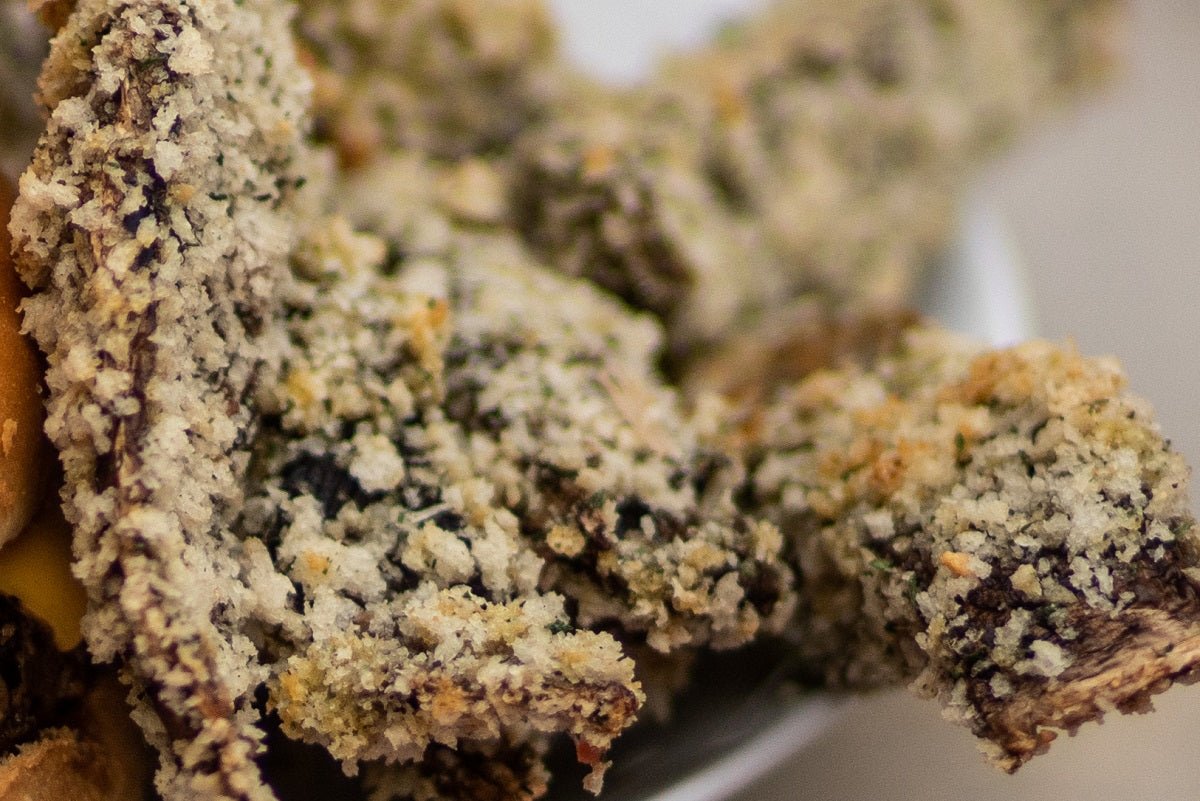 Mushrooms and our Texas olive oil are a dream combination. But we've taken mushroom cooking to a whole other level with these portobello mushroom fries.
They're the perfect healthier vegetarian alternative to your classic french fries, and that umami flavor is tough to beat! We also used a dash of our Sola Stella EVOO, adding a lovely and subtle butteriness to the recipe.
Although we baked these umami packed portobello mushrooms in the oven, you can also achieve equally delicious results by pan frying, or even popping them in your air-fryer. The choice is yours!
So keep scrolling to see how we make these delicious bites, and definitely give it a try for your next party!
The Perfect Crispy Portobello Mushroom Fries
Ingredients:
5 portobello mushroom caps, cut into strips
2 eggs, whisked for egg wash
2 cups panko bread crumbs
1 cup flour
2 tbsp parsley, chopped
3 tbsp garlic powder
2 tbsp onion salt
2 tbsp black pepper
2 tbsp Sola Stella EVOO
How to Make: A Step by Step Guide
1. Pre-Heat Oven
First, you're going to pre-heat your oven to 400 degrees Fahrenheit.
2. Prep Ingredients
Time to prep your ingredients, including cutting your portobello mushroom caps into long strips (the more fry-like the better!)
3. Make Egg Wash, Flour, and Panko Mix
Next, you're going to prep 3 separate bowls for your egg wash, flour, and your panko mix. For the panko mix, take your panko bread crumbs, parsley, garlic, onion salt, and pepper into a bowl. Set aside.
Crack two eggs in a separate bowl, and whisk thoroughly until smooth. Set aside.
Next, pour your flour into a third bowl. Set aside.
4. Add Mushrooms to Each Bowl
First, you're going to mix your mushrooms into the bowl of flour. When finished, one mushroom at a time, wash into the egg mixture, remove, then roll into the panko mixture, coating well. Set aside on olive oil lined baking sheet. Repeat until all mushrooms are coated in the panko.
5. Bake Portobellos
Add your baking sheet of portobello fries to the oven, and bake for around 20 minutes, until panko has browned slightly.
6. Remove From Oven and Serve
Remove your portobello fries from the oven, and let cool down slightly before serving.
Time to Enjoy!
These portobello mushroom fries are perfect as both a side and an appetizer! Make instead of your regular french fries to eat with your backyard burgers, or serve at a party with some delicious dips.
We think these fries pair best with our favorite Garlic Lovers Aioli or our Ricotta Arugula Pesto. The garlic and herby flavors of both dips perfectly compliment these fries - and we can't get enough!
Our Sola Stella EVOO is perfect for all your olive oil needs, as it's the best light and buttery oil to go with anything, from frying to dressing.
Want to make some of these portobello mushroom fries? Make sure to click below to download your own printable copy of the recipe.

Download Recipe
Share this
---