Matzo Kugel for Passover with Texas Extra Virgin Olive Oil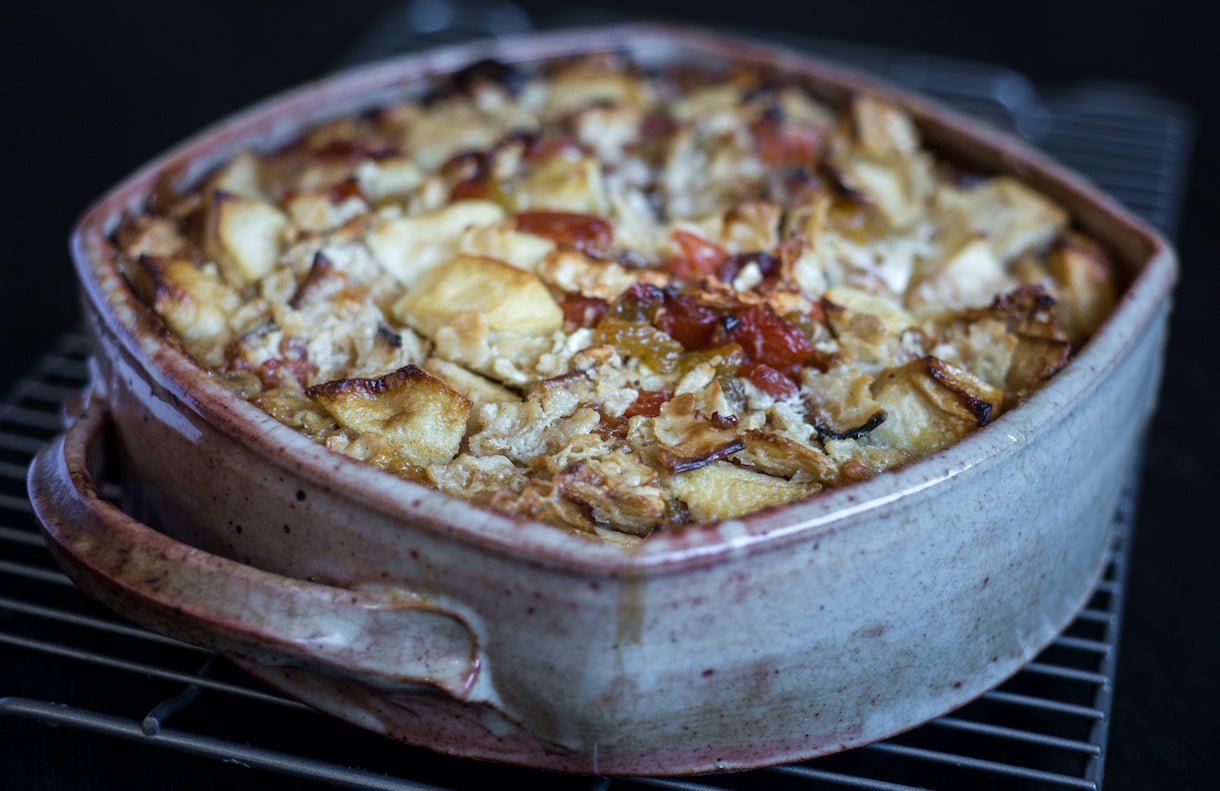 As Passover approaches, many people are busy planning their holiday menus. One classic dish that is often served during this time is matzo kugel: a comforting and delicious baked casserole made with matzo, eggs, and other ingredients.
For those not in the know, matzo is an unleavened flatbread that is an important part of Jewish cuisine, particularly during Passover. It is made from flour and water that has been mixed together and baked quickly, without any rising time.
Matzo is a symbol of the haste with which the Jewish people left Egypt during the Exodus, and it is eaten during Passover to commemorate this event. Matzo has a unique texture and flavor, and it is used in a variety of dishes such as kugel, matzo ball soup, and matzo brei.
In this recipe, we're adding a twist to the traditional matzo kugel by incorporating sweet flavors and healthy dose of our Sola Stella Extra Virgin Olive Oil - the perfect buttery and delicate oil to compliment the sweet flavors.
With the addition of apples, golden raisins, cranberries, and chopped pecans, this sweet matzo kugel is sure to be a hit at your Passover celebration.
Matzo Kugel for Passover with Texas Extra Virgin Olive Oil
Ingredients:
6 matzo sheets
4 large eggs, beaten
1/2 cup granulated sugar
1 teaspoon ground cinnamon
1/4 teaspoon ground nutmeg
1/2 teaspoon vanilla extract
2 medium apples, peeled, cored, and chopped
1/4 cup golden raisins
1/4 cup dried cranberries
1/2 cup chopped pecans
Powdered sugar, or drizzle of Cranberry Pear Balsamic Vinegar, for garnish
Instructions:
Preheat your oven to 350°F (175°C).

In a large bowl, break the matzo sheets into small pieces and cover them with warm water. Let them soak for 10-15 minutes until soft, then drain the water and squeeze out any excess liquid.

In a separate bowl, whisk together the olive oil, beaten eggs, granulated sugar, cinnamon, nutmeg, and vanilla extract.

Add the soaked matzo to the bowl with the egg mixture and stir to combine.

Stir in the chopped apples, golden raisins, dried cranberries, and chopped pecans.

Pour the mixture into a greased 9x13 inch baking dish and spread it evenly.

Bake for 45-50 minutes until golden brown and set.

Let the matzo kugel cool for a few minutes before slicing and serving. If desired, sprinkle with powdered sugar or Cranberry Pear Balsamic Vinegar before serving.
Time to Serve, and Happy Passover!
This sweet matzo kugel is a wonderful way to enjoy a classic Passover dish with a modern twist.
The use of olive oil adds a healthier touch to the recipe, while the addition of apples and dried fruit provides a sweet and flavorful contrast to the matzo.
Serve this delicious kugel for dessert or as a side dish during your Passover celebration, and enjoy the taste of tradition with a twist!
And don't forget to click the recipe below to make baking even easier, or perhaps even hand it out to your Passover Seder party guests to make on their own.

Download Recipe
Share this
---