Whipped Honey Feta Dip with Texas Olive Oil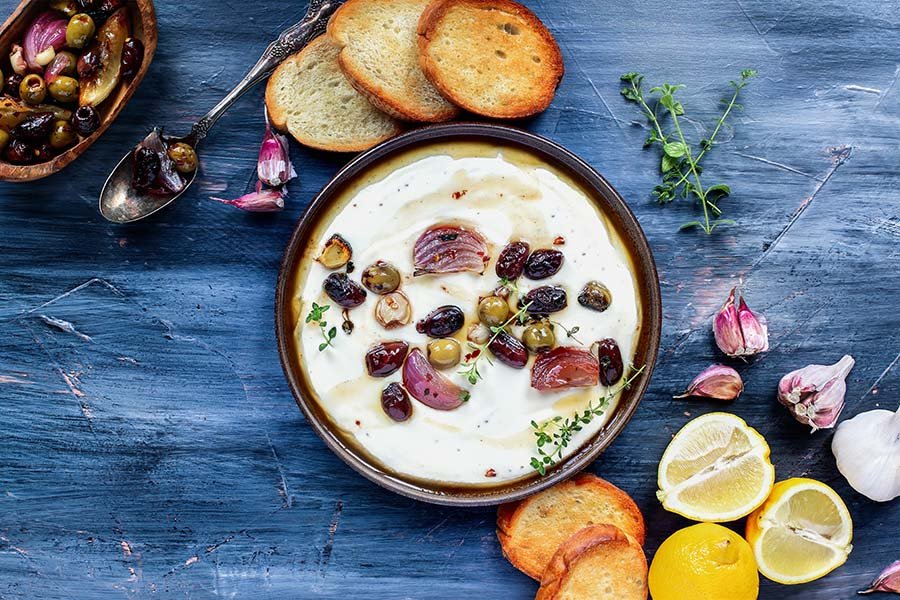 The words "Texas" and "queso" go hand in hand. That warm delicious dip is an essential at any gathering, but when bringing it, you always run the risk of duplicates, because someone else ALWAYS brings queso! So how about a cheesy dip that will be wholly unique?
Enter our whipped honey feta dip: the perfect appetizer to bring to parties. The sweetness of the honey with the saltiness of the feta create a perfect blend of flavors, which is only enhanced by the addition of pistachios, red pepper flakes, and, of course, our renowned Sola Stella Extra Virgin Olive Oil.
This simple 10 minute recipe packs a punch of flavors. Set it next to a charcuterie board, or let if fly solo with pita chips, and it's sure to be a crowd pleaser!
Whipped Honey Feta Dip with Sola Stella Extra Virgin Olive Oil
Ingredients:
4 oz Feta Crumbles
4 oz Cream Cheese
½ tsp Minced Garlic
1 Tbsp Sola Stella EVOO
Fresh Basil, to taste 
¼ cup Honey
1 Tsp Chopped Pistachios
¼ cup of Olives halved
Salt and Pepper to taste 
Red Pepper flakes to taste
How to Cook: A Step by Step Guide
Step 1: Prep
Some of your ingredients will need a little prepping. Start by mincing your garlic, halving your olives, and chopping your pistachios. Set aside to use later.
Step 2: Whip Cheese
In a food processor, combine feta and cream cheese, and drizzle in Olive Oil. Combine cheese till smooth, and move into a mixing bowl.
Step 3: Fold it In!
Fold the garlic & basil into the whipped cheese, then season with salt and pepper.
Step 4: Garnish
Move cheese mixture into a small serving bowl & top with honey, pistachios, olives, red pepper flakes, and more olive oil.
Time to Serve!
Your delicious whipped honey feta dip is ready to serve! We recommend serving with warm bread, or fresh veggies to dip. Trust us - with this set up, your dip will be the talk of the party.
Looking for other ways to incorporate your Sola Stella EVOO into new and exciting party recipes? We've got you covered with our spinach artichoke dip and bruschetta al pomodoro. It's easy to create delicious meals and snacks when you use high quality ingredients, and buying good olive oil goes a long way! So don't skimp on the good stuff - you'll thank us later.
Want a print out of this delicious whipped honey feta dip? Click below to have the recipe right at your fingertips!

Download Recipe
Share this
---